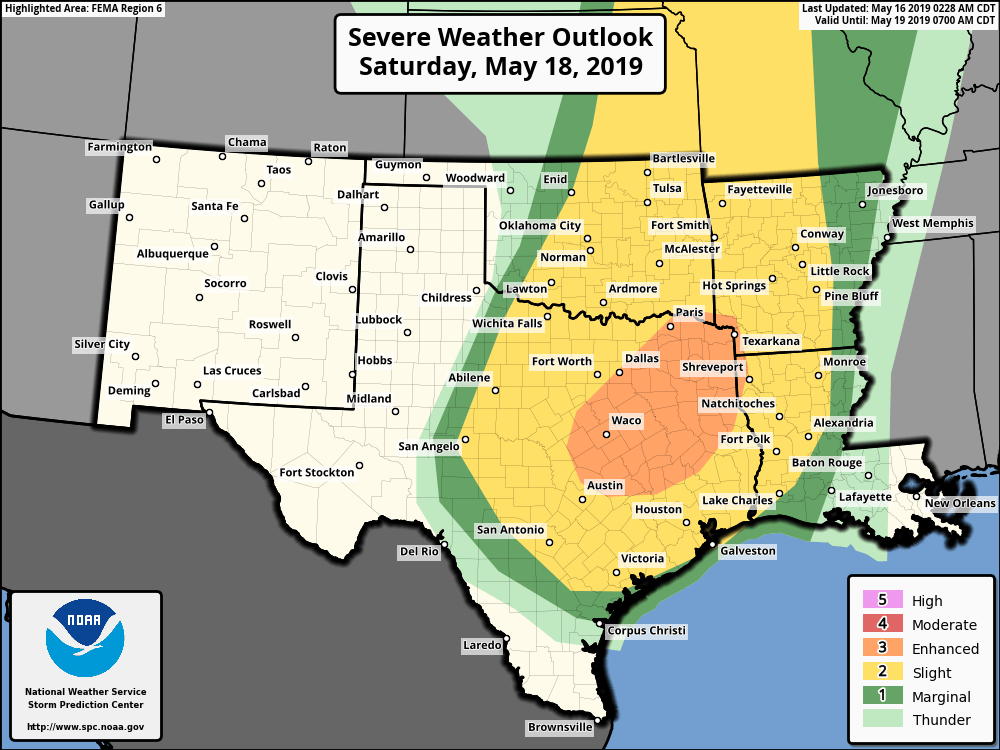 There is a threat for severe weather for central/east Texas and the western half of Louisiana this weekend.
Placement
The Storm Prediction Center has defined a level 3 out of 5 (enhanced) risk area for parts of central and northeast Texas for Saturday.
A standard level 2 (slight) risk area has also been outlined; west Louisiana and parts of south Texas are included. The greatest threat for severe weather will be in the level 3 risk area.
Also, it is worth noting that, at least as of now, indications are that greater convective coverage will remain north of I-10.
Timing
Supercell thunderstorms are expected to initiate along back over west Texas tomorrow night. Then, overnight/early Saturday, a mesoscale convective system (MCS) is expected to evolve, and track across central/east Texas during the day Saturday.
Dew points in the upper 60s to mid 70s will help yield CAPE values of 2000 – 3000 J/Kg by late Saturday morning and/or early afternoon making the atmosphere very unstable. This will allow for the MCS to strengthen.
By Saturday night/early Sunday, the MCS could continue into west Louisiana. However, looking at the latest model guidance, it appears that it should begin to weaken by this time.
Primary Threat(s)
All modes of severe weather will be on the table with this event, including tornadoes.