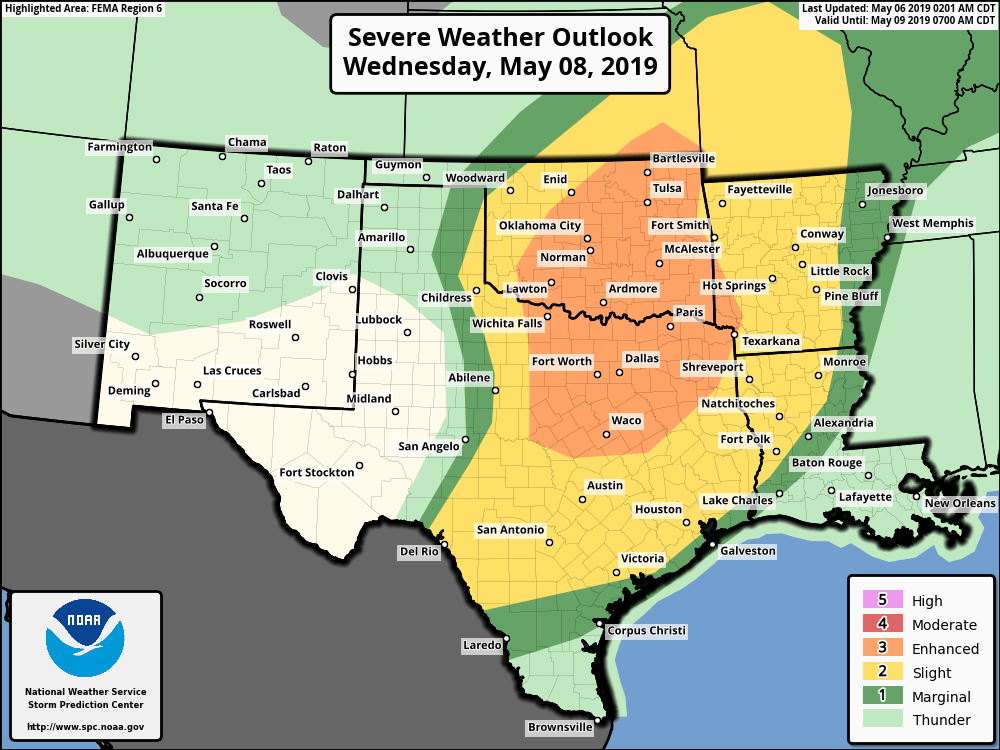 A very unsettled pattern is expected from the southern Plains into the lower Mississippi Valley this week.
There will be an opportunity for severe weather for a swath of Texas and parts of Louisiana Wednesday. Severe weather will also once again be possible for east Texas, much of Louisiana, and western/northern Mississippi Thursday into Friday.
On top of the severe threat, concern is growing for possible heavy rain and flooding late this week, generally from east/south Texas to Mississippi.
Wednesday Severe Threat
Convection is expected to be ongoing across northwest Texas/western Oklahoma early Wednesday, likely in the form of a squall line. The squall line should shift south and east through the day. Then, during the late afternoon/evening, additional activity, including supercells, could form.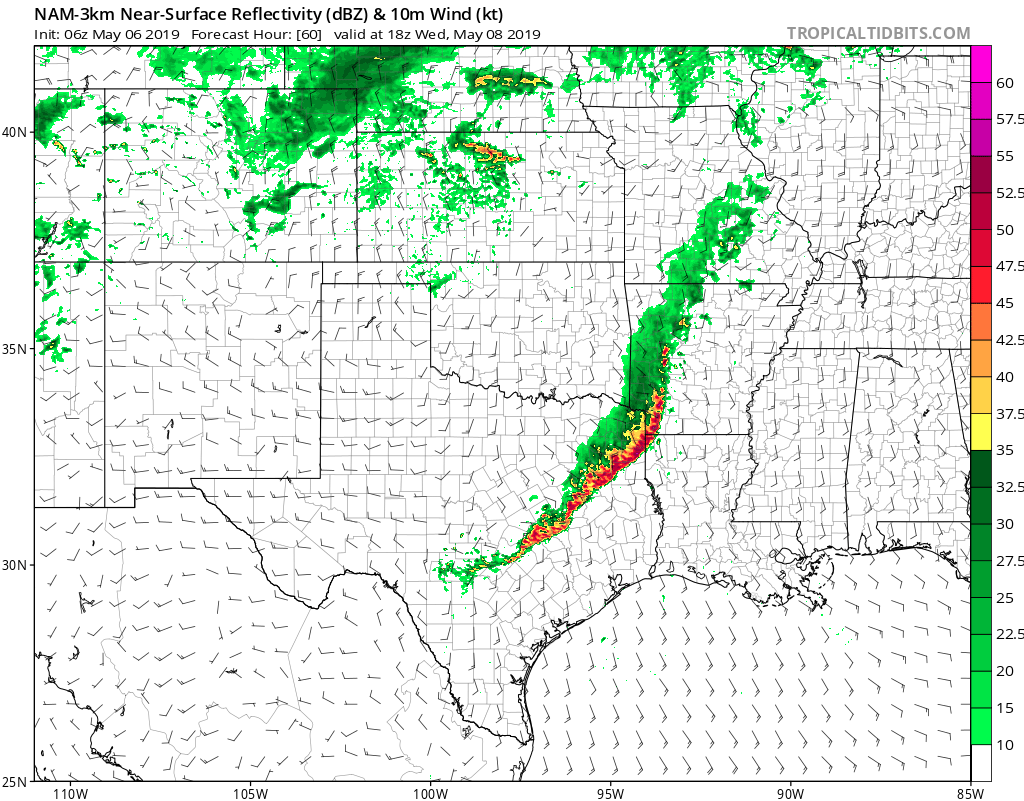 The Storm Prediction Center (SPC) has hatched a level 3 (enhanced) risk area for north-central Texas, including Dallas and Forth Worth (see figure 1). However, the SPC does note that an upgrade to a higher risk might be needed. Much of east and south Texas is under a level 2 (slight) risk.
Right now, tornadoes, large hail, and damaging winds, all look to be possible hazards. Torrential rain is also likely, which could lead to localized flood issues given that soils are already saturated.
Also, it seems that activity will stay mostly along/north of I-10 based on the latest available data.
Severe Threat Thursday and Friday
With surface-based CAPE in the 3000 – 4000 J/Kg range, severe weather will once again be a concern. This time for east Texas and parts of Louisiana and Mississippi.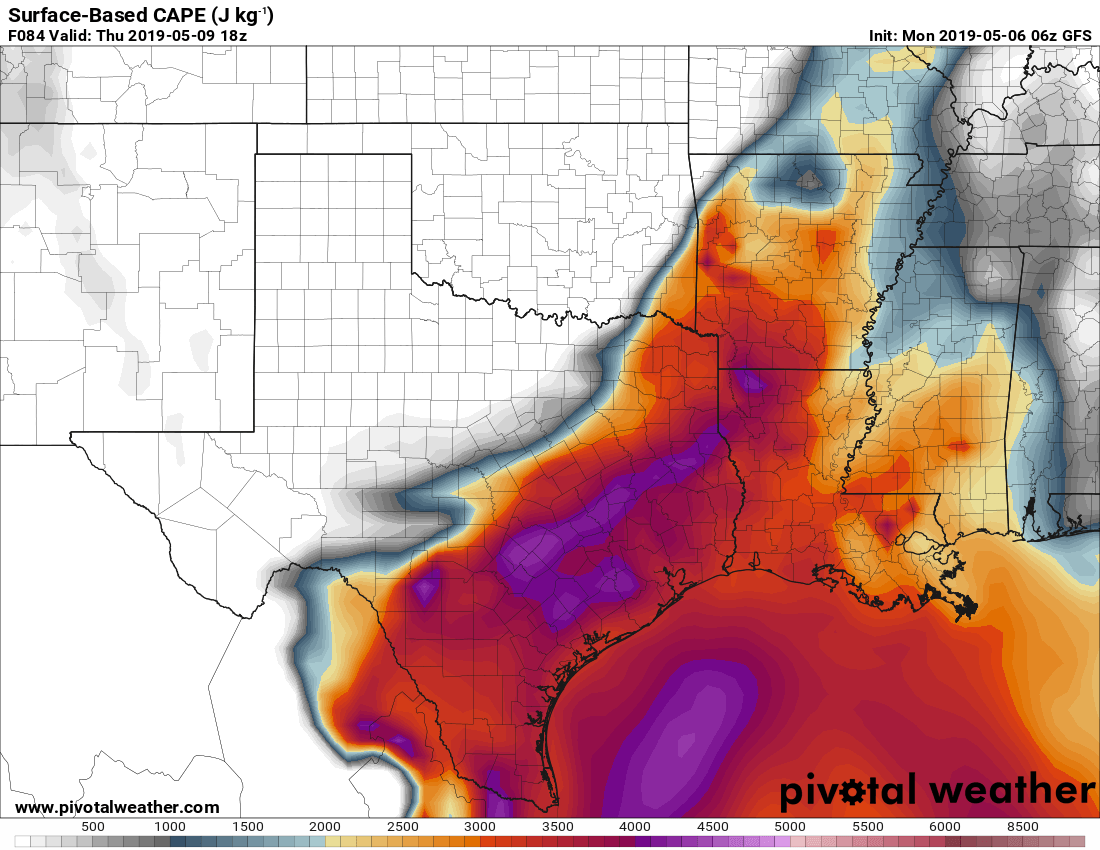 Model guidance is depicting a short-wave to aid in development of robust convection over east Texas early Thursday, with this activity shifting east through the day.
The SPC has already outlined a 15% (slight) risk area.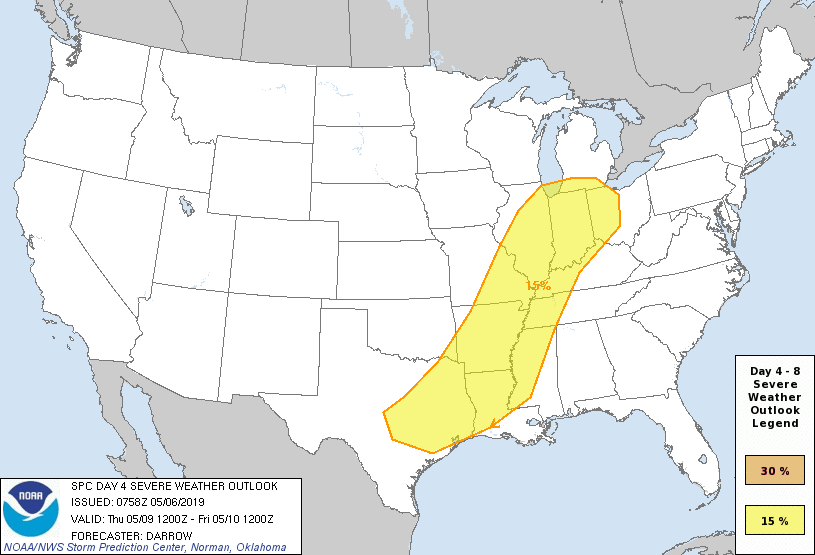 Current thinking is that damaging/strong wind gusts, hail, and isolated tornadoes will be the primary hazards along with torrential rain.
Flood Threat
It is looking increasingly like a front is going to stall/meander across south/east Texas, north/central Louisiana, and north/central Mississippi from about Thursday through Saturday. This will likely lead to multiple rounds of heavy rain and thunderstorms.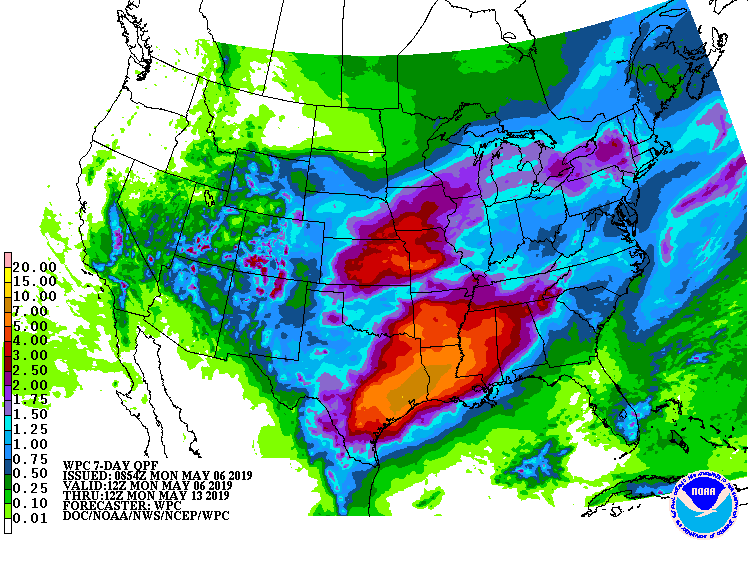 The latest QPF from the NOAA NWS Weather Prediction Center is calling for rainfall amount of ~ 7 – 10″ from southeast Texas into west-central Louisiana.
Obviously, with soils already saturated from rains over the past few weeks, flooding is going to be a concern.
However, where the flood threat will be maximized is highly dependent on where the axis of heaviest precipitation sets up, which we note is uncertain at this juncture.