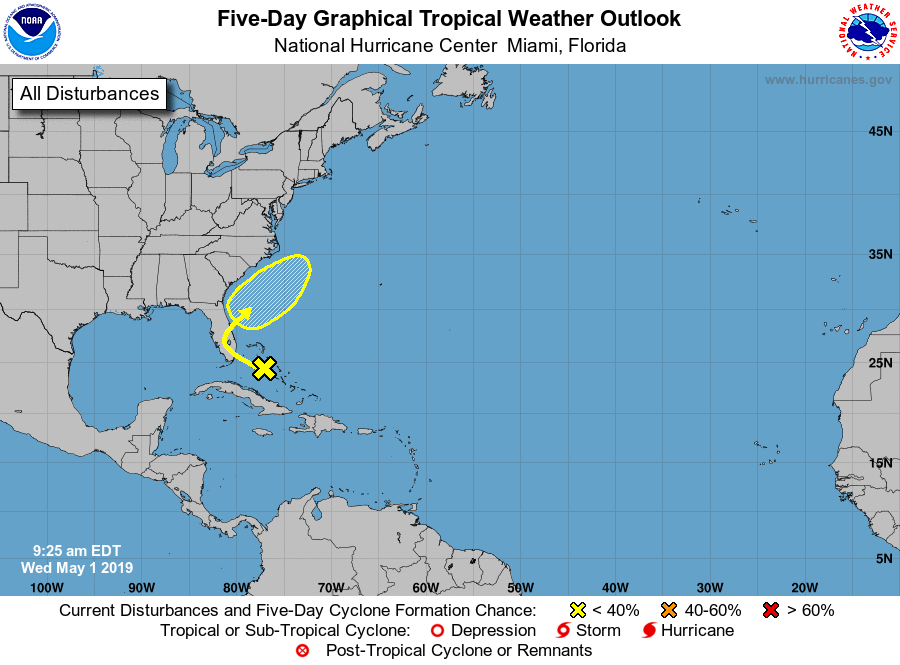 It might not be hurricane season yet, but we have an area of interest to watch in the tropics: a trough of low pressure in the Bahamas.
---
Analysis
It is producing some disorganized shower and thunderstorm activity, as seen on satellite imagery. However, it is being impacted by 20 – 25 knots of westerly wind shear.
Model Guidance
Of the 3 reliable models used for predicting tropical cyclone genesis (ECMWF, UKMET and GFS), both the ECMWF and UKMET predicted development as of their 00z runs.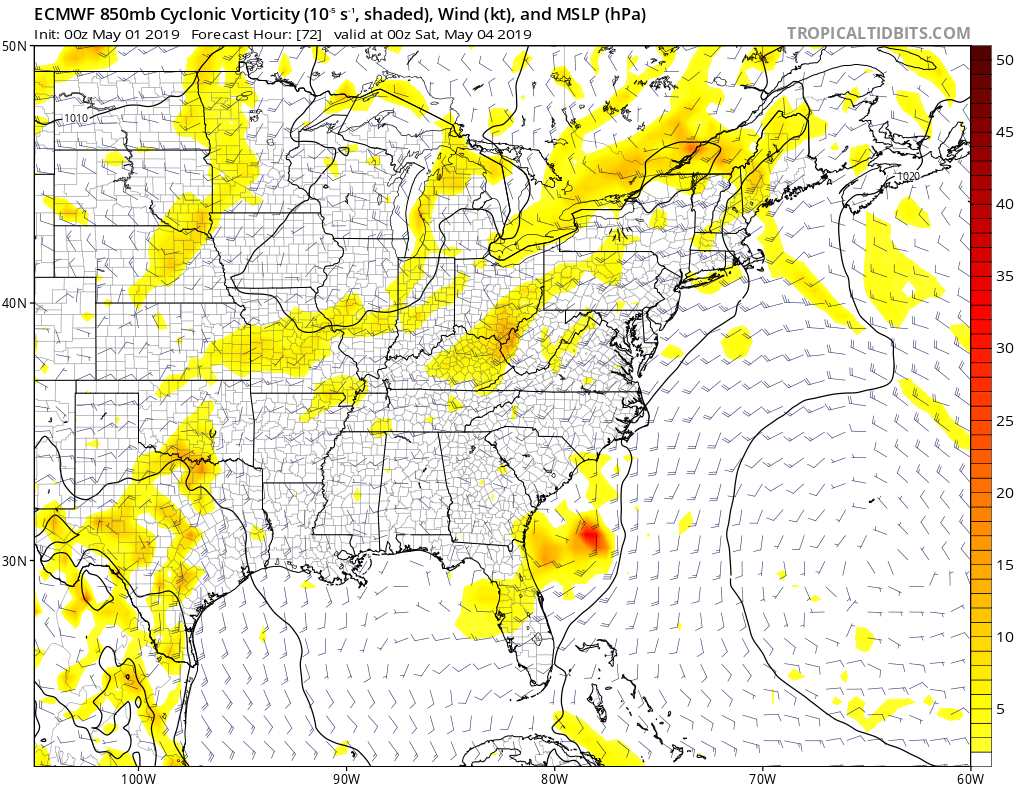 The ECMWF was showing development of a weak low (maybe a tropical/subtropical depression late Friday (see figure 2).
The UKMET was showing development of a tropical/subtropical storm by late Friday/Saturday.
The ECMWF ensembles (EPS) were also indicating a 40 – 45% chance of at least a tropical/subtropical depression forming within the next 72 hours.
Development Potential
Shear is expected to remain unfavorable for any organization through Friday.
However, models are advertising a pocket of lower shear to develop in the Southwest Atlantic, just off of the Southeast US. This could allow for some sort of tropical/subtropical development.
As of now, the chance of tropical/subtropical is low. In their special tropical weather outlook issued this morning, the National Hurricane Center placed the odds of development at 20% of the next 5 days (see figure 1).
Impacts
While shear will keep this in check before it reaches Florida, it will likely bring locally heavy rainfall. The latest WPC 1 – 3 day QPF outlook is calling for 1 – 2″ for portions of central Florida.
Hazardous marine conditions will be possible this weekend in the Southwest Atlantic.
Rough surf and rip currents could also be a concern along coastal GA, SC and NC.
Potential Track and Intensity
Intensity: If something were to develop, it would likely be nothing more than a tropical/subtropical depression or storm.
Track: A front is currently progged to move into the Eastern U.S. Saturday and Sunday should pull anything northeastward and out to sea.
Hurricane Season Right Around the Corner
Even if nothing comes of this, it serves as a good reminder that hurricane season is just a month away.