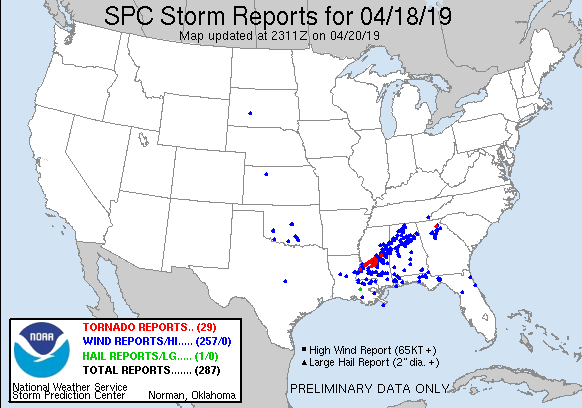 17 tornadoes have been confirmed in Mississippi from Thursday's severe weather.
Four got a rating of EF-2 according to the latest public information statement from National Weather Service (NWS) Jackson, MS.
The strongest of the four EF-2 twisters impacted the City of Morton in Scott County.
NWS summary for the Morton tornado:
"This tornado developed on the north side of Morton in the vicinity of the elementary school and moved in a more northerly direction. It quickly grew large as it moved into the Farris Cir and Woodview St area. Numerous trees were snapped and uprooted along with many power lines down. Dozens of homes were damaged by the wind and fallen trees. This strong tornado continued to quickly intensify and its reached peak intensity along Oakdale Ave and Dummy Line Rd. Here, roughly 7 homes had the roof removed and the tree damage was intense and focused. Maximum winds here were estimated at 132 mph supporting the EF2 rating. Shortly after passing through Dummy Line Rd, the tornado weakened quickly and narrowed while also shifting it heading to ENE. At this time, it also It moved into the Bienville National Forrest crossing road 508 F where a few dozen trees were snapped and uprooted. It crossed Hillsboro Rd and dissipated along Clifton Rd where minor tree damage was noted."
It is estimated to have had maximum winds of 132 MPH and was on the ground for just over 6 miles. Dozens of homes were damaged, with seven having the roof "removed."
Capture photo of cars flipped in Walmart parking lot in #Clinton #Mississippi (#MSwx) via (@16WAPTNews)-TV severe weather coverage https://t.co/1CnaRKqIxL pic.twitter.com/ZRxuijyiFV

— Johnny Kelly (@stormchaser4850) April 18, 2019
An EF-1 also briefly touched down in Clinton, MS, blowing over two vehicles in a Walmart parking lot, damaging a fence, as well as minor tree damage at an apartment complex.
Aside from the many tornadoes in Mississippi, there were also 200+ reports of wind damage from Louisiana, Mississippi, Alabama and Florida.
It is possible that additional tornadoes could be confirmed, as NWS Jackson is sending out another survey team tomorrow.