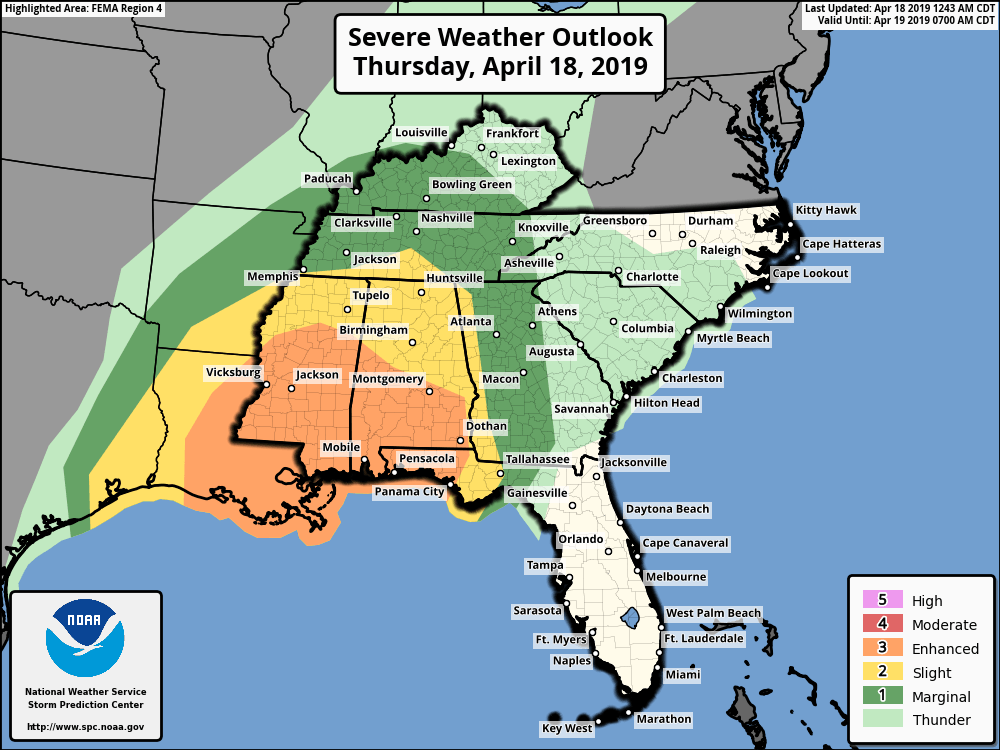 A large area of rain and storms, the remnants of a squall line, is impacting east Texas and west Louisiana this morning. However, these storms are mostly sub-severe at this time. The significant severe threat will come later today through early tomorrow morning.
Timing
The environment is expected to become more unstable going into late morning and early afternoon, as a strong low-level jet develops, bringing about a surge of Gulf moisture.
This will allow left over activity from early this morning to re-intensify and/or new activity will develop over southeast Texas and Louisiana.
Activity should then shift into Mississippi late this afternoon/this evening (~ 2 PM – 6 PM CDT), and into Alabama and the Florida Panhandle overnight/early tomorrow morning (~ 8 PM – 12 AM CDT).
Placement
CAPE (instability) and  strong shear will favor scattered to numerous severe storms. The Storm Prediction Center (SPC) has maintained a level 3 (out of 5) enhanced risk zone (see figure 1).
Hazards
An intense squall line still looks likely to evolve and strengthen while racing east at some point this afternoon. Some supercells remain likely as well.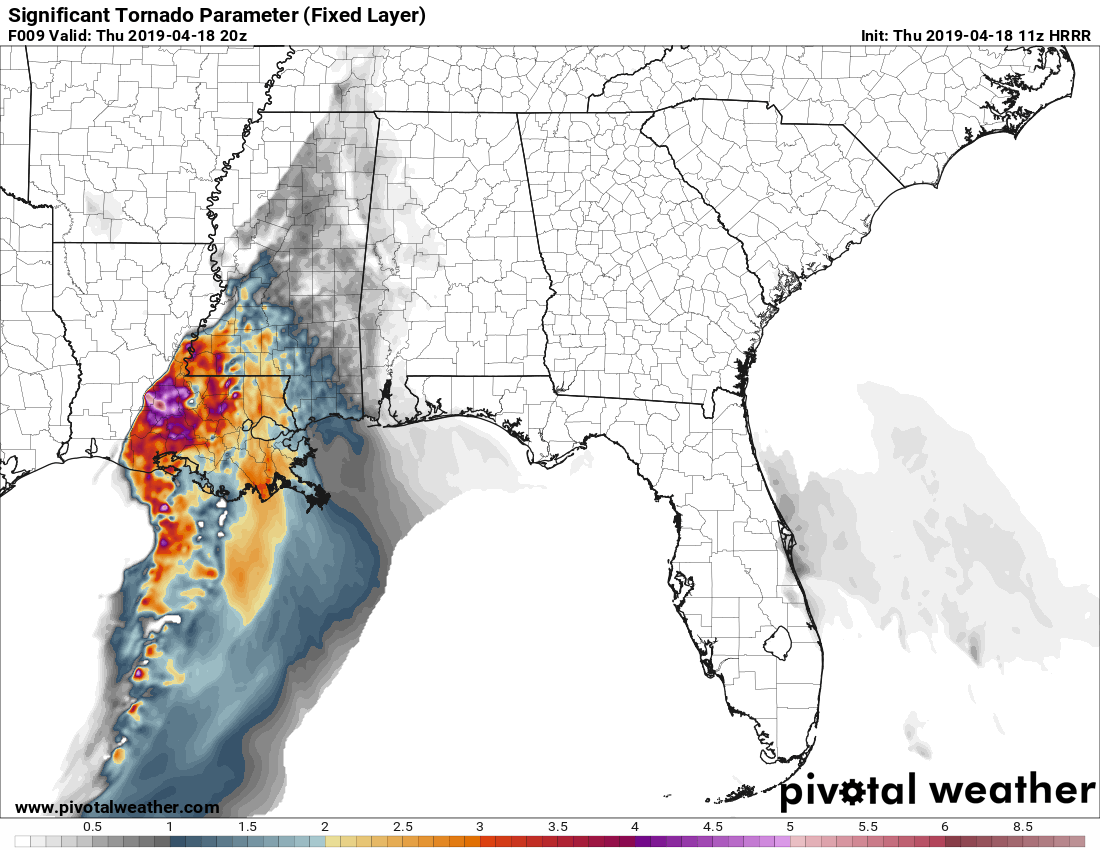 High resolution model guidance is still in agreement on high storm relative helicity (SRH) values, which will favor a tornado threat with any supercells. Additionally, guidance is in agreement on notable significant tornado parameter (STP) values (see figure 3), meaning there is potential for a strong tornado (EF-2+) or two.
The SPC has hatched a significant tornado risk area for south Mississippi, south Alabama, the western Florida Panhandle, and a portion of southeast Louisiana.
A strong tornado or two will be possible in the hatched sig. risk area later this afternoon/overnight into early tomorrow AM. pic.twitter.com/oWgzfJlyde

— Gulf Coast Storm Center (@GCSCWX) April 18, 2019
Note: There could also be embedded tornadoes within the squall line itself.
Severe and damaging wind gusts in excess of 70 mph will also be likely, mainly with the squall line.
While hail is still a possibility, the risk for tornadoes and damaging winds is much greater.
Stay Weather Aware
Stay weather aware today. Monitor the weather conditions. Be sure to have a reliable way to receive watch/warning info. Know your safe place.
REMEMBER that tornado sirens are only meant to alert you if you are OUTSIDE.