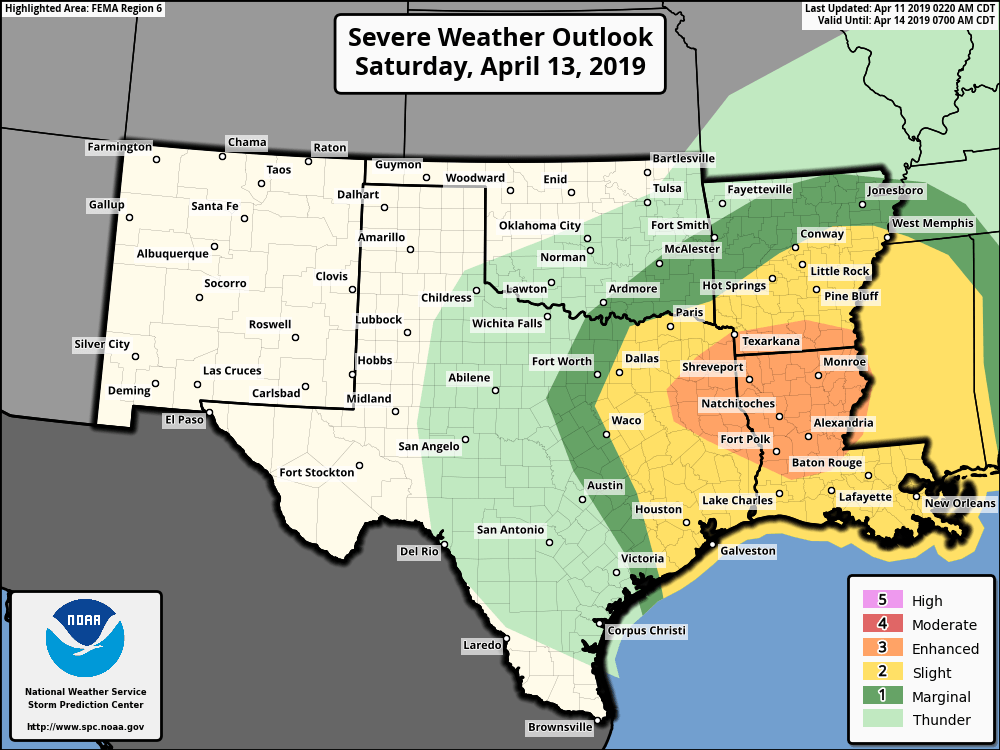 A very unstable and sheared environment is going to be in place this weekend across parts of the South ahead of a dynamic storm system.
While some uncertainty remains, current indications are that this is going to result in a severe weather outbreak from east Texas into the lower Mississippi Valley Saturday afternoon/night, likely carrying over into parts of the Southeast on Sunday.
Placement
Since we are now within 3 days of the onset of the event, the Storm Prediction Center (SPC) has outlined a level 3 enhanced risk area for Saturday.
Enhanced risk outlined for Saturday. A Severe outbreak is likely. All modes of severe weather possible. There even appears to be potential for strong/violent tornadoes. pic.twitter.com/rERzqrHbEX

— Gulf Coast Storm Center (@GCSCWX) April 11, 2019

The 15% (slight) risk area has been maintained for Sunday. However, further refinements remain possible if not likely.
Timing
Widespread strong to severe storms are likely to develop across east Texas and west Louisiana Saturday afternoon/evening. Then, overnight, a squall line will likely form and shift into the remainder of Louisiana and Mississippi (see figure 2).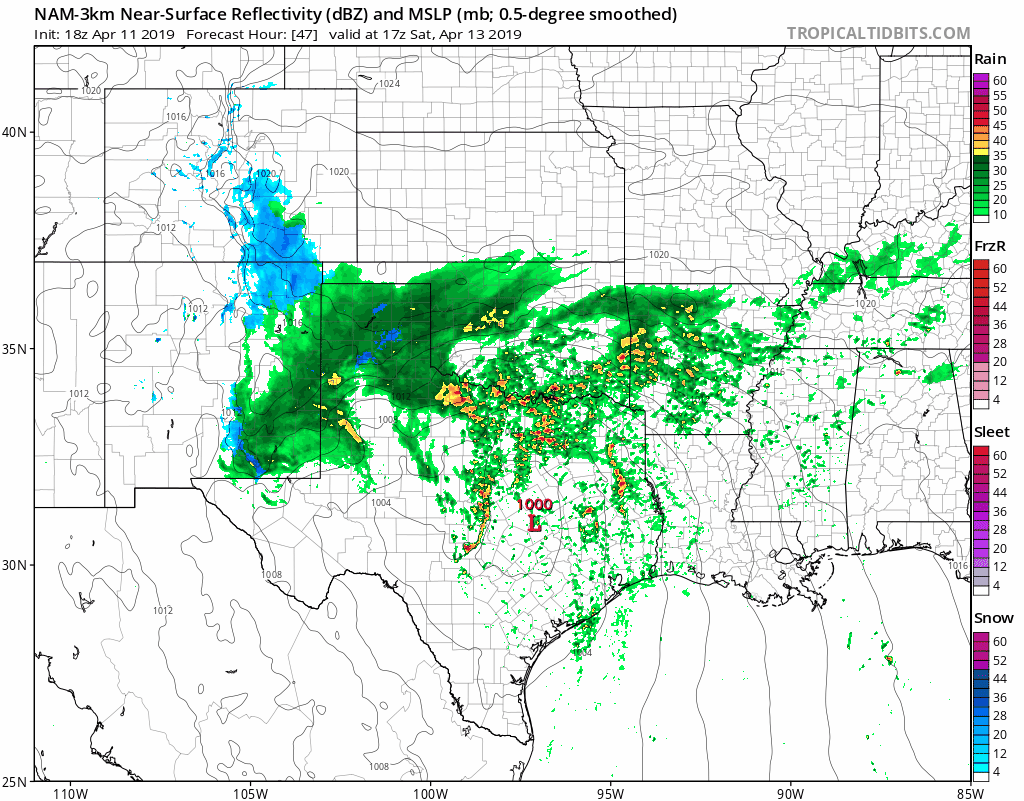 On Sunday, activity will migrate into Alabama, the Florida Panhandle, and Georgia.
We are likely to see some supercells initially Saturday afternoon/evening, back over Texas and Louisiana, and then possibly ahead of the squall overnight into Sunday.
Threats
All modes of severe weather (hail, damaging winds, and tornadoes) are going to be possible.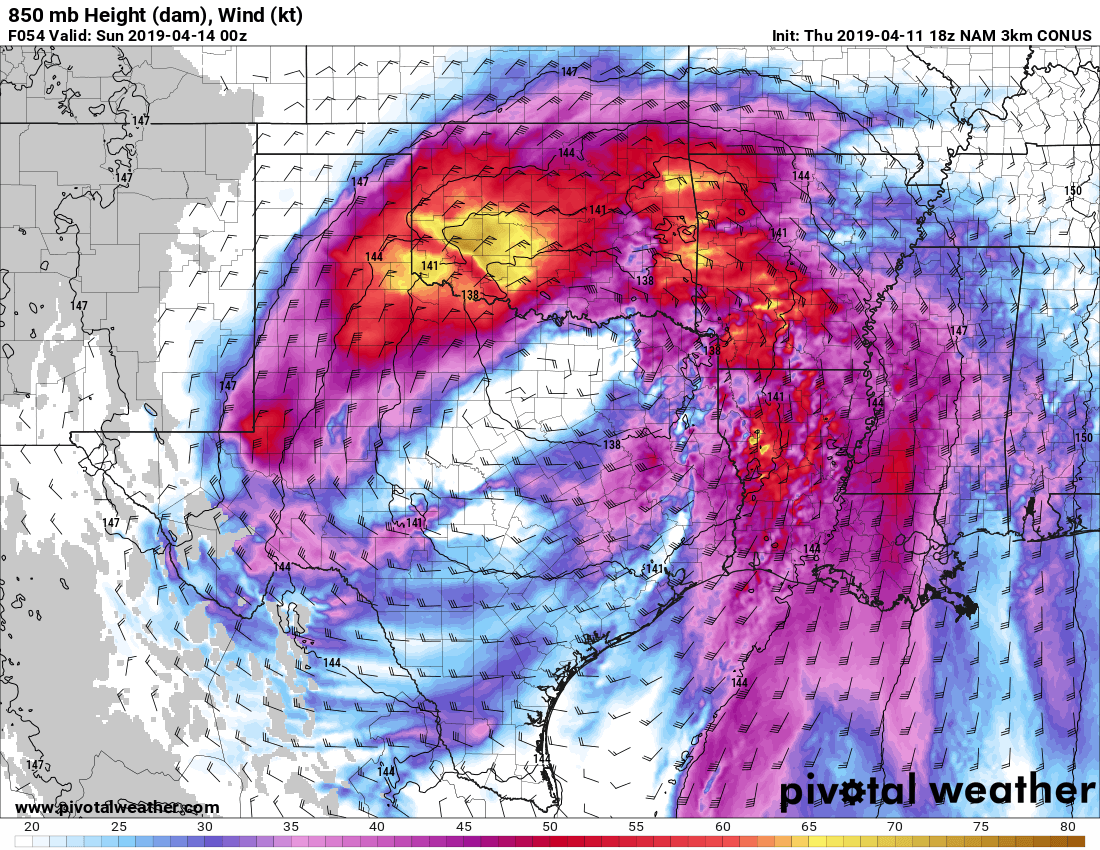 Model guidance continue to predict a very strong 40 – 60 kt  low-level jet (see figure 3), with 500 mb winds of 70 – 90 kt  out of the southwest at 500 mbs, which would favor rotating storms. Additionally, guidance is still predicting high CAPE values.
Should the aforementioned model solution verify, there will be potential for several tornadoes, a few of which could be significant.
Prepare
Now is the time to start preparing.
At this point, we would advise you to:
Review your family action/emergency plan.
Have an effective means of receiving watches/warnings.
Know where to go (interior room, basement or storm shelter) if a warning is issued for your location.
Monitor the Forecast
Also, be sure to monitor the forecast from either your local National Weather Service office or TV meteorologist.