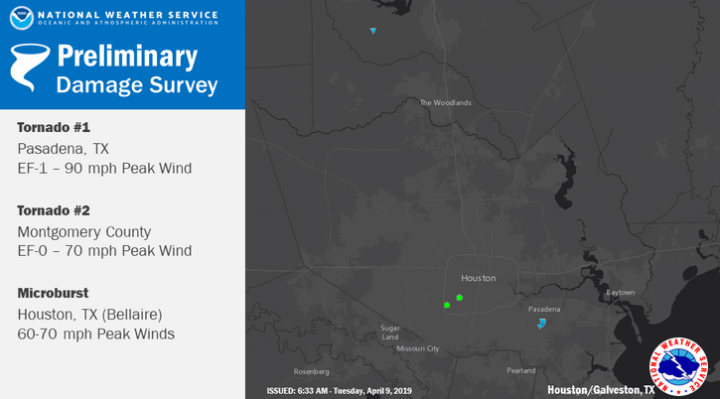 Tornadoes have been confirmed in Texas, Louisiana, Mississippi, and Alabama from storms Sunday and Monday.
Texas
In Texas, an EF-1 touched down in Pasadena, which is just southeast of Houston, Sunday afternoon.
Dan Reilly, a meteorologist with National Weather Service Houston, told ABC 13 the tornado "took down eight to 10 power poles and ripped off the back side of a vacant business."
Reilly also said the tornado was believed to have tracked into a neighborhood after it touching down according to ABC 13's report.
There was also an EF-0 in Montgomery County.
Louisiana
To the east, an EF-1 tornado occurred near Sorrento, which is located in Ascension Parish, Sunday evening.
Survey Update: Here is the summary for our surveys today. EF-1 estimated tornado occurred around 7:44 PM CDT near Sorrento, LA. Low end EF-0 estimated tornado near Avondale, LA. #lawx #mswx

— NWS New Orleans (@NWSNewOrleans) April 9, 2019
An EF-0 has also been confirmed near Avondale, LA.
Based on the storm report from the Storm Prediction Center, there were several trees snapped and/or uprooted and minor roof damage.
Mississippi
A single tornado touched down in Wilkinson County, about 5 miles south of the town of Centreville, around 6 PM Sunday night.
It is reported to have caused damage to a mobile home.
Per the public information statement from National Weather Service New Orleans, the mobile home was not occupied at the time.
The public information statement also says that the tornado was on the ground for approximately 2 miles.
Alabama
Two tornadoes – an EF-0 and EF-1 – have been confirmed in Blount County by National Weather Service Birmingham yesterday.
They touched down between 5 and 6 AM and were just minutes apart.
According to the event summary, "at least 20 structures suffered varying degrees of damage" from the EF-1 twister. It had top winds of 90 mph and a path link just over 6 miles.
More from High Point Road in Marshall Co. via Earl Mitchell. No injuries reported in this tornado so far #valleywx pic.twitter.com/cVHfmBi2ao

— Jason Simpson (@simpsonwhnt) April 8, 2019
National Weather Service Huntsville also confirmed an EF-1 in Marshall County according to a report from WHNT News 19.