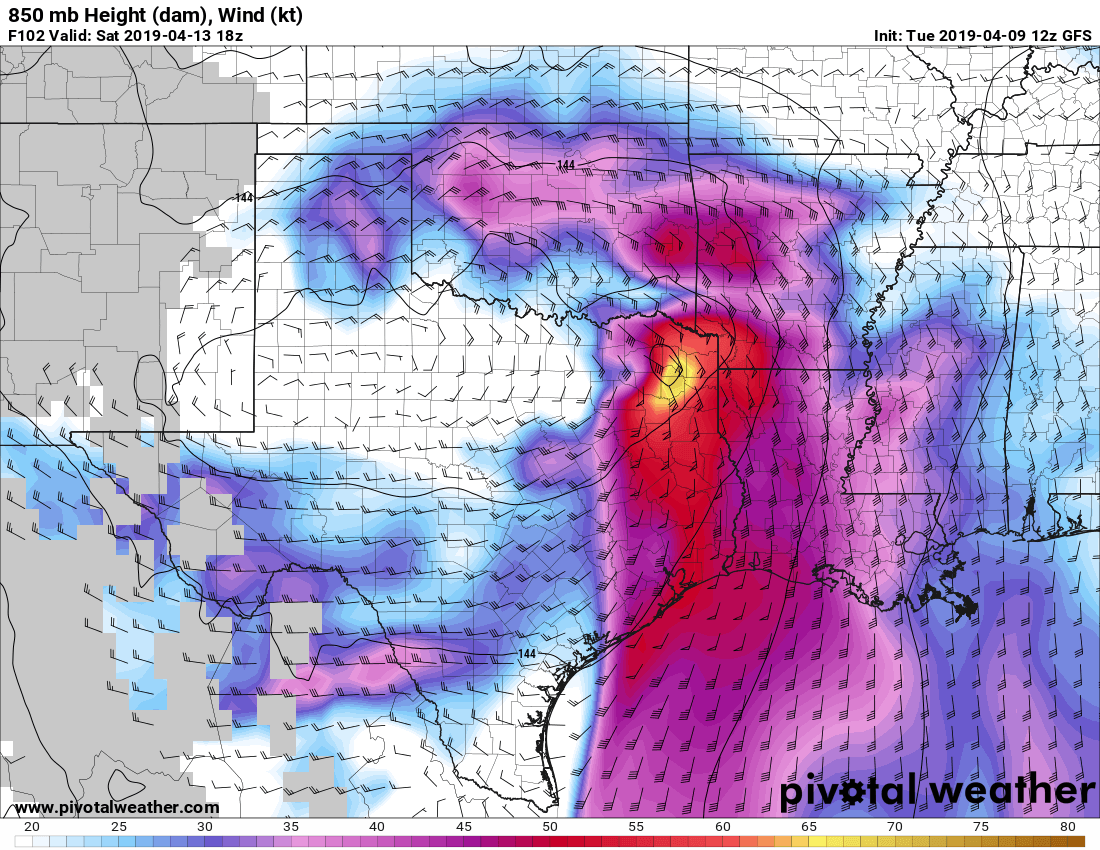 Saturday, a potent upper-level storm system is going to lift out of the Rockies, leading to the development of a strong area of low pressure in the southern Plains.
The surface low will eject northeast Saturday night and Sunday, tapping moisture from the Gulf, which will help fuel widespread rain and thunderstorms.
Severe Threat
It is looking increasingly likely that a severe weather threat will evolve with this system.
Models are advertising a strong low-level jet (see figure 1) and strong winds aloft. They are also predicting at least moderate levels of CAPE (instability).
More severe weather possible this weekend… the SPC has already defined a 15% (slight) risk area for Saturday and Sunday. pic.twitter.com/iBUHCZBOaL

— Gulf Coast Storm Center (@GCSCWX) April 9, 2019
The Storm Prediction Center (SPC) has already introduced a 15% risk area for both Saturday and Sunday. This is the equivalent of a level 2 (out of 5) slight risk. Note that changes/refinements are probable.
However, as is usually the case when talking about potential severe weather events several or more days advance, details (magnitude, spacial extent, hazards, etcetera) are murky.
Just know that strong/severe storms are looking like a good bet this weekend. Also, be sure to monitor the forecast over the next few days.
Heavy Rain
This system will bring more heavy rain to areas that don't need it.
The Weather Prediction Center is calling for a general 1 – 3″ of rain for parts of east Texas, Louisiana, Mississippi, and Alabama over the next five days.
It is possible that these numbers could be upped.
Considering that soils are saturated from rains over the past two weeks – including this past weekend — flash flooding will once again be something to watch for.