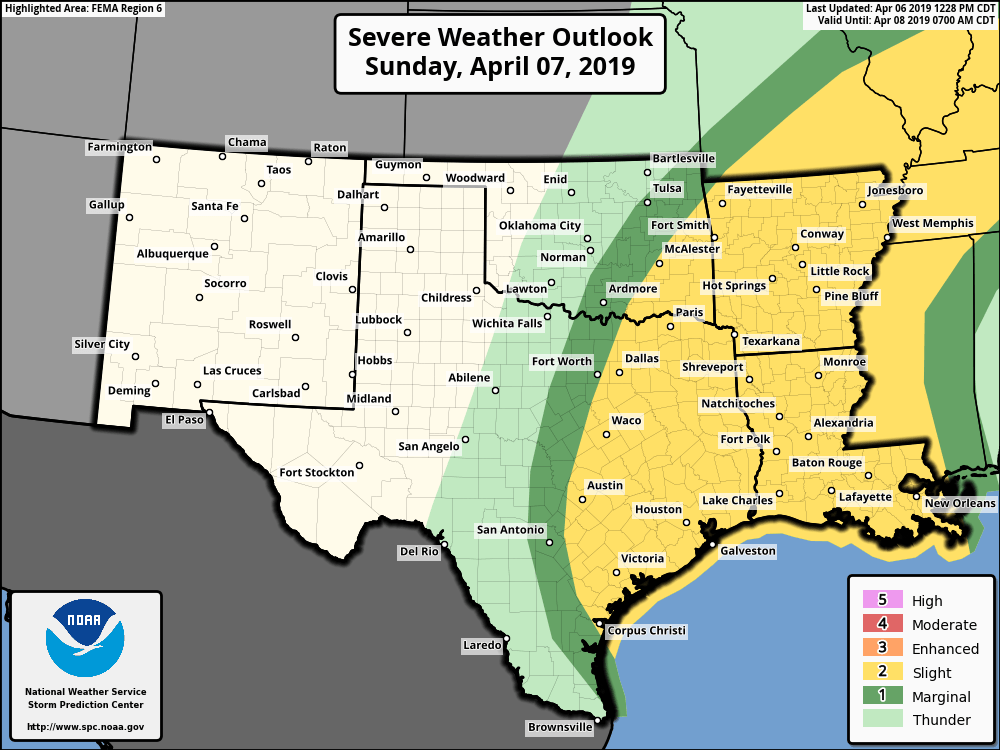 Our second disturbance is set to eject out of Texas and into the lower Mississippi River Valley tonight through tomorrow night/early Monday.  Several waves of storms are still expected, with heavy rain and at least a few strong/severe storms likely.
Tonight and Tomorrow
We should see a mesoscale convective system (MCS) form across south Texas overnight, followed by east to northeast progression along the Texas Gulf Coast (see figure 2).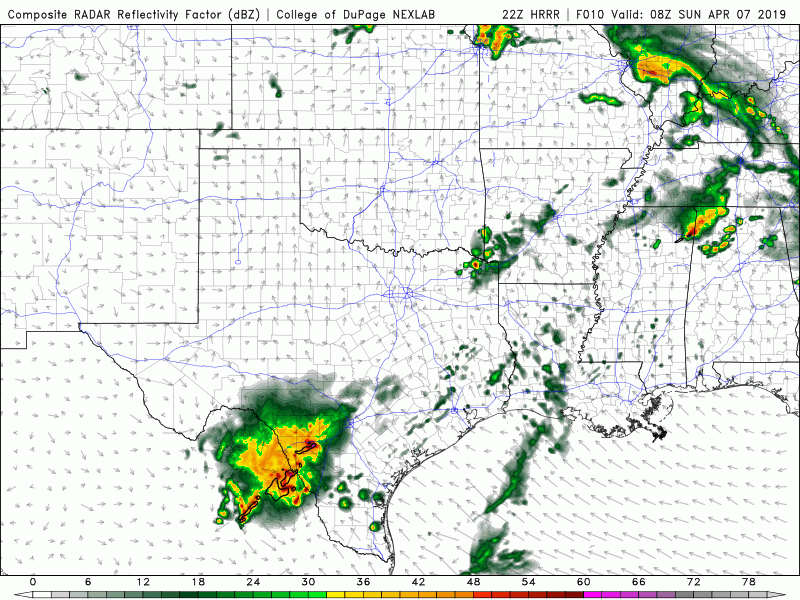 The MCS could reach southwest Louisiana by mid to late morning. However, some high resolution models are indicating possible decay/weakening by this time.
During the afternoon/evening hours, more activity is expected to fire up across east/southeast Texas, parts of Louisiana, and north/central Mississippi.
The Storm Prediction Center (SPC) has maintained a broad level 2 (out of 5) slight risk area for tonight and tomorrow, with only a few minor tweaks.
Damaging straight-line winds will be the primary concern with the MCS overnight. However, all modes of severe weather will be possible with the second round of storms – especially in southeast Texas and south Louisiana. This is because higher bulk-shear values are forecast, which would favor supercells.
Monday
As tomorrow's disturbance shifts east, widespread shower and thunderstorm activity will do as well.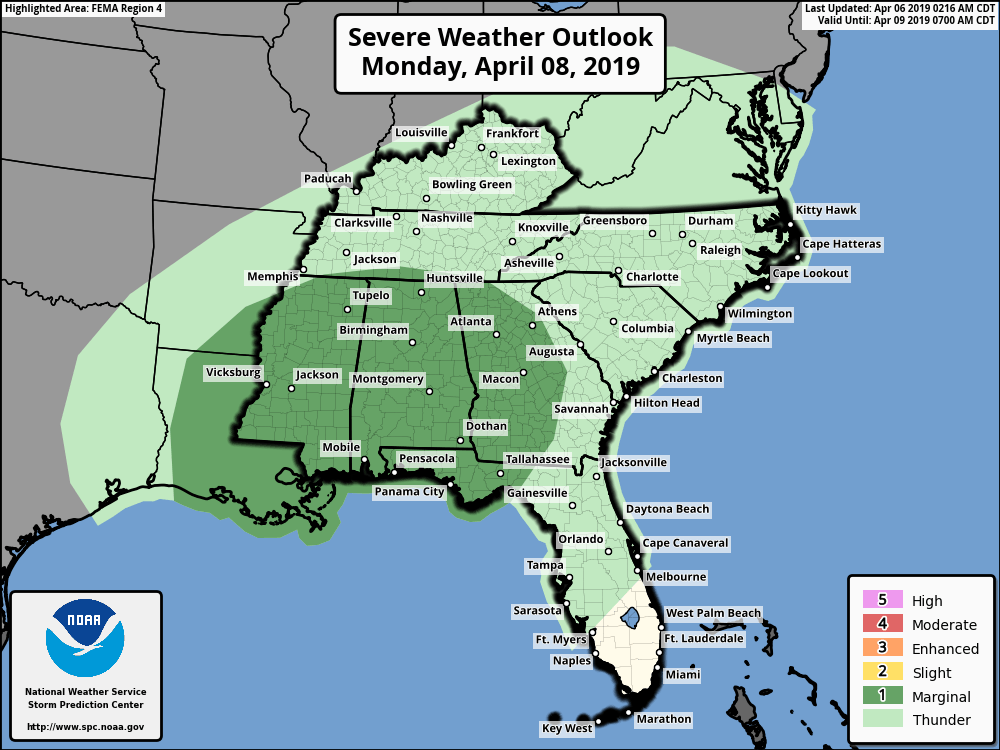 The SPC has outlined a level 1 (out of 5) marginal risk area (see figure 2). But presently, dynamics don't look all that impressive. Additionally, there are some model inconsistencies that are adding uncertainty.
If there were to be any strong/sever storms Monday, they would be isolated in nature, and the main hazards would likely be gusty wind and hail.
Heavy Rain
It has already been brought up, but storms over the next two days will produce copious  amounts of rain.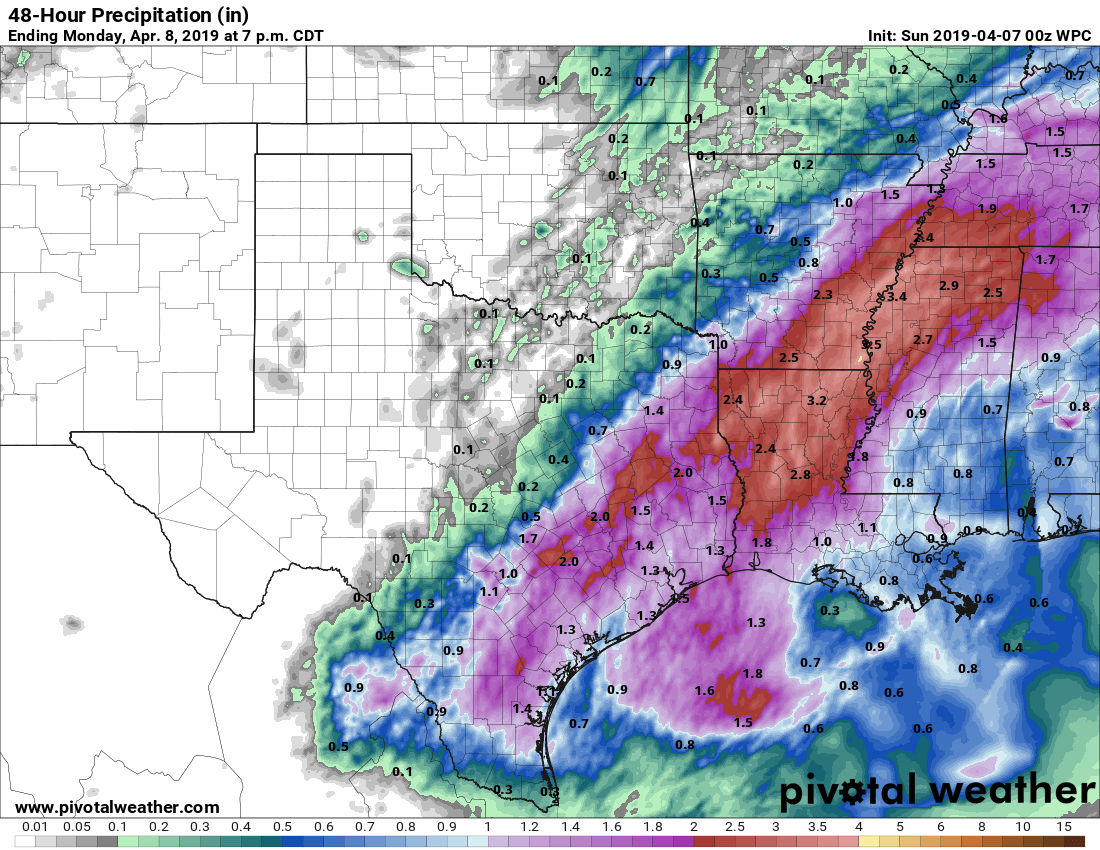 Totals are still expected to range from 1 to 3 inches with locally higher amounts. For areas that received rain today, this would be additional accumulation.
Localized flash flooding/nuisance type flooding remains a concern. This is particularly true for portions of south Louisiana, which experienced street some flooding issues earlier this week.