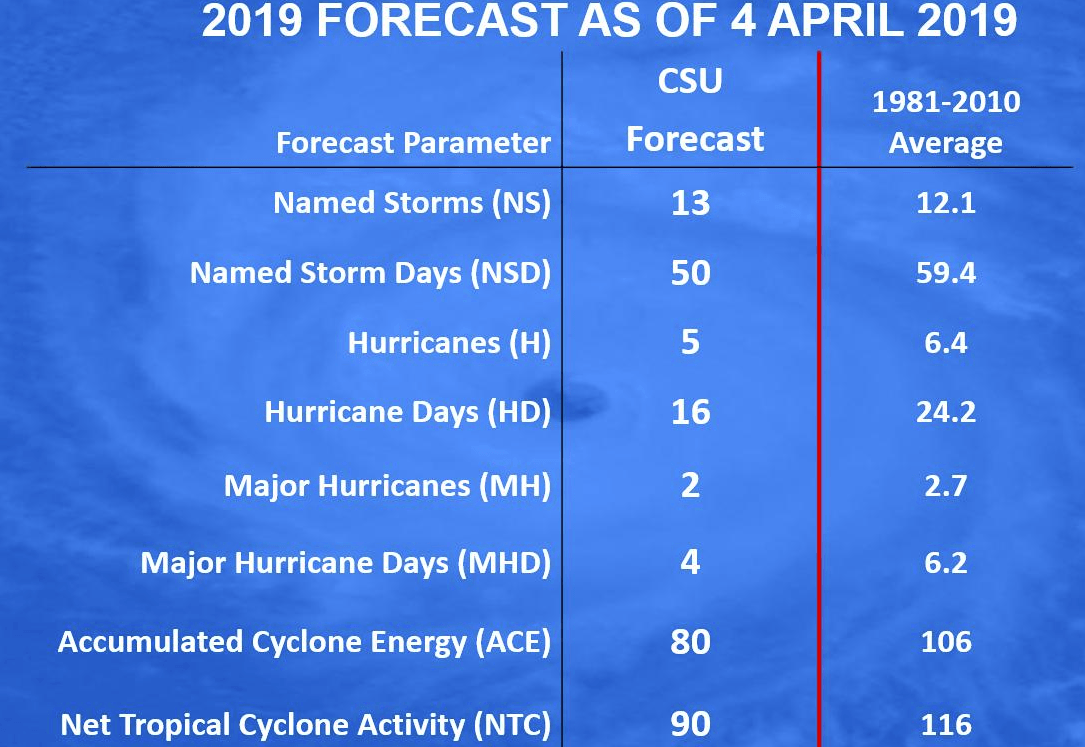 Colorado State University's (CSU) Tropical Meteorology Project issued their initial forecast for the 2019 Atlantic hurricane season a short time ago at the National Tropical Weather Conference.
CSU researchers are predicting 13 named storms total, 5 hurricanes, and 2 major hurricanes (category 3 or higher).
The CSU forecast is slightly below the long-term average of 12 named storms, 6 hurricanes, and 3 major hurricanes.
For comparison, the 2018 Atlantic hurricane season produced 15 named storms total and 8 hurricanes, two of which were major.
Seasonal #hurricane forecast from @ColoradoStateU predicts slightly below-average season: 13 named storms, 5 hurricanes & 2 major (Cat 3+, >=111 mph) hurricanes. Primary reason for slightly below-avg forecast is anticipated continuation of weak #ElNino. https://t.co/uxucIf9qQB pic.twitter.com/o0pWt1GUBh

— Philip Klotzbach (@philklotzbach) April 4, 2019
According to Dr. Philip Klotzbach, the expected continuation of El Niño is the primary reason for the forecast of below-normal activity.
This forecast sounds like great news at face value. However, CSU's outlook does not predict where storms will form or make landfall.
"As is the case with all hurricane seasons, coastal residents are reminded that it only takes one hurricane making landfall to make it an active season for them. They should prepare the same for every season, regardless of how much activity is predicted."
While fewer storms are predicted, it does not mean that there won't be a hurricane season, and residents of hurricane prone areas should still be prepared.