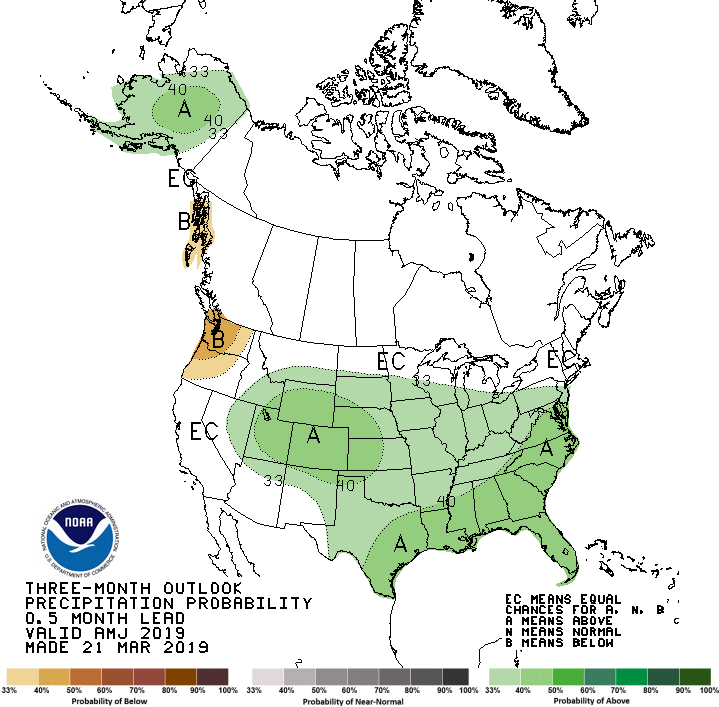 NOAA issued their spring outlook yesterday.
They are calling for above-average temperatures for much of the South and Eastern Seaboard. Wetter-than-average conditions are also forecast for much of the lower 48 (see figure 1).
Overall, the precipitation pattern is consistent with what you would expect during an El Nino.
Our #SpringOutlook 2019 is out today: Historic, widespread flooding to continue through May. Find map, highlights video & more at https://t.co/nZD8blV1LP @NWS #Spring #Flooding pic.twitter.com/0maghUkrBM

— NOAA (@NOAA) March 21, 2019
With excess water draining south into various river basins, flooding will become of increasing concern – and more widespread – as spring progresses.
Should above normal precipitation occur as expected, it will exacerbate the flood risk.
Moderate to major flooding is likely based on NOAA's outlook.
"This is shaping up to be a potentially unprecedented flood season, with more than 200 million people at risk for flooding in their communities." – Ed Clark, Director of NOAA's National Water Center
According to a quote from the director of the National Water Center in NOAA's press release, we are looking at a "potentially unprecedented flood season."
View the full outlook for yourself here.