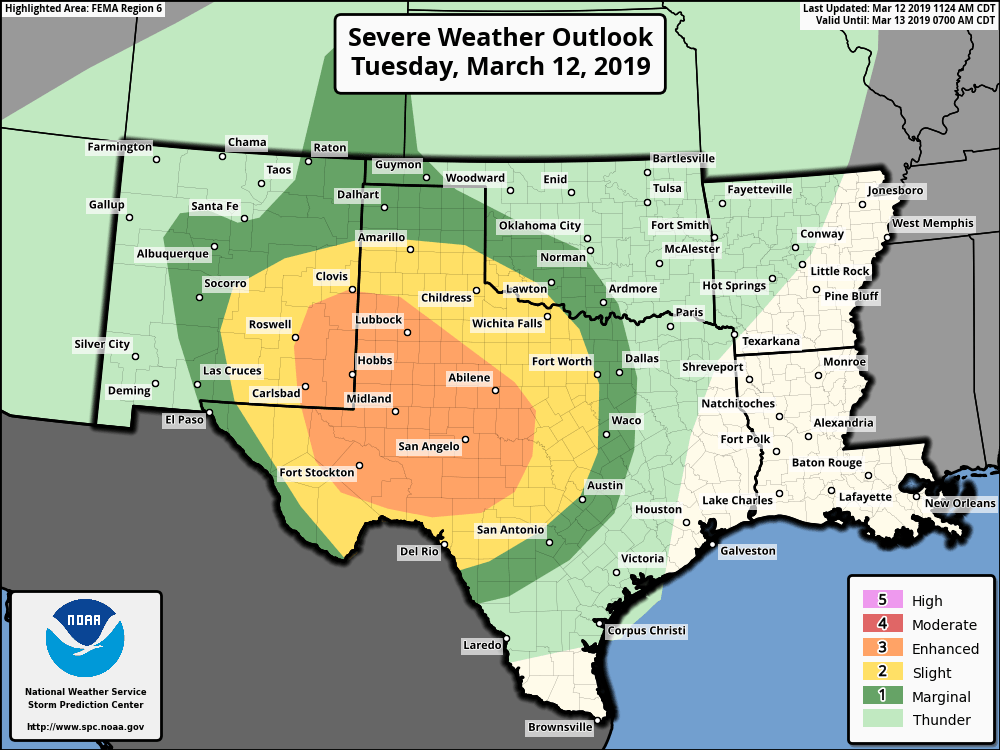 Strong to severe storms are likely in the Southern Plains this evening and overnight. Tomorrow and Thursday, the threat will shift east, to the Mississippi Valley and Southeast.
Overview/Setup
Cyclone genesis is going to take place over the Central Plains tonight. Rapid deepening will take place tomorrow, leading to a significantly strong and potent storm, which will eject into the Great Lakes by late tomorrow.
ECMWF 12z 1-hourly products are available at https://t.co/XcmEbEJxko to monitor the development of a massive blizzard — centered upon Kansas Wednesday evening.
970 mb central pressure is incredible. pic.twitter.com/CwAqUDUgPG

— Ryan Maue (@RyanMaue) March 11, 2019
Blizzard conditions are expected for parts of the central and northern Plains. Meanwhile, another wave of storms — some strong to severe — is in store for the South with a trailing front.
Today
An extensive squall line will move into west Texas late this evening ahead of a front. There could also be some isolated supercells to deal with ahead of the main line.
HRRR depicting the evolution of a fairly strong squall line across Texas tonight. #txwx pic.twitter.com/SeNPRfTvg9

— Gulf Coast Storm Center (@GCSCWX) March 12, 2019
Placement: The greatest threat for severe weather will be in the enhanced (level 3) risk area (see figure 1).
Hazards: With the main convective mode being linear, damaging wind gusts will be the primary threat. However, considering high bulk shear and storm relative helicity values, all modes of severe weather will be possible (particularly with any discrete cells).
Timing: The line should be moving into extreme west Texas 10 PM CDT. It will work east during the overnight hours, reaching the I-35 corridor by early morning.
Tomorrow
Instability will be on the decrease by tomorrow morning. This will cause the main band of storms to weaken and break apart as it enters east Texas and west Louisiana.
Mesoscale guidance indicates that instability will increase some again tomorrow and Thursday. But with CAPE predicted to only range from ~ 250 – 1000 j/Kg, this will be a high shear low instability setup.
Based on this, we should see a narrow band of storms should form across east Texas tomorrow afternoon.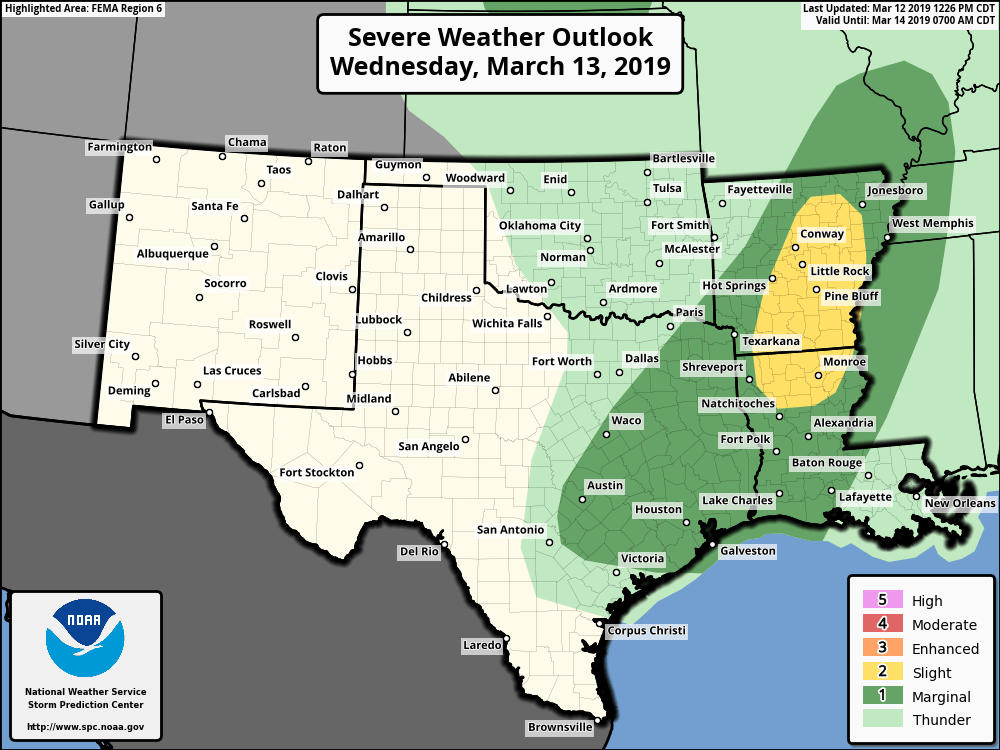 Placement: The Storm Prediction Center has hatched a slight (level 2) risk zone (see figure 3), which is where the best potential for severe weather will be.
Hazards: This is not going to be a widespread severe weather event/outbreak. The main threats will be locally damaging wind gusts and a brief, isolated tornado or two.
Timing: The band of storms will advance east tomorrow afternoon into tomorrow night.
Thursday
The narrow/broken squall will continue to advance east with the cold front, eventually spreading into the Southeast Thursday.
Impressive shear will continue across the warm sector. However, CAPE will remain low.
Placement: The Storm Prediction Center has once again delineated a level 2 risk area, this time extending from south-central Mississippi north into Tennessee. But note that this outlook is subject to change being 3 days out.
Hazards: Damaging winds and brief tornadoes will remain the primary concern.
Timing: It is still a bit too early to discus timing.
For future updates, be sure to follow us on social media: