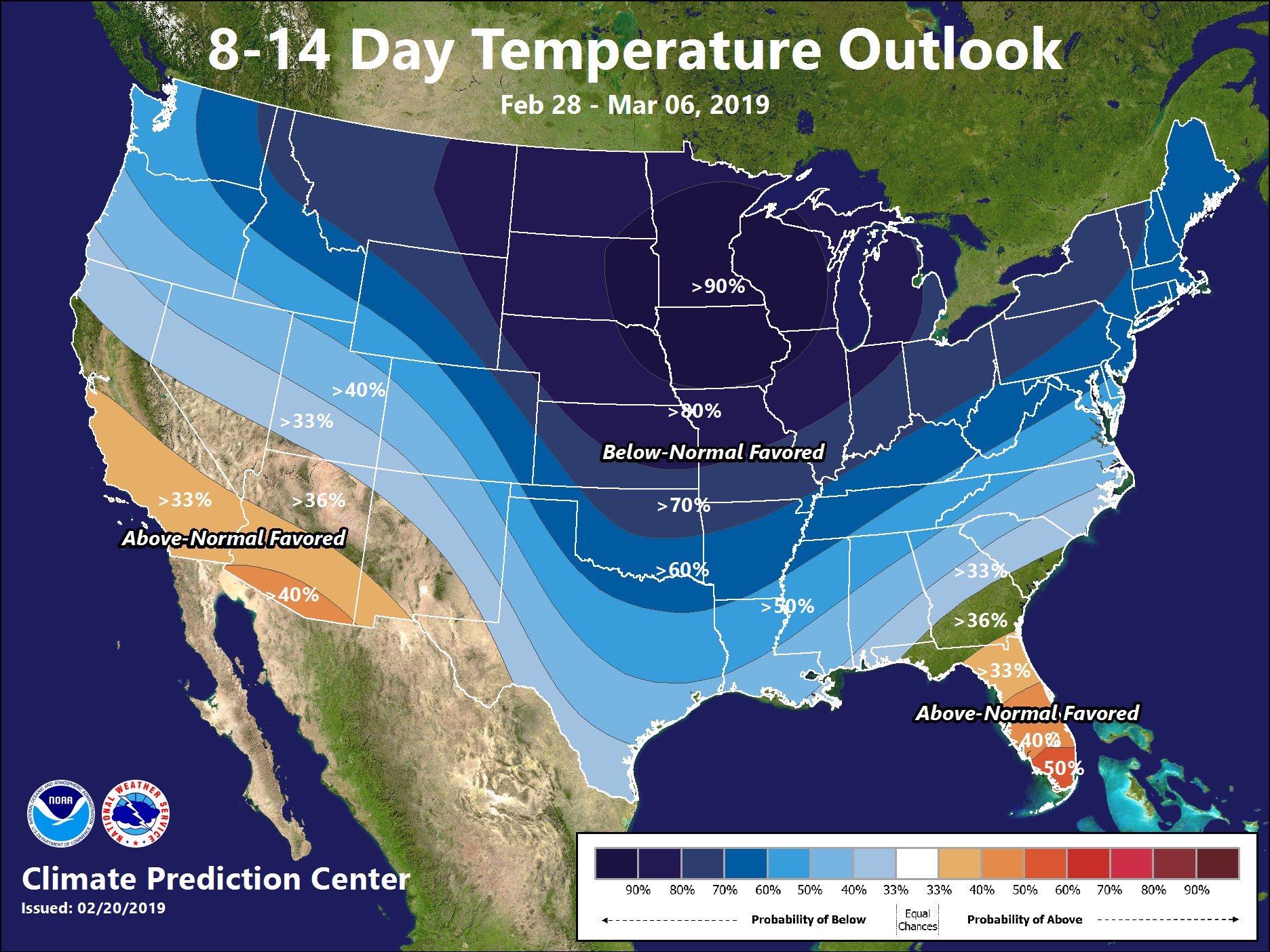 For the past few weeks, a negative phase of the Pacific North American Pattern (PNA) has dominated the weather across North America.  The result has been generally mild conditions in the East, and record cold out West.
Below-Average Temperatures Likely to Start Next Month
However, this pattern appears poised to flip heading into March.
Both the GEFS  and EPS are in agreement on the -PNA fading in the 8 – 12 day period. If the -PNA weakens, some colder air should finally get funneled into the eastern two-thirds of the country.
Considering the GEFS and EPS are in agreement, I would say that the odds of the -PNA weakening/fading are decent, and that we should see below-average temperatures to kick off March.  The Climate Prediction Center appears to be thinking the same (see figure 1).
Major Arctic blast remains stuck over the Rockies & in Western Canada. Strong SE US ridging is keeping the cold at bay.

But signs that in early March, we will see a push of winter cold = temperatures well below normal. pic.twitter.com/TfwCqN48zE

— Ryan Maue (@RyanMaue) February 20, 2019
The ECMWF operational is already seeing this, and has been showing a push of arctic air around the 1st for the past few runs.
Winter's Last Gasp?
While colder weather is likely heading into next month, there are signs that this could be "winter's last gasp."
Both the CFS and EPS weeklies suggest there will be more spring-like warmth for the Central/Eastern half of the country by mid-march. This is purely speculative at this point though.
---
For future updates, be sure to follow us on Instagram.  
You can also follow us on Facebook  and Twitter.
---
Get notified of new blog posts via email by subscribing here.