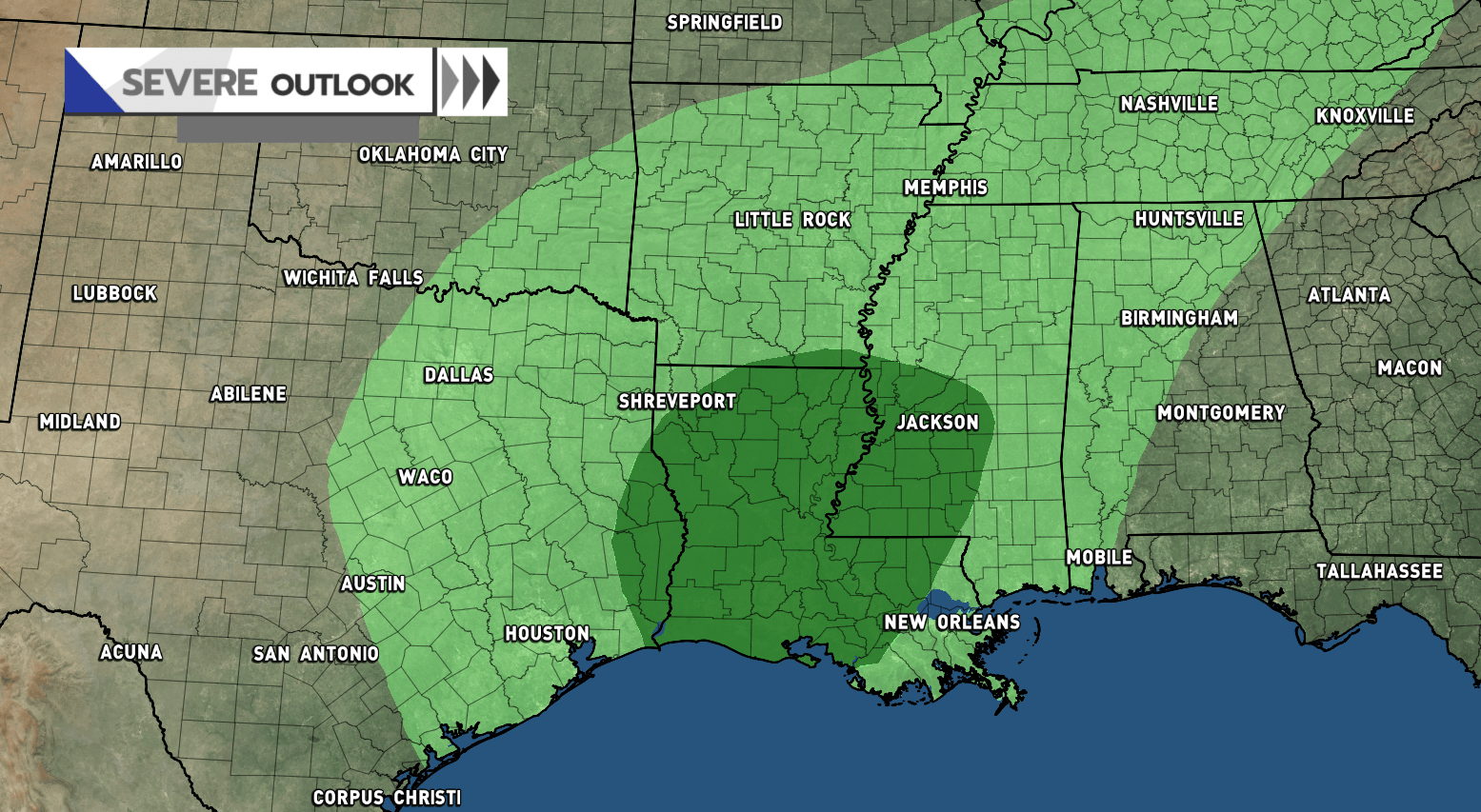 A heavy rain/flood threat is going still in store for the South this week . There are also now two separate severe weather threats to watch this week.
Heavy Rain/Flood Threat
Before we get to the severe weather potential, we need to discuss the excessive rain event.
Overall, there have been no major changes in our thinking since our previous update. However, where we expect the axis of heaviest rain to setup has shifted slightly; it is now expected to extend from the lower/mid Mississippi Valley into the Tennessee Valley and Ohio Valley.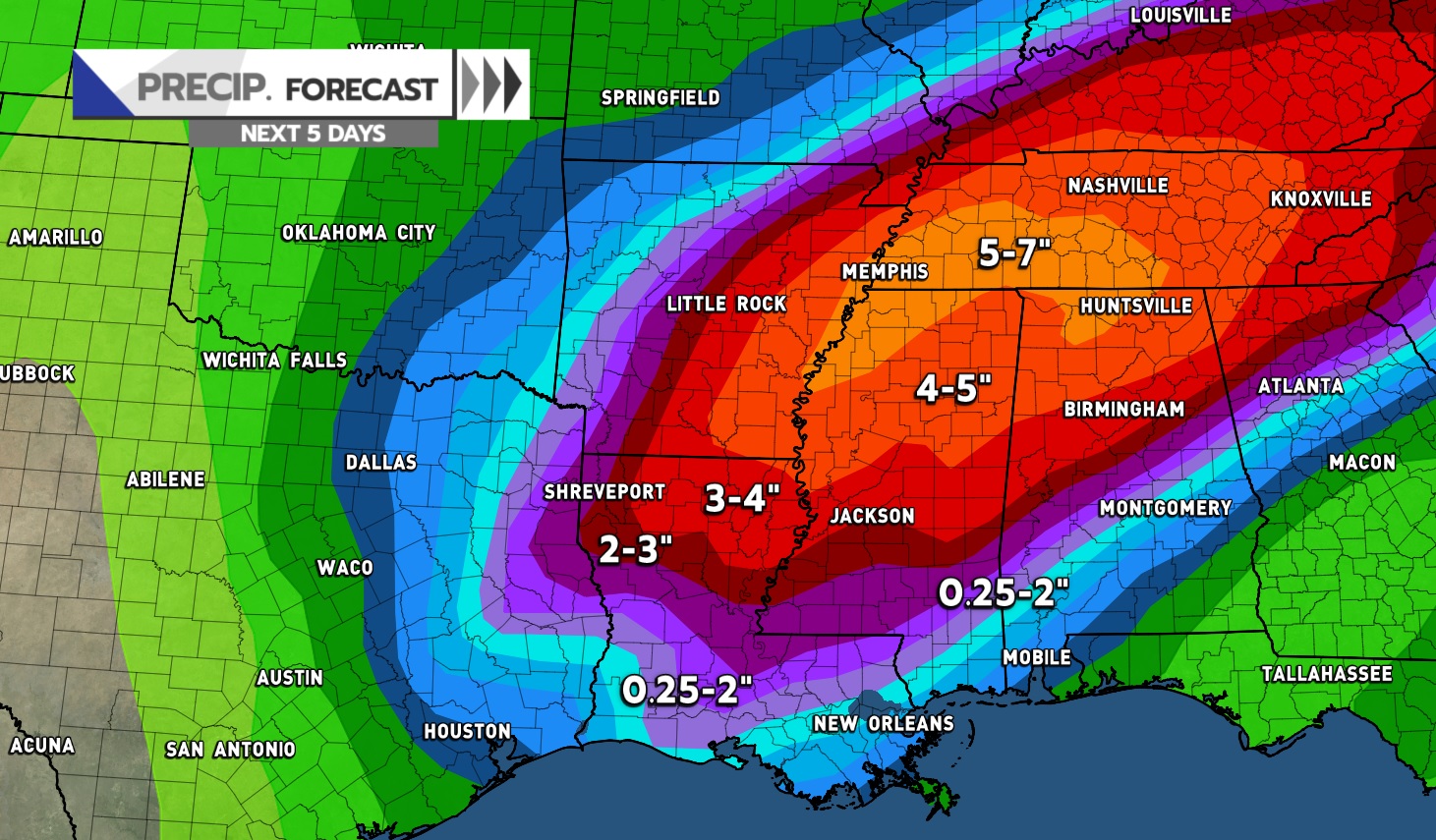 Based on the latest 5-day QPF from the Weather Prediction Center (WPC), widespread rain amounts of 4 – 5″ are now likely across north Mississippi and Alabama (see figure 2). Locally higher totals closer to the 10″ mark are still possible.
Accumulations will be much lower, in the 0.25 – 2″ range, along the central Gulf Coast.
Flash flooding will be a concern in low lying/poor drainage areas (mainly for north MS & AL). Furthermore, there could be some river flooding; if this is of concern to you, be sure to stay aware of the forecast as the week progresses.
You can find the latest river forecasts from the National Weather Service here.
Low-End Severe Risk Tomorrow & Wednesday
A squall line is likely to evolve over Louisiana early tomorrow, and shift east through the morning. There could also be a few discrete cells that form ahead of it.
Generally speaking, the potential for severe weather looks to be low and isolated. However, there should be enough shear and instability for the line and any discrete storms to pose a threat for damaging winds and/or a tornado or two.
The marginal risk (level 1 out of 5) area for tomorrow has been expanded slightly by the Storm Prediction Center (see figure 1). A risk area has also been defined for Wednesday for southeast Louisiana and south Mississippi.
Another Threat for Severe Weather This Weekend?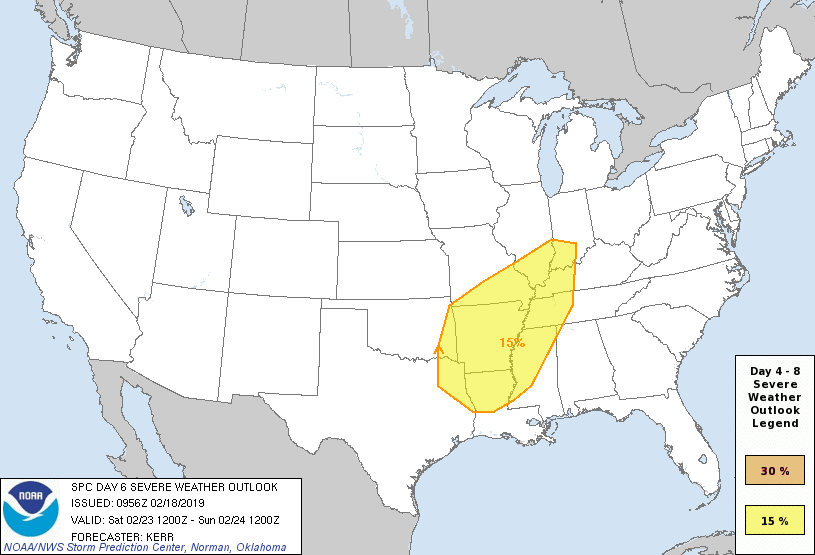 It looks like we will have another severe weather threat to deal with over the weekend. The SPC has already highlighted a risk area (see figure 3). Adjustments are likely over the coming days.
It is a bit too early to speculate on the on specifics.
---
For future updates, be sure to follow us on Instagram.  
You can also follow us on Facebook  and Twitter.
---
Get notified of new blog posts via email by subscribing here.