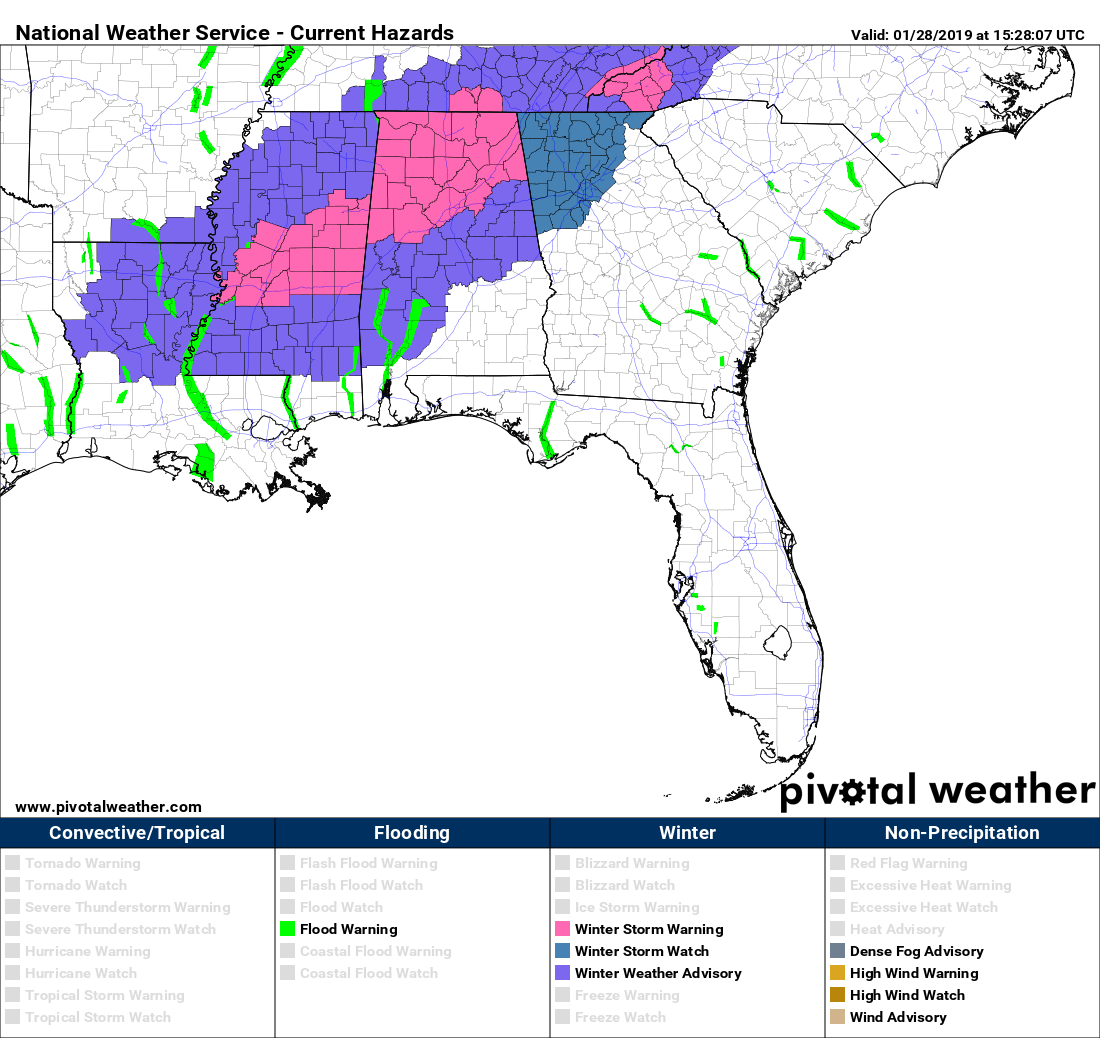 There is going to be accumulating snow for parts of Louisiana, Mississippi, and Alabama tomorrow.
Winter Storm Watches were hoisted Sunday afternoon, but have since been upgraded to Winter Storm Warnings and Winter Weather Advisories (see figure 1).
Accumulations:
1 – 3″ within the Winter Storm Warning area.
Anywhere from a dusting up to about 1″ within the Winter Weather Advisory area.
Along and north of I-10, from Baton Rouge to the FL Panhandle, a few flakes and/or a brief mix is possible.
*Note: Some spots could see higher accumulations.
Timing:
The front and main band of precipitation will be positioned over north LA around 12 AM tonight. Overnight/early tomorrow morning, it will shift east, reaching the I-65 corridor and SE AL and FL Panhandle by mid to late morning.
Much colder and drier air will push in tomorrow afternoon/evening, bringing an end to precipitation.
Note:  Rain will transition to snow. However, the change to all snow could be preceded by a brief mix.
Impacts:
Temperatures are going to rapidly drop behind the arctic front. Most of north and central LA, MS and AL will be below freezing by tomorrow afternoon, meaning any accumulations should stick through Wednesday morning, creating hazardous driving conditions.
Additionally, for areas as far south a I-10, slick spots will be possible. This is because any residual moisture will freeze tomorrow evening/night, especially on elevated surface/roadways (bridges, overpasses, etc…).
---
For future updates, be sure to follow us on Instagram.  
You can also follow us on Facebook  and Twitter.
---
Get our latest website posts sent to you via email by subscribing here.