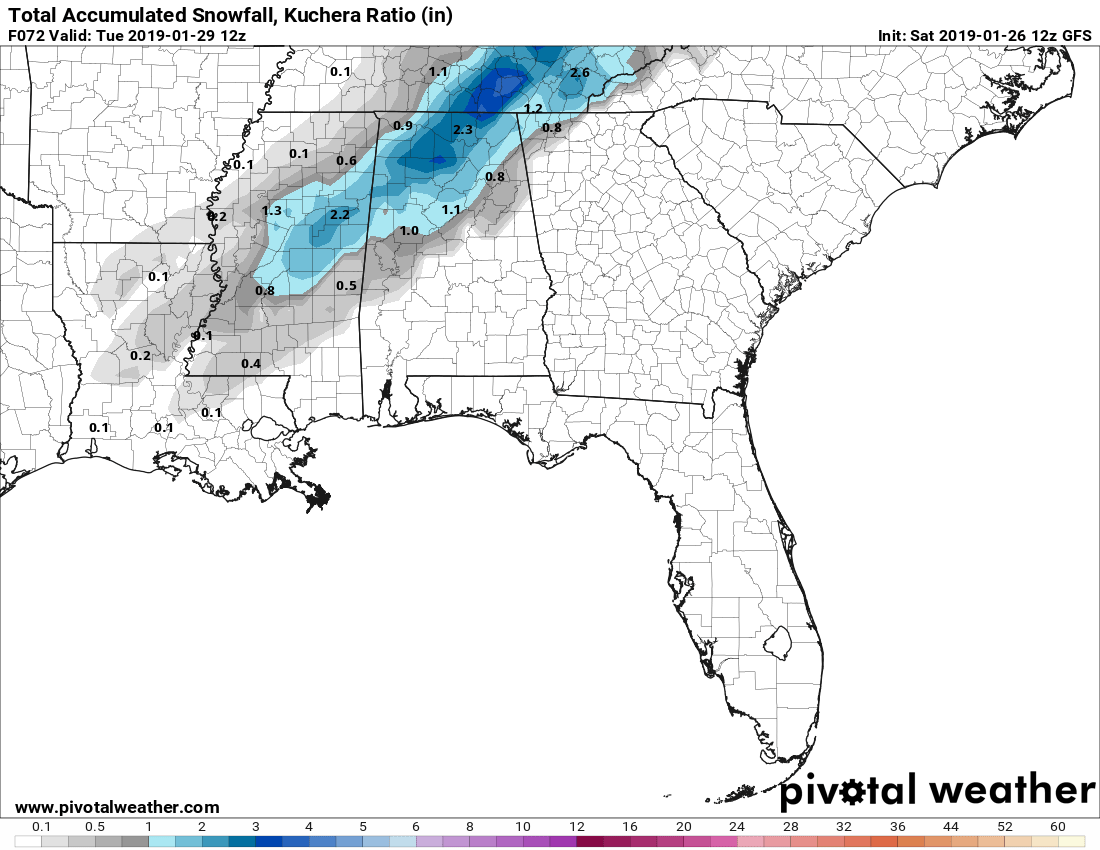 In regard to Tuesday, with global models still in excellent agreement, some snow is now likely as a strong arctic front swings across the South.
There have not really been any changes since yesterday.
Accumulations:
Generally speaking, the greatest chance of accumulation will be north of I-20, where totals of 1/2″ to up to 2″ are possible (see figure 1). It should also be noted that locally higher amounts in excess of 2″ can't be ruled out.
For points south — along a line from Alexandria, LA to Hattiesburg, MS to Auburn, AL — some areas could see very, very minor accumulations (as much as a dusting).
Along and north of the I-10, from Lake Charles, LA to the Western Florida Panhandle, there could be a brief mix/some flurries with no accumulation.
Timing:
Timing has been moved up a bit.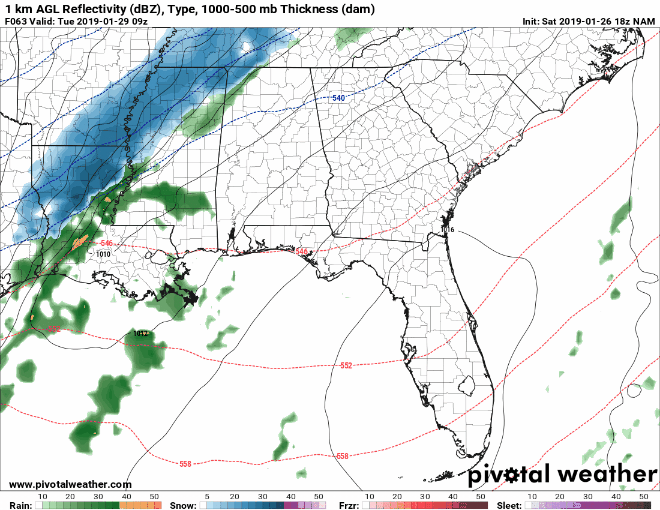 The front will be draped from SE Texas to northern Mississippi at 12 AM Tuesday. During the morning and early afternoon, the front will track across the remainder of Louisiana and Mississippi, and into Alabama and the Florida Panhandle.
Precipitation will occur along and just behind the front; start as rain and end as snow; end from west to east (see figure 2 for an idea of timing).
Impacts:
There will be some impacts to travel with this event, as temperatures will drop quickly behind the front. Unsurprisingly, the more significant impacts will be in spots that get accumulation (so, mainly across north/central MS and AL).
However, depending how this even evolves, there could also be some icing issues in parts of South Louisiana, Mississippi, Alabama, and the Florida Panhandle (this would be north of I-10).
A Few Notes:
This is not a setup for a winter storm.
Moisture is going to be limited overall, meaning that precipitation will be light.
Timing, amounts, and placement will be refined over the next day or two.
---
---
For future updates, be sure to follow us on Instagram.  
You can also follow us on Facebook  and Twitter.
---
Get our latest website posts sent to you via email by subscribing here.