Hurricane Michael is now a category 2, and will become a major, category 3 hurricane later today. Catastrophic impacts are likely for the northeast Gulf Coast.
7 AM CDT advisory info: 
Location: 24.5°N 86.1°W
Moving: NNW at 12 mph
Min pressure: 968 mb
Max sustained: 100 mph
---
Analysis: 
Michael continues to strengthen as the inner core becomes better defined. Microwave data suggests they eye is trying to close off. Additionally, satellite data shows that there is very, very intense convection around the center.
Recon has found flight level winds in excess of 100 knots (kts) and a pressure fall to around 968 millibars (mbs).
---
Model guidance
The global models and their ensembles are now in very good agreement.
As of the 00z model cycle, the consensus is a landfall around Panama City/Apalachicola tomorrow afternoon as a category 3 storm. However, slight shifts to the west or east are still possible.
---
Forecast: 
Track: Michael will continue to move north-northwest to north through tonight. Tomorrow morning, a turn to the north-northeast/northeast will take place as the storm begins to feel the influence of the upper trough. After landfall, Michael will accelerate off to the northeast across the Southeast.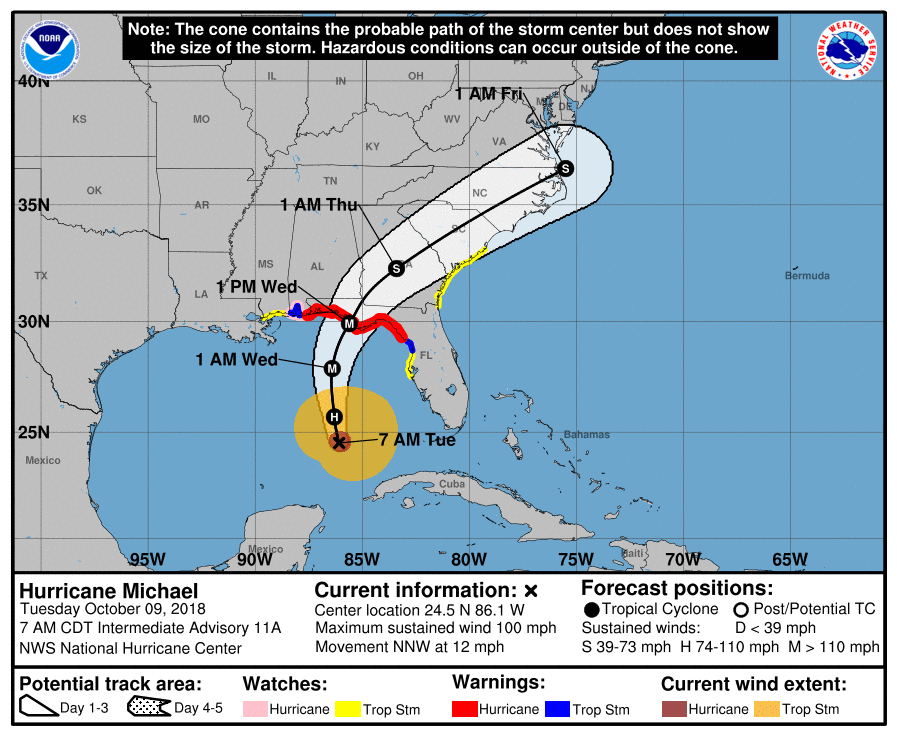 Intensity: Generally neutral shear combined with fact that Michael will be traversing very warm sea surface temperatures will allow for strengthening today and tomorrow. Based on this and the latest model guidance, Michael will likely become a category 3 hurricane with maximum sustained winds of 115 – 125mph. However, it is possible that Michael could become a category 4.
---
Impacts: 
Michael will bring catastrophic impacts to portions of the Florida Gulf Coast:
Hurricane force winds will be likely in the warning area (see figure 2) near the point of landfall (likely in excess of 100 mph in the eye-wall). Hurricane force wind gusts and sustained tropical storm force winds will also be possible in the hurricane warning area away from the center.
A deadly, catastrophic storm surge up to and in excess of 10′ will occur east of the center — especially in the Big Bend area.
Heavy rain will occur closer to/east of the center of the storm. The latest forecast from the Weather Prediction Center calling for accumulations of 6 – 10″.
Seas will reach 15 – 25′ offshore.
Tornadoes will also be a possibility in the outer bands/squalls.
---
Interests from Destin, FL to the Big Apalachicola, FL should continue to closely monitor the progress of  Michael and complete hurricane preparations by tonight.
---
For future updates, follow us on social media: 
*Like Hurricane Central on Facebook*
---
You can also have our latest website posts sent to you via email by subscribing here.