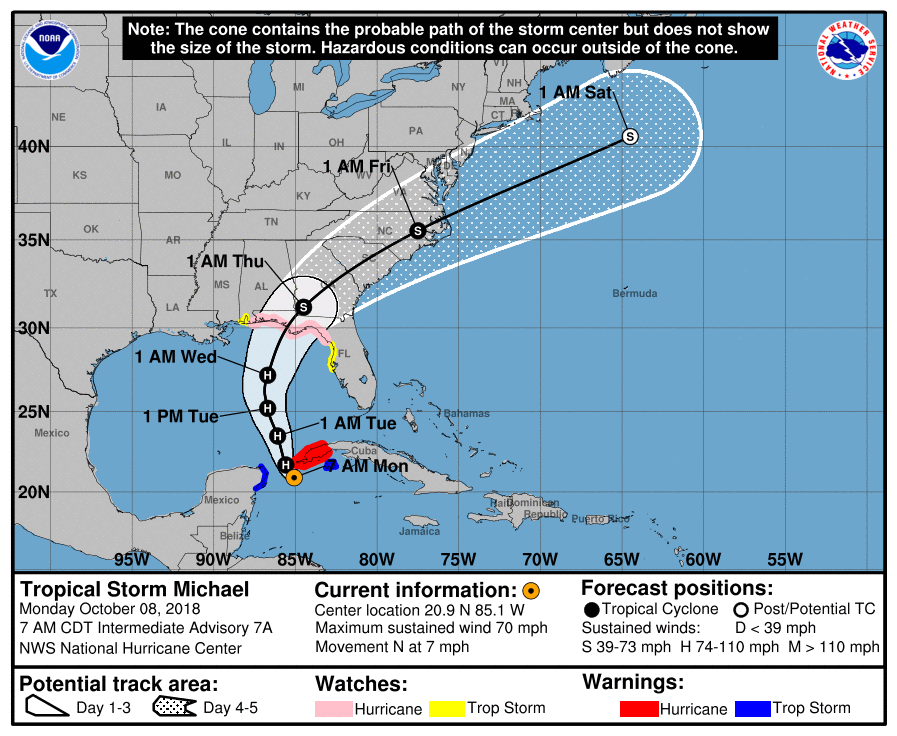 Michael is nearing hurricane status this morning and could become a major hurricane in the Gulf.
7 AM CDT advisory info: 
Location: 20.9°N 85.1°W
Moving: N at 7 mph
Min pressure: 982 mb
Max sustained: 70 mph
A Hurricane Watch is in effect from the AL/FL border to Suwannee River, FL.
A Tropical Storm Watch is in effect from Suwannee River, FL to Tampa FL; the AL/FL border to the MS/AL border.
---
Analysis: 
Michael continues to get better organized and is intensifying. Satellite presentation has improved, with the storm now taking on a comma-like shape. Some cloud tops associated with the convection are at or below – 80°(C). There is also distinct banding in the east/northeast quadrant. Convection has also filled in the western quadrant.
Earlier this morning, a USAF hurricane hunter aircraft found pressures in the 980's and flight level winds in the 60-70 knot(kt) range, suggesting Michael is very close to hurricane strength.
---
Model guidance: 
There continues to be significant timing differences with the models. This is resulting in a continued large spread of potential landfalls.
The ECMWF (euro) is predicting Michael to become a category 3 tomorrow. It has landfall near Apalachicola/Panama City, FL Thursday morning.
The GFS is predicting Michael to become a category 3. It has landfall near Destin/Pensacola, FL Wednesday morning.
The UKMET is predicting Michael to become a category 3. It has landfall just east of Apalachicola, FL Thursday evening.
The euro ensembles (EPS) ensembles and GFS ensembles (GEFS) are similar, with most members clustered on a landfall between Destin and Apalachicola late Wedensday/early Thursday (see figure 3).
---
Our thoughts: 
Track: Michael will continue to move generally north through Wednesday, and will emerge in the southern Gulf by tonight. Late Tuesday/early Wednesday, an approaching upper trough should induce a north-northeast/northeast turn. Landfall will likely be somewhere between Destin and Apalachicola late Wednesday or early Thursday (see figure 1).
Intensity: 15 – 20 kts of westerly shear is still impacting Michael. Despite this, the storm has managed to intensify to near hurricane strength. Shear will drop to 10 – 15 kts by this evening, and remain in that range until landfall. Michael will also be moving over the Gulf of Mexico loop current tonight and tomorrow. Both of these things coupled together favor intensification – possibly rapid intensification.
Based on the latest model guidance, Michael will more than likely become a category 2 or 3 hurricane tomorrow.
---
Interests from Pensacola, FL to the Big Bend of FL should continue to closely monitor the progress of  Michael and begin hurricane preparations.
---
For future updates, follow us on social media: 
*Like Hurricane Central on Facebook*
---
You can also have our latest website posts sent to you via email by subscribing here.