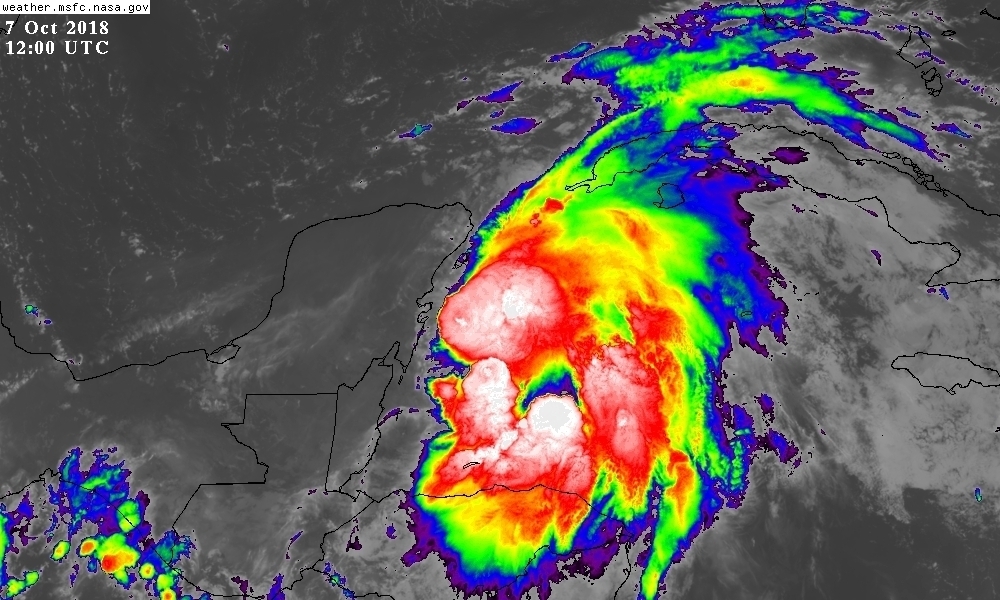 Potential Tropical Cyclone 14 is now a tropical depression (TD-14), and will become Tropical Storm Michael at some point today.
7 AM CDT advisory info: 
Location: 18.9°N 86.8°W
Moving: N at 3 mph
Min pressure: 1004 mb
Max sustained: 35 mph
---
Analysis: 
TD-14 is gradually organizing. Infrared satellite imagery shows that convection has increased and become more persistent and concentrated since yesterday, and that some banding has formed (see figure 1). 25 – 30 kts of shear continues to impact the cyclone, however, as most of the convective activity is in the eastern quadrant.
---
Model guidance: 
The ECMWF (euro), GFS, and UKMET are in agreement on TD-14 strengthening to a category 2 or 3 over the Gulf. All 3 differ on track and timing, though.
The euro is forecasting landfall near Panama City,FL at midnight Wednesday.
The GFS is forecasting landfall near Destin, FL Wednesday afternoon.
The UKMET is forecasting landfall in the Big Bend, just east of Apalachicola, FL, Wednesday night.
Both the euro ensembles (EPS) and GFS ensembles (GEFS) have a landfall anywhere from Mobile, AL to Cedar Key, FL.
As of the 00z model cycle, the consensus is for a landfall between Pensacola, FL and Apalachicola, FL.
---
Our thoughts: 
We expect TD-14 will strengthen to Tropical Storm Michael later today — likely after/during the first scheduled hurricane hunter recon mission.
Track: TD-14 will emerge into the southern Gulf by tomorrow morning. On Tuesday, an approaching upper trough will then pull the storm north/north-northeast up until landfall, which should be sometime Wednesday or Thursday between Pensacola and Apalachicola based on the latest guidance (see figure 2).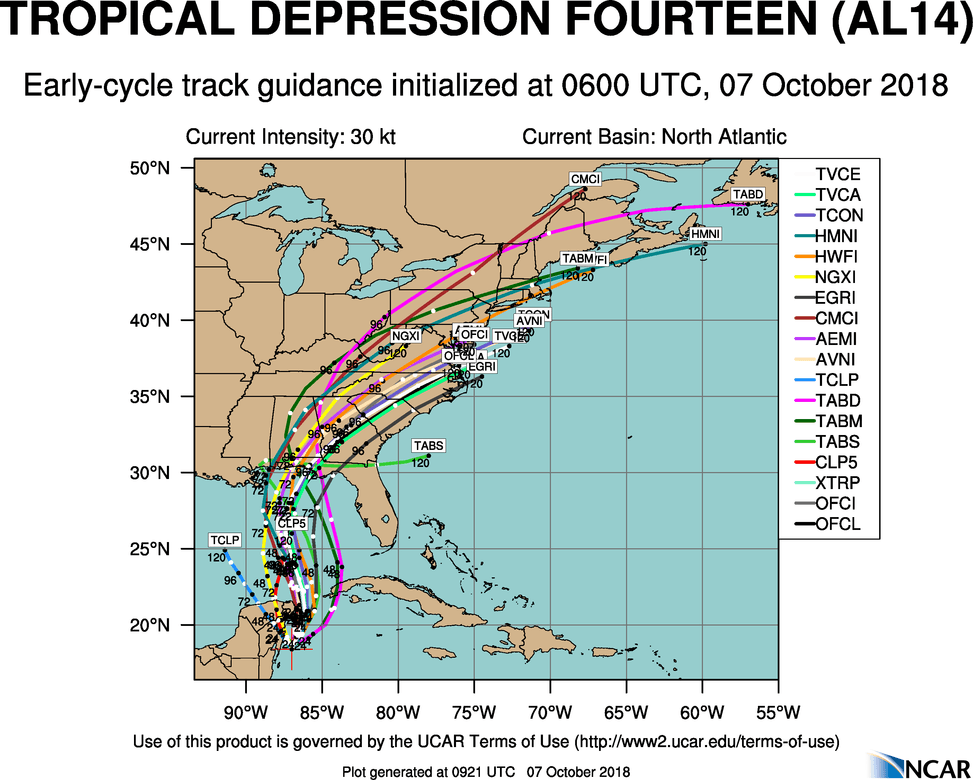 Intensity: The latest SHIPS intensity forecast has wind shear values falling to the 15 – 20 kts range by this evening, and the 10 – 15 kts range by Tuesday. The lower shear, combined with warm sea surface temperatures, should allow for intensification. TD-14 will more than likely become a hurricane. However, the exact intensity is still uncertain.
The latest IVCN consensus model brings TD-14 to category 1 strength prior to landfall.  Meanwhile, all three global models and many of their ensemble members are predicting a category 2 o r 3.
---
Interests from Pascagoula, MS to Cedar Key, FL should continue to closely monitor the progress of  TD 14.
---
For future updates, follow us on social media: 
*Like Hurricane Central on Facebook*
---
You can also have our latest website posts sent to you via email by subscribing here.