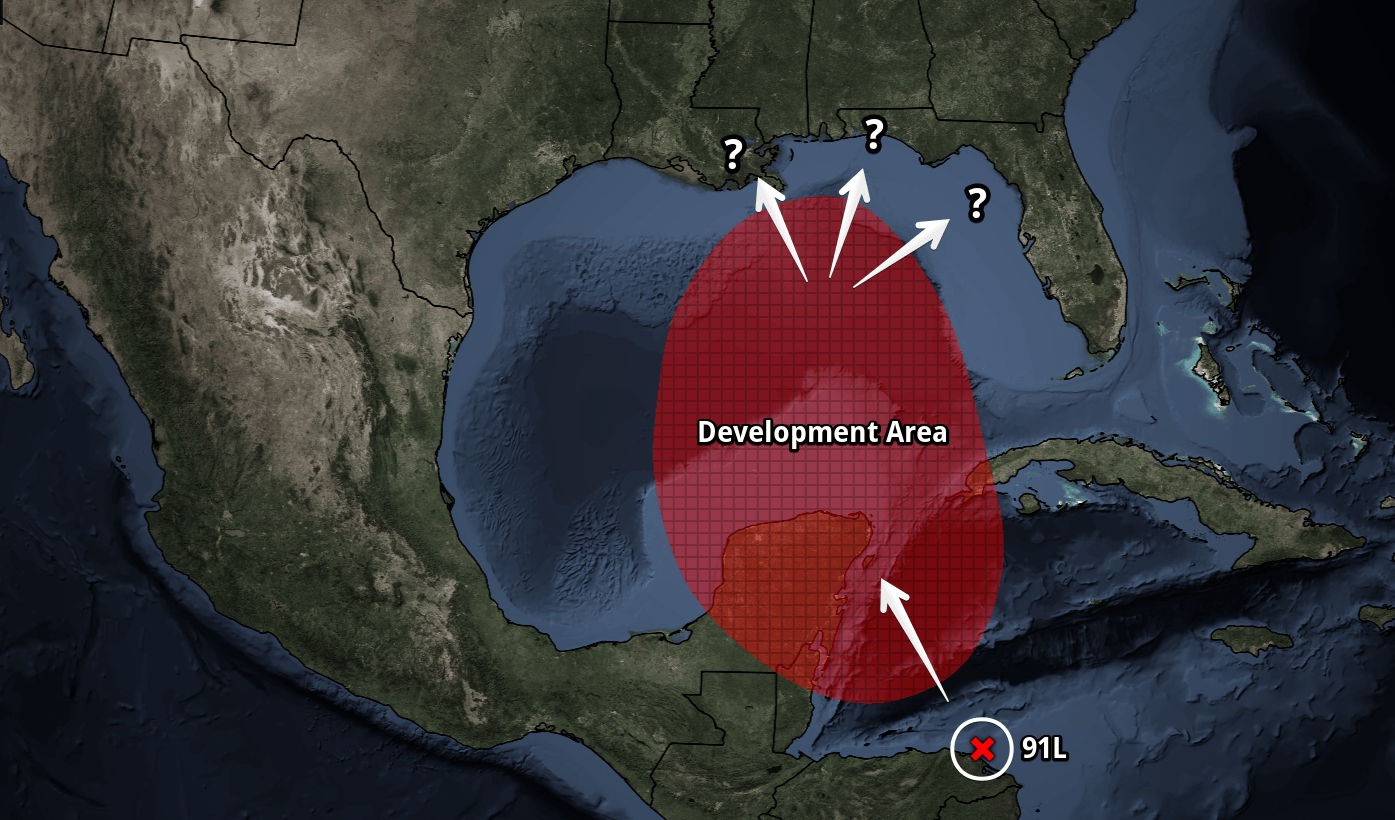 The area of low pressure that we have been tracking in the Caribbean for the past several days has been designated Invest 91L.
Per 18z best track data, 91L was located just off the coast of Honduras.
---
Analysis: 
Invest 91L, being part of a Central American Gyre (CAG), is currently very broad with multiple competing areas of vorticity. Wind shear is still very high and continuing to prevent consolidation for the time being.
Convective activity has been pulsing up and down with the diurnal cycle — a common occurrence with developing tropical systems. Convection was more robust and concentrated this morning but has faded.
---
Model guidance: 
The GFS is once again predicting development of 91l. With this change, model guidance is now unanimous in forecasting development of 91L around Sunday/Monday in either the extreme northwest Caribbean Sea or southern Gulf.
As of now, the consensus is for an upper trough to cause north to north-northeast track toward the north-central or northeast Gulf Coast, with a landfall between New Orleans, LA and Cedar Key Wednesday/Thursday (see figure 1).
Operation models: The GFS and UKMET both predict 91L to become a hurricane (see figure 2). The ECMWF (euro) also predicts some intensification, showing 91L becoming a moderate to strong tropical storm.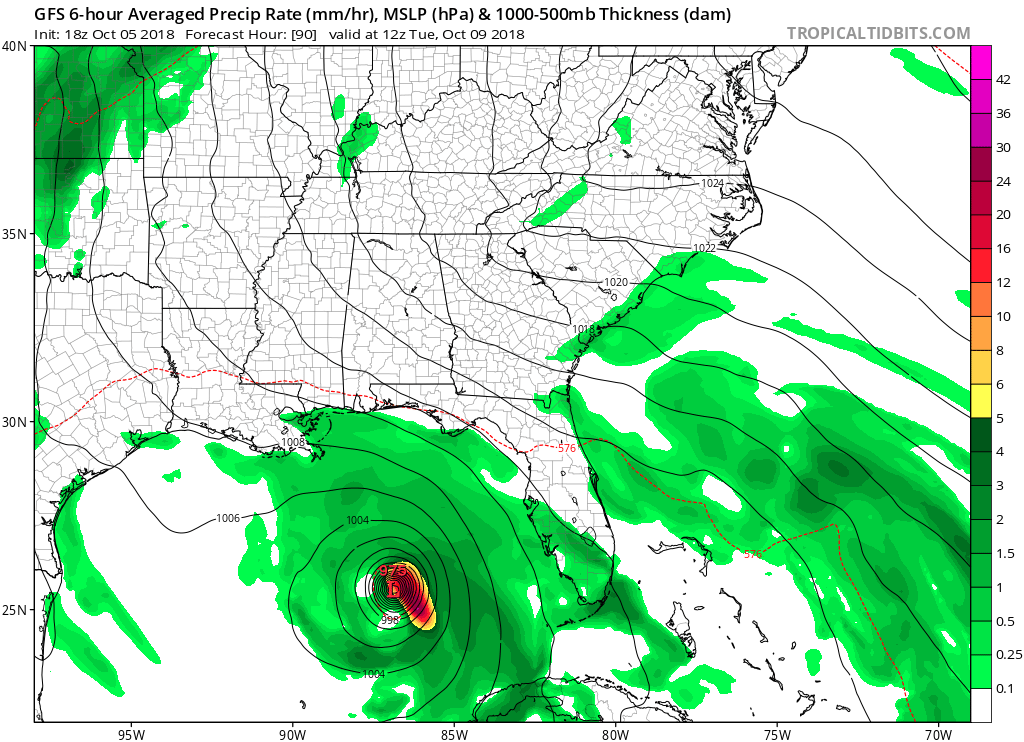 Ensembles: Both the euro ensembles (EPS) and GFS ensembles (GEFS) are predicting development of 91L Sunday/Monday, but differ on track. The former favor a north-central Gulf Coast landfall while the latter favor a NE Gulf Coast landfall. Only a few GEFS members support the operational solution of a hurricane.
---
Our thoughts: 
We now believe that there is an 80 – 90% of 91L developing in either the extreme NW Caribbean or southern Gulf.
In the 2 PM EDT tropical weather outlook, the National Hurricane Center gave 91L a medium chance (40%) of developing over the next 2 days and a high chance (70%) of developing over the next 5 days, respectively.
Shear should continue to impede organization through tomorrow. However, starting Sunday shear should decrease just enough to allow for at least slow development (see figure 3). Taking this into account, 91L should consolidate into a tropical depression or storm sometime between late Sunday and Tuesday.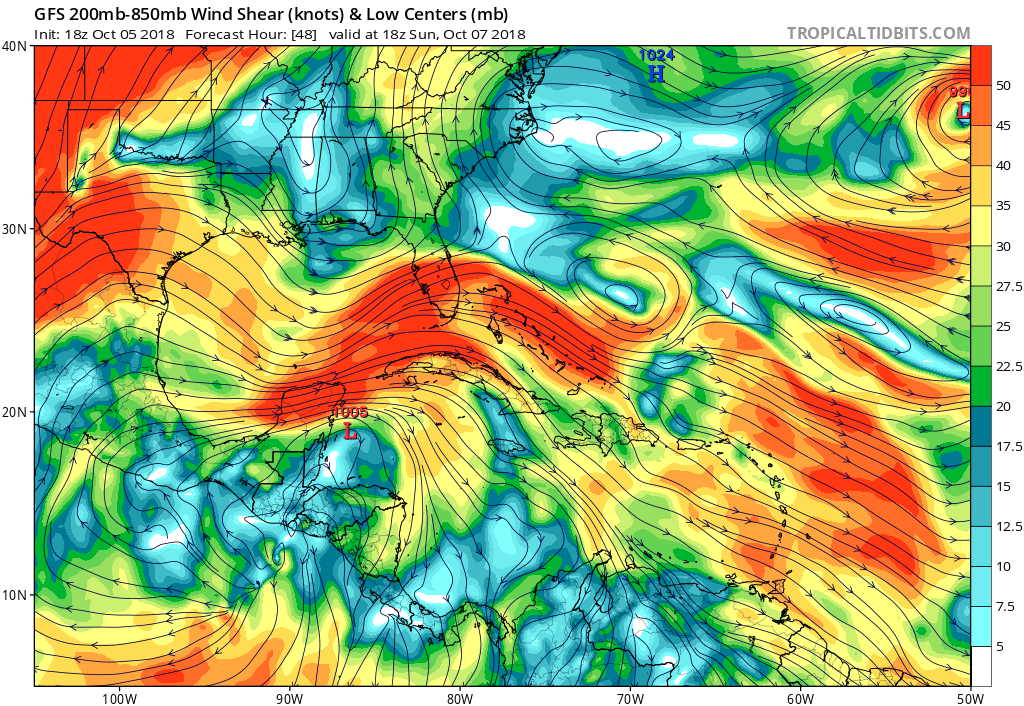 Track: The ultimate destination of 91L is still unknown. A ridge of high pressure anchored over Eastern Seaboard will cause a NW movement into the southern Gulf in the short-term. By Tuesday/Wednesday, an upper trough should cause the ridge to weaken and pull 91L toward the north-central or northeast Gulf Coast, with landfall possible Wednesday/Thursday anywhere from southeast Louisiana to Florida.
The exact track/landfall location will depend on: the speed of 91l, speed of the trough, and position/strength of the ridging.
Intensity: It is far too early to speculate on how strong 91L might get once it becomes a TC. Initially it looked like a ribbon of shear would persist over the Gulf , limiting intensity. However, now it seems shear could shift north in tandem with 91L; this would allow for intensification.
---
Note: Interests from New Orleans to Florida should closely monitor the progress of 91L over the coming days.
---
For future updates, follow us on social media: 
*Like Hurricane Central on Facebook*
---
You can also have our latest website posts sent to you via email by subscribing here.