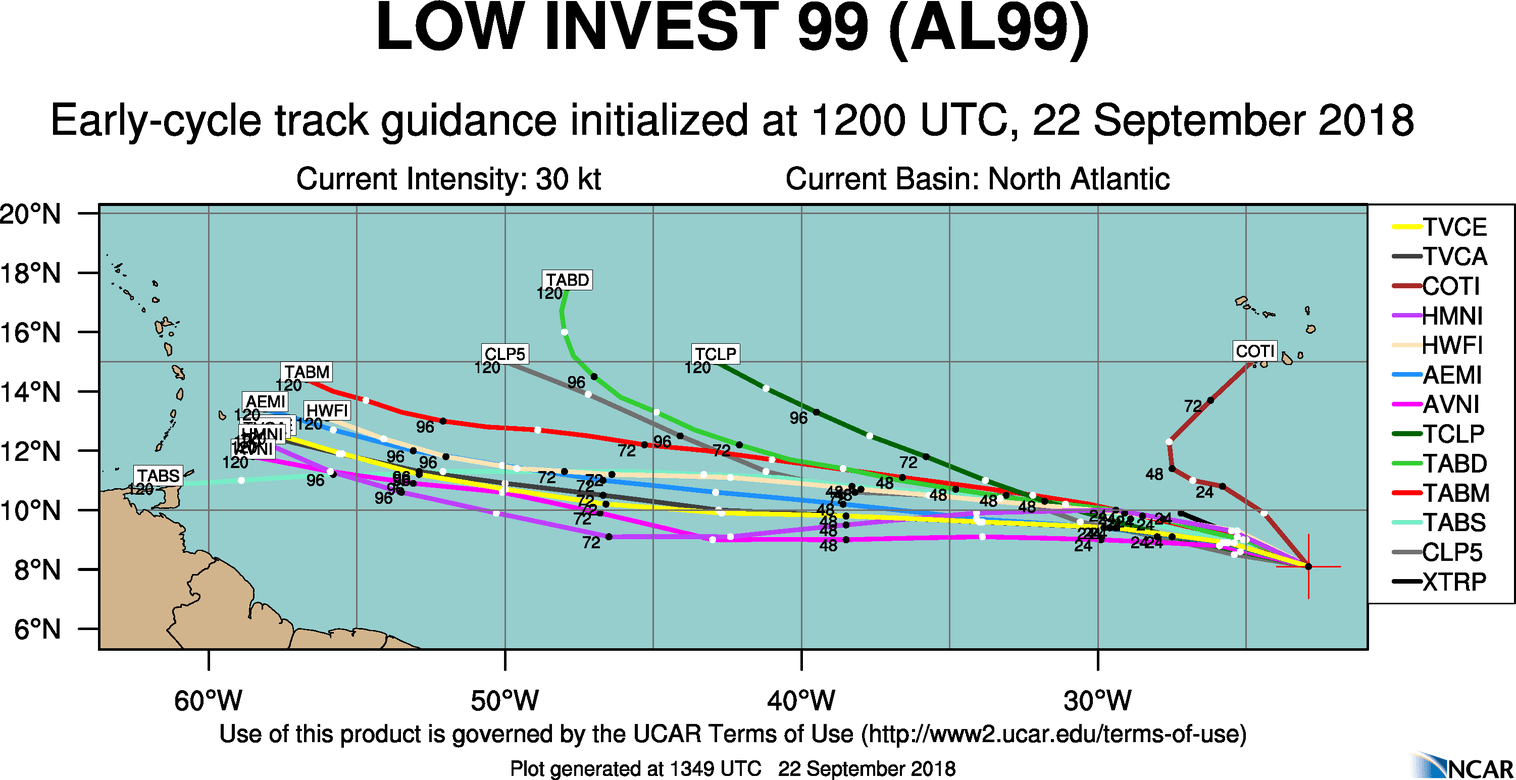 Tropical Depression Eleven (TD 11) developed east of the Windward Islands and Lesser Antilles last night, but is not much of a threat. Meanwhile, Invest 99L is on the way to becoming Tropical Depression Twelve south of the Cabo Verde Islands.
---
TD 11: As of the 5 AM EDT/AST advisory, max sustained winds were 35 mph and the minimum central pressure was 1007 millibars. Movement was slowly west at 5 mph.
Satellite imagery this morning shows that 30-40 kts of westerly shear is ipacting TD 11. This is causing the convection to remain displaced to the east of the center of circulation.
Track: A weakness in the Bermuda high will allow for a general west-northwest track through this weekend.
Intensity: This is redundant, but nothing has changed. The environment surrounding TD 11 is extremely hostile. Strengthening is not very probable, with dissipation likely by tomorrow well east of the Windward Islands/Lesser Antilles.
---
Invest 99L: Since coming off of Africa, 99L has been getting gradually better organized. Organization is continuing this morning. There is moderate to strong convection near the center based on satellite imagery. A recent ASCAT pass also suggests that the center of circulation is closed.
Recent ASCAT pass reveals a small closed circulation in #99L. Up to an 80% chance of genesis per @NHC_Atlantic, and likely to be TD12 sometime later today or tomorrow. pic.twitter.com/1jdhHZqclN

— Andy Hazelton (@AndyHazelton) September 22, 2018
Wind shear is a light 5 – 10 kts through about 40 degrees west longitude.  Although, water vapor satellite imagery suggests that there is some dry air just to the north. Considering the low shear, 99L should organize further even with the presence of some dry air.
In their 00z runs, the ECMWF (euro), GFS, and UKMET all predicted development of 99L, with the latter remaining the most aggressive.
It is possible, if not likely, that 99L becomes a depression sometime today if current organizational trends continue. In their 8 AM EDT tropical weather outlook (TWO), the National Hurricane Center (NHC) gave 99L an 80% chance of developing over both the next 2 and 5 days.
99L is going to track generally west through the middle of this upcoming week (see figure 1). Environmental conditions will remain generally conducive for at least the next 3 days, and 99L should become a tropical storm at some point.
---
Invest 98L: No change with 98L. Strong upper-level winds (shear) and dry air are still impeding any subtropical/tropical development. There will be a brief window from Monday – Tuesday for some development. However, upper-level winds look to increase again late Tuesday/Wednesday. The euro, GFS, and UKMET continue to predict only weak development of 98L.
In the morning TWO, the NHC gave 98L a 30% chance of developing over the next 5 days,
Should a tropical/subtropical cyclone form from 98L,  it will be a tropical depression or storm at the most.
An anticyclonic loop is still expected, with potential for a track fairly close to the East Coast mid week next week.
---
For future updates, follow us on social media: 
*Like Hurricane Central on Facebook*
---
You can also have our latest website posts sent to you via email by subscribing here.