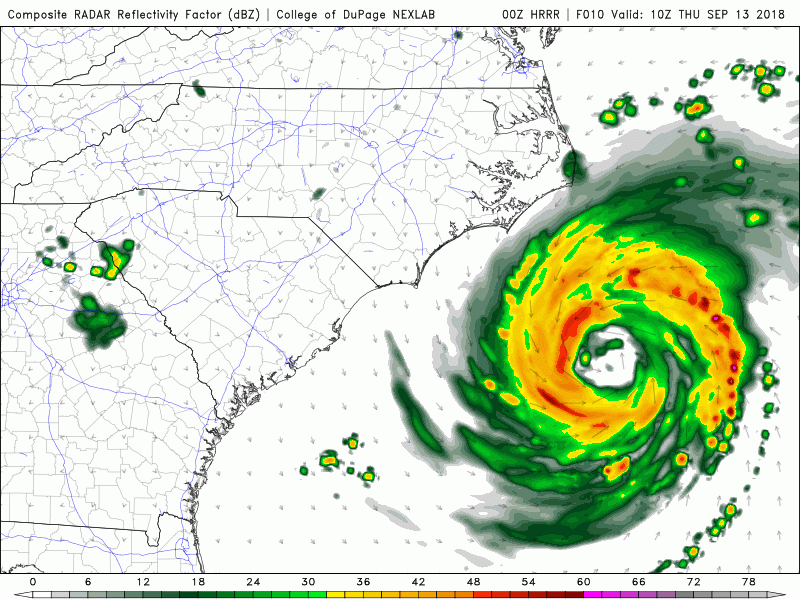 A bit of good news: there has been a notable but steady weakening trend with Florence throughout the day.
Per the 11 PM EDT advisory, data from a reconnaissance aircraft shows that Florence is now a category 2 storm with max sustained winds of 110 mph.
---
At least one possible culprit appears to be Florence's size. Over the past two days, Florence has undergone several eye wall replacement cycles, which have expanded the wind field (as of this writing, hurricane-force winds extend out 70 miles from the center). The size of the wind field is preventing the storm from concentrating stronger winds within the eye wall, making it hard to intensify.
Intensity: Florence is no longer expected to get as strong as originally anticipated given the recent weakening trend (the chance of a category 5 is now 0, as Florence has likely peaked). However, environmental conditions will remain favorable until late tomorrow, meaning Florence could restrengthen to a degree, and potentially briefly achieve major hurricane status again. Shear is still expected to increase tomorrow night as Florence nears the coast, which should cause more weakening.
It should be noted that while there has there has been weakening, with more weakening forecast late tomorrow, Florence should still be a strong category 2 when nearing the coast.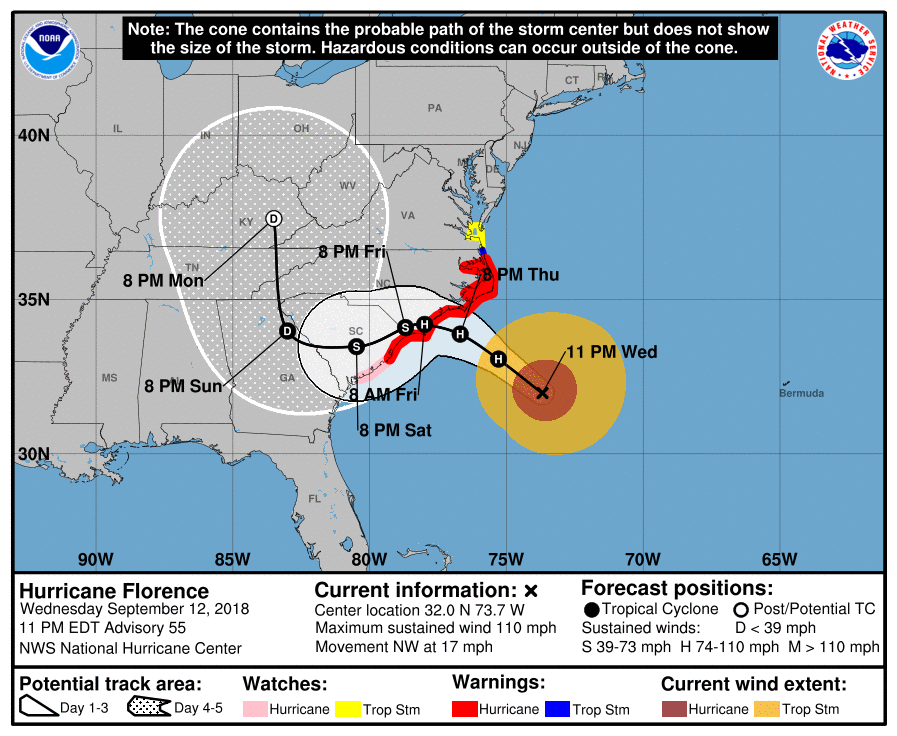 Track: No change with the track. Florence will approach the coast of North Carolina tomorrow morning. The center will get very close to the coast between Myrtle Beach, SC and Wilmington, NC (landfall is possible). Steering currents will then weaken, causing a considerable decrease in forward speed and/or a stall late tomorrow/Friday. A WSW to SW turn, with a track paralleling the coast of NC/SC/GA or tacking just inland through this weekend.
Impacts: Regardless of how Florence evolves over the next day and a half intensity wise, there will be little to no change in respect to impacts. Squalls will begin to move in tomorrow morning, bringing tropical-storm-force winds (see figure 1). All preparations should be rushed to completion tonight.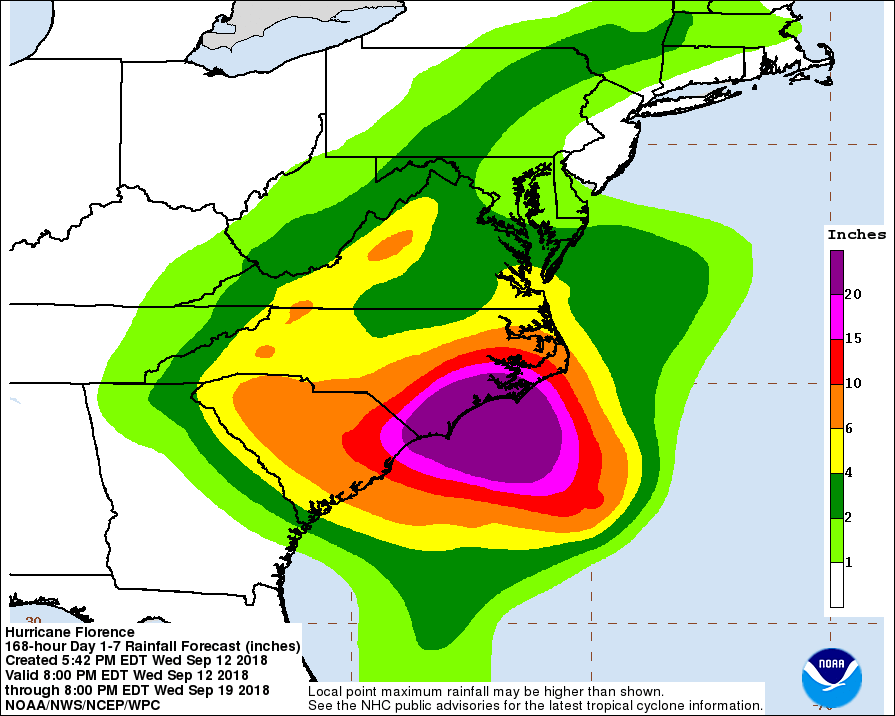 Surge: There will be a significant, life-threatening storm surge of up to 9 – 13′ on the east side of the storm.
Winds: Portions of both coastal North Carolina and South Carolina will be impacted by damaging hurricane-force winds. It should also be noted that because of Florence's sizable wind field and the expected drift and/or stall, hurricane force winds could continue for an extended period.
Heavy rain: Because Florence is going to drift and/or stall,  a prolonged, life-threatening,  and potentially catastrophic heavy rainfall/flood event will unfold from SC and NC (see figure 3). Because Florence is expected to go SW and then W, the threat for flooding has gone down for the Mid-Atlantic.
---
Key messages from the National Hurricane Center: 
1. A life-threatening storm surge is now highly likely along
portions of the coastlines of South Carolina and North Carolina, and
a Storm Surge Warning is in effect for a portion of this area. All
interests in these areas should complete preparations and follow any
advice given by local officials.
2. Life-threatening, catastrophic flash flooding and prolonged
significant river flooding are likely over portions of the Carolinas
and the southern and central Appalachians late this week into early
next week, as Florence is expected to slow down as it approaches the
coast and moves inland.
3. Damaging hurricane-force winds are likely along portions of the
coasts of South Carolina and North Carolina, and a Hurricane Warning
is in effect. Strong winds could also spread inland into portions
of the Carolinas.
4. Large swells affecting Bermuda, portions of the U.S. East
Coast, and the northwestern and central Bahamas will continue this
week, resulting in life-threatening surf and rip currents.
---
For future updates, follow us on twitter @GCSCWX.
You can also follow us on Facebook and Instagram, or join our official Facebook group. 
*Like Hurricane Central on Facebook*
---
For an official, accurate weather forecast specific to your local area go to weather.gov and enter your zip code or consult your local National Weather Service.