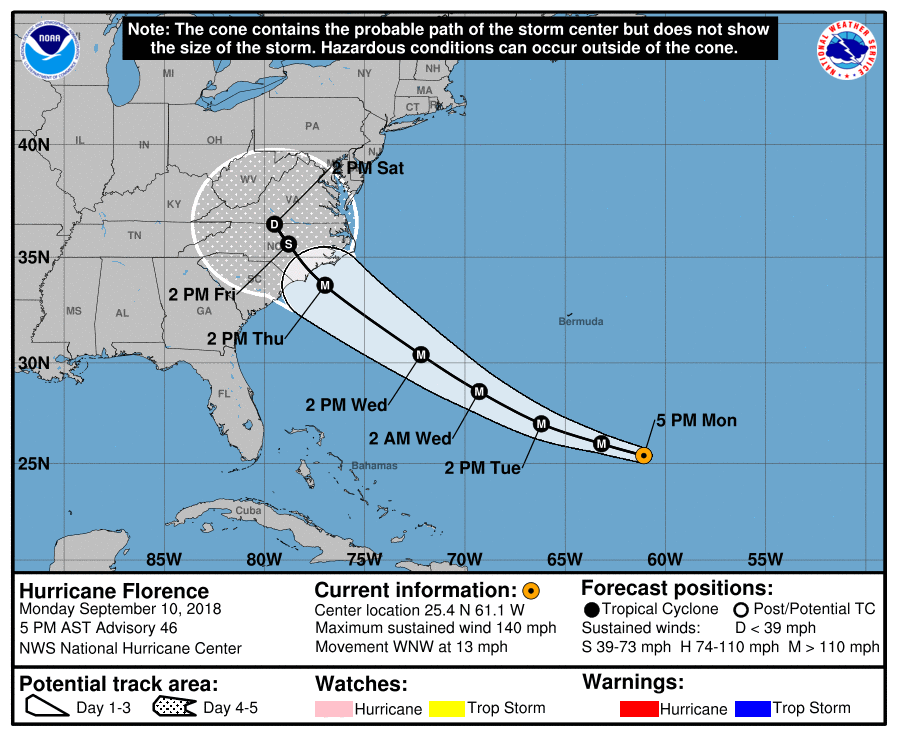 Florence rapidly intensified over the course of the day, and is once again an extremely dangerous category 4 hurricane. On the other hand, there has been little change with Isaac.
---
Florence: As of the 5 PM EDT advisory, Florence was moving west-northwest across the Southwest Atlantic with max sustained winds of 140 mph and a minimum central pressure of 939 millibars (mbs).
Track: The blocking ridge (high) discussed for the past several days will keep Florence moving west-northwest through tomorrow. A turn to the northwest is then expected Wednesday as the ridge steering Florence will change orientation. The northwest motion will continue up until landfall, which will occur anywhere from Charleston, SC to Morehead City, NC (see figure 1). After moving inland, Florence will slow significantly and/or stall.
Intensity: Unfortunately, there is nothing to impede strengthening through Wednesday other than possible eye wall replacement cycles, and Florence will more than likely become a category 5 time for a time. There are indications that upper-level winds could increase near/just before landfall, which could induce some weakening. However, Florence will likely be a very powerful category 3 or 4 at landfall. Weakening will ensue once inland.
Impacts: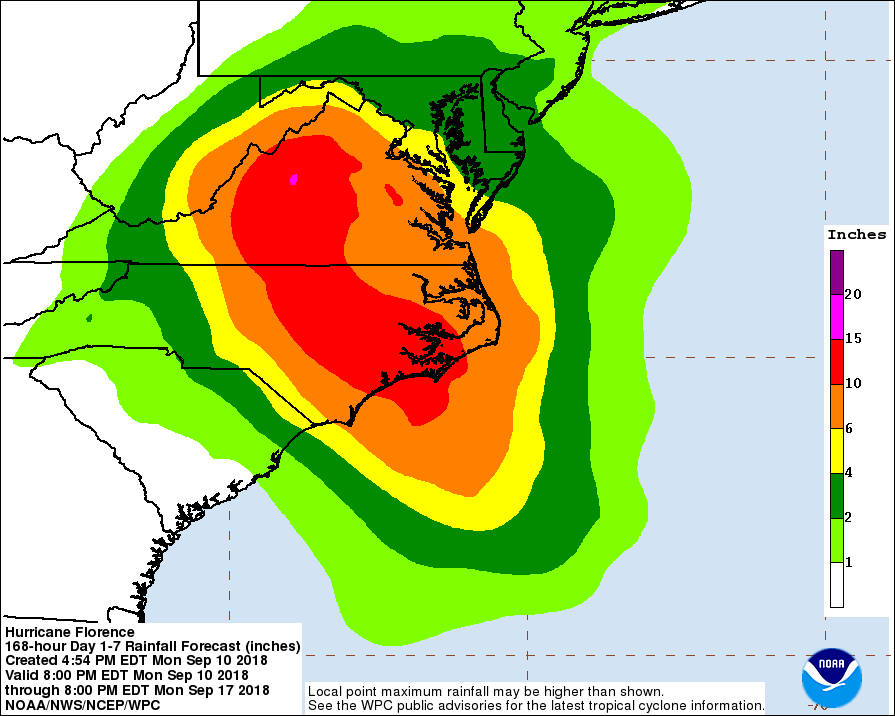 Surge: There will be a significant, life-threatening storm surge on the east side of the storm.
Winds: Both coastal North Carolina and South Carolina are going to be impacted by hurricane-force winds, as Florence is going to expand in size tomorrow and Wednesday, meaning the wind field will be quite large.
Heavy rain: Because Florence is going to meander and/or stall for up to 3 – 4 days,  a prolonged, life-threatening,  and potentially catastrophic heavy rainfall/flood event will unfold from North Carolina into the Mid-Atlantic (see figure 2).
---
Key messages (Florence): 
1. A life-threatening storm surge is likely along portions of the
coastlines of South Carolina, North Carolina, and Virginia, and
a Storm Surge Watch will likely be issued for some of these areas by
Tuesday morning. All interests from South Carolina into the mid-
Atlantic region should ensure they have their hurricane plan in
place and follow any advice given by local officials.
2. Life-threatening freshwater flooding is likely from a prolonged
and exceptionally heavy rainfall event, which may extend inland over
the Carolinas and Mid Atlantic for hundreds of miles as Florence is
expected to slow down as it approaches the coast and moves inland.
3. Damaging hurricane-force winds are likely along portions of the
coasts of South Carolina and North Carolina, and a Hurricane Watch
will likely be issued by Tuesday morning. Damaging winds could also
spread well inland into portions of the Carolinas and Virginia.
4. Large swells affecting Bermuda and portions of the U.S. East
Coast will continue this week, resulting in life-threatening surf
and rip currents.
---
Isaac:  Isaac is a hurricane as of last night. Per the 5 PM EDT Advisory, Isaac had max sustained winds of 75 mph and a minimum central pressure of 993 mbs. Movement was to the west at 14 mph.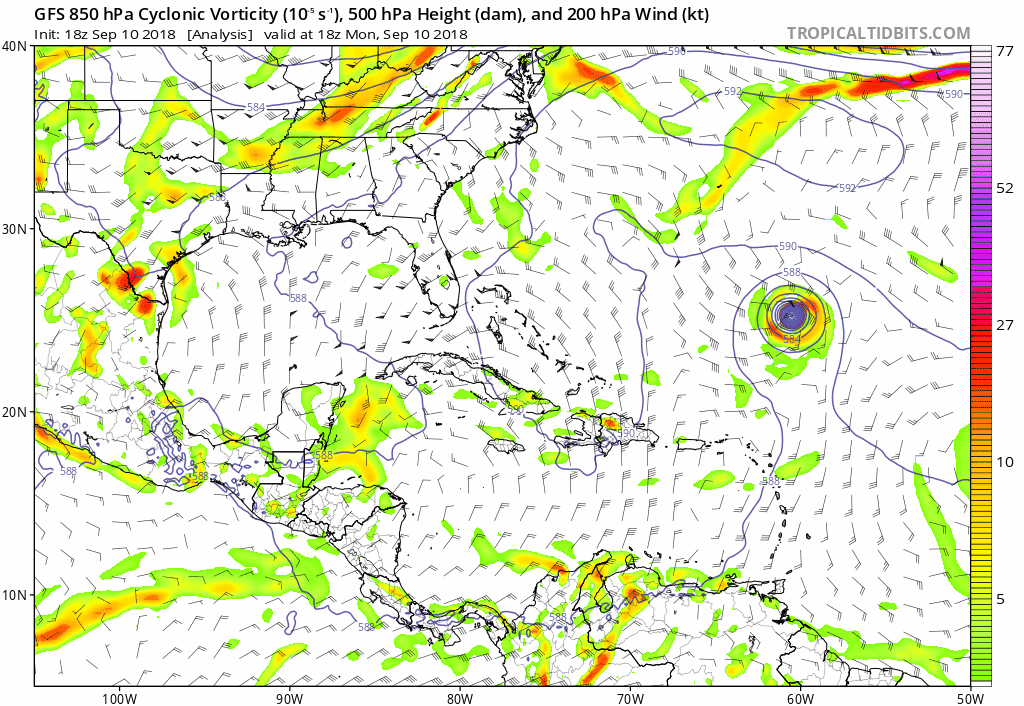 Track: Isaac is going to continue to track straight west under a ridge of high pressure building behind Florence, and will track through the Lesser Antilles on Thursday. By Friday, Isaac will be moving across the Eastern Caribbean.
Intensity: Isaac has changed little in strength today despite a conducive environment. Some strengthening is still expected through tomorrow and Wednesday, though, as atmospheric conditions will remain favorable for intensification. Upper-level winds will increase Thursday as Isaac approaches the lesser Antilles, which should cause some wakening.
Isaac is no longer expected to achieve category 2 status because of the expected increase in shear coupled with the lack of strengthening today. However, because of Isaac's small size, rapid fluctuations in intensity both up and down are possible.
Note: It is still too early to determine if Isaac will pose a threat to the Continental United States. However, it is worth mentioning that both the ECMWF and GFS open up Isaac into a wave over the Central Caribbean this weekend (see figure 3).
---
For future updates, follow us on twitter @GCSCWX.
You can also follow us on Facebook and Instagram, or join our official Facebook group. 
*Like Hurricane Central on Facebook*
---
For an official, accurate weather forecast specific to your local area go to weather.gov and enter your zip code or consult your local National Weather Service.