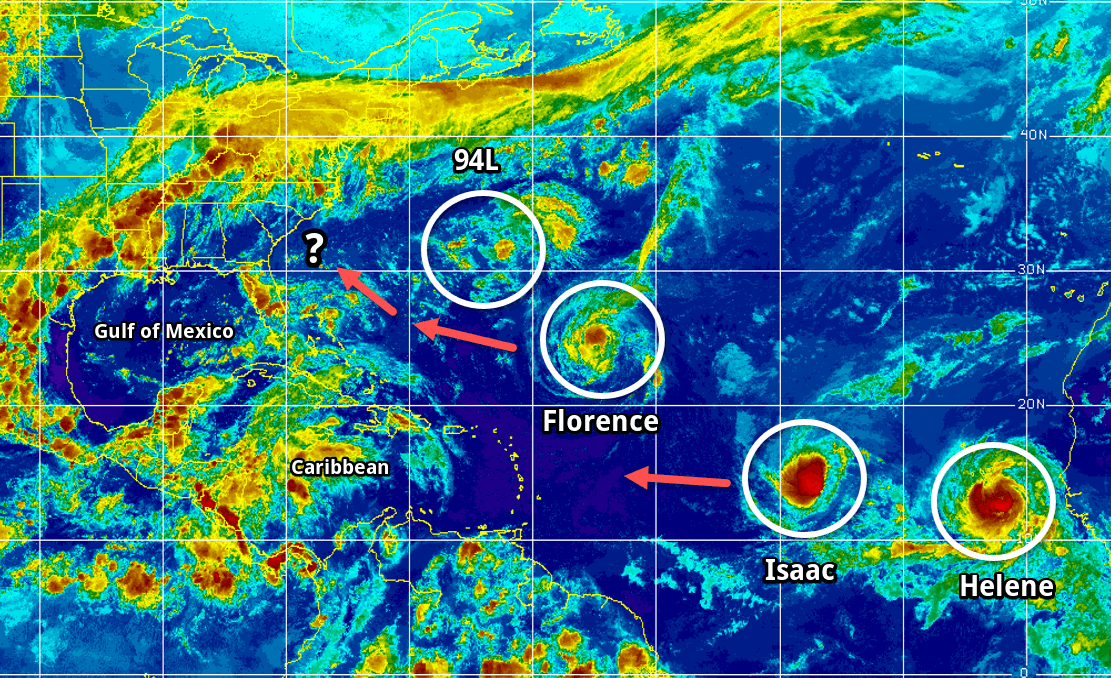 The Atlantic remains very, very active in regard to tropical activity, which is not unusual as we are in the peak of the season. Currently there are a total of four systems in the Atlantic: Florence, Isaac, Helene, and Invest 94L (see figure 1). We will be focusing on the former — Florence and Isaac — as they are of most concern.
---
Florence: As of the 5 PM EDT advisory, Florence was tracking west at 13 mph. Max sustained winds were 70 mph with a minimum central pressure of 989 millibars (mbs).
Track: Florence is going to continue to head west through early tomorrow. A west-northwest to northwest motion with an increase in forward speed is then expected, and eventually a more northwest motion Tuesday/Wednesday.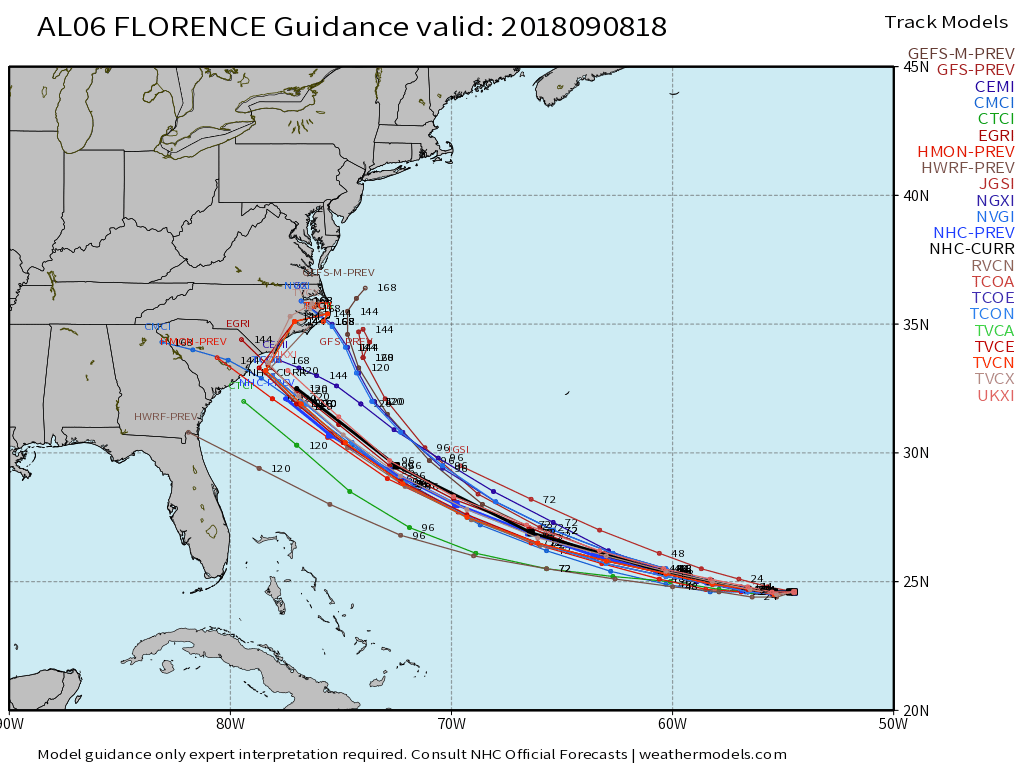 The risk of Florence getting trapped beneath a blocking high and forced into landfall somewhere from Southeast Virginia to Northern Florida sometime Thursday/Friday has increased further. Right now, the model consensus is landfall in South or North Carolina (see figure 2). However, there is still time for more model "windshield wiping." Also, while unlikely now, a near miss can't be ruled out. Regardless, direct impacts now seem probable.
Intensity: Shear is no longer impacting Florence, and has allowed for a marked improvement in structure and a slight increase in intensity today. Florence is still dealing with dry air, though, which is preventing earnest strengthening at this time. Once the dry air is filtered out later tonight and/or tomorrow, warm sea surface temps and favorable upper-level conditions will result in rapid intensification.
The official National Hurricane Center (NHC) forecast has Florence reattaining major hurricane intensity Monday, and category 4 status on Tuesday.
Key Messages from the NHC regarding Florence:
1. Florence is forecast to be a dangerous major hurricane near the
southeast U.S. coast by late next week, and the risk of direct
impacts continues to increase. However, given the uncertainty in
track and intensity forecasts at those time ranges, it's too soon to
determine the exact timing, location, and magnitude of those
impacts.
2. Interests along the U.S. East Coast, particularly from north
Florida through North Carolina, should closely monitor the progress
of Florence, ensure they have their hurricane plan in place, and
follow any advice given by local officials.
3. Large swells affecting Bermuda and portions of the U.S. East
Coast will continue into next week. These swells will result in
life-threatening surf and rip currents.
---
Isaac: Invest 92L was upgraded to Tropical Depression Nine yesterday, which subsequently strengthened into a tropical storm today, acquiring the name Isaac.
As of the 5 PM EDT/AST advisory, Isaac had max sustained winds of 40 mph, a minimum central pressure of 1005 mbs, and was moving to the west at 7 mph.
Track forecast: Isaac should track generally westward, along the periphery of a ridge of high pressure behind Florence, through at least the next 4 -5 days (see figure 3). By early next week, Isaac should be in the Eastern Caribbean; both the ECMWF and GFS are in agreement on this. However, a track into the Caribbean is not guaranteed.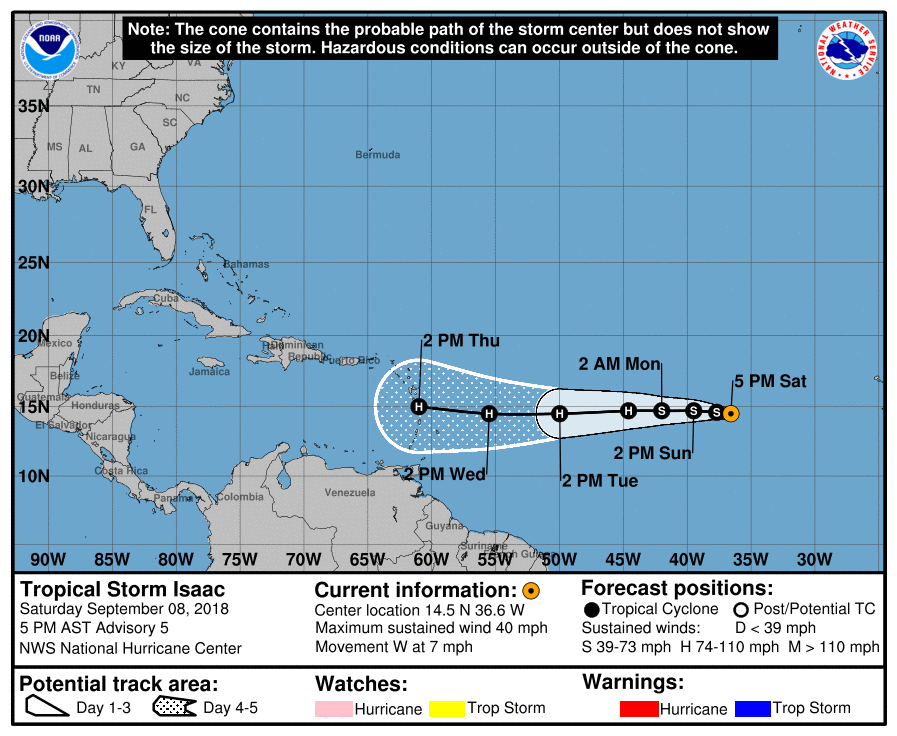 A trough could end up pulling Isaac north/northwest just before the Caribbean, which is something the UKMET has been showing. At this time, the ECMWF/GFS solution appears more likely.
Intensity: Overall, Isaac's environment is conducive for strengthening, and will remain conducive for at least the next 3 days. At this time, the official NHC forecast calls for Isaac to become a category 1 hurricane by Tuesday — a category 2 can't be ruled out, though.
It is too early to know if Isaac will pose a threat to the Continental United States.
---
For future updates, follow us on twitter @GCSCWX.
You can also follow us on Facebook and Instagram, or join our official Facebook group. 
*Like Hurricane Central on Facebook*
---
For an official, accurate weather forecast specific to your local area go to weather.gov and enter your zip code or consult your local National Weather Service.