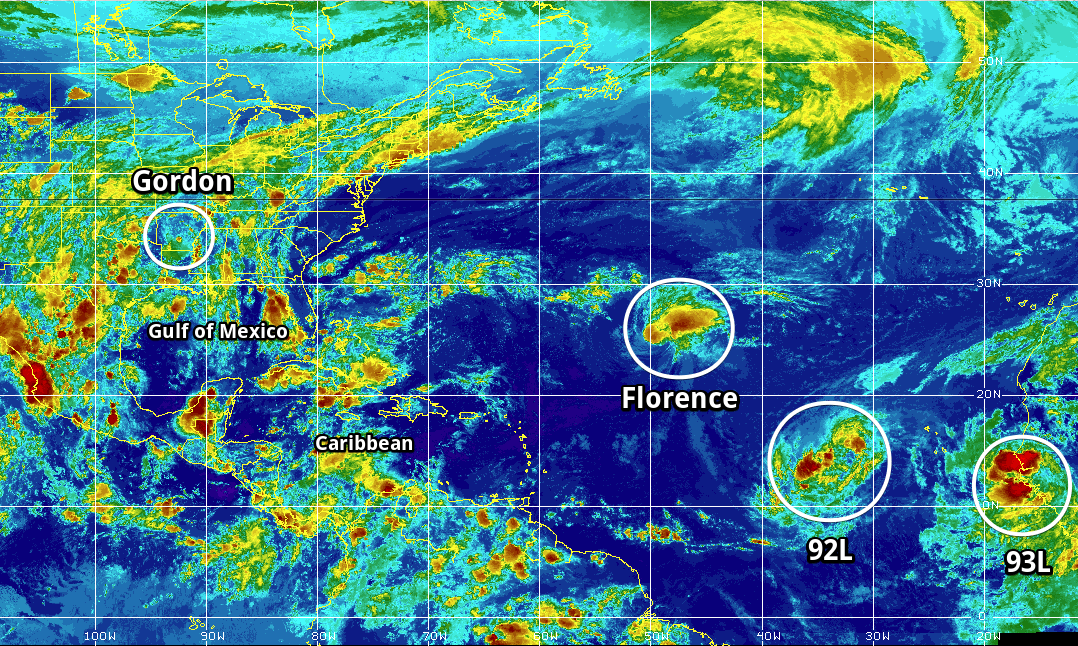 Gordon has moved well inland after landfall Tuesday night, but the Atlantic Basin is still very active. There are currently 3 active systems being monitored: Hurricane Florence, Invest 92L, and Invest 93L (see figure 1).
---
Florence: We mentioned over the weekend that Florence could end up being more of a threat than initially thought. Well, Florence is now indeed more of a threat.
Track: The trough that was expected to pull Florence out to sea is going to leave Florence behind. The result will be a much more westerly track beneath a blocking high; this means Florence will get much closer to the U.S. East Coast next week – and could even make landfall. Details are still murky, though, as Florence won't be anywhere near the Eastern Seaboard until about 7 – 10 days from now.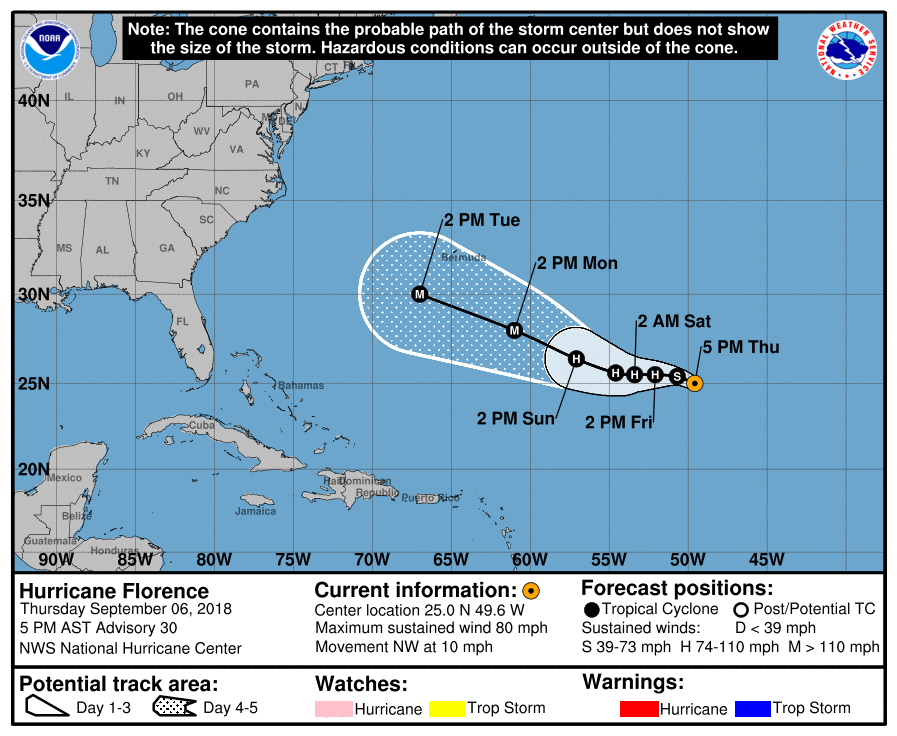 Intensity: After making it to major hurricane status in the face of extremely high wind shear, Florence has weakened to a category 1 with max sustained winds of 80 mph as of the 5 PM EDT advisory. Additional weakening is expected. Shear should decrease again late tomorrow into Saturday, however, which should allow for Florence to intensify, perhaps rapidly, again. The official forecast from the National Hurricane Center (NHC) calls for Florence to become a major hurricane (cat 3) again on Monday.
---
Invest 92L: Invest 92L — located about midway between the Lesser Antilles and Africa — moved off of Africa over the weekend. It has since been getting gradually better organized while tracking west across the Main Development Region, and has a well defined area of low pressure.
Overall, environmental conditions look conducive for further organization while 92L tracks westward. Sea surface temps are in the 80s, shear is only about 5 – 15 kts. However, there is some Saharan Air Layer (SAL) to the immediate west.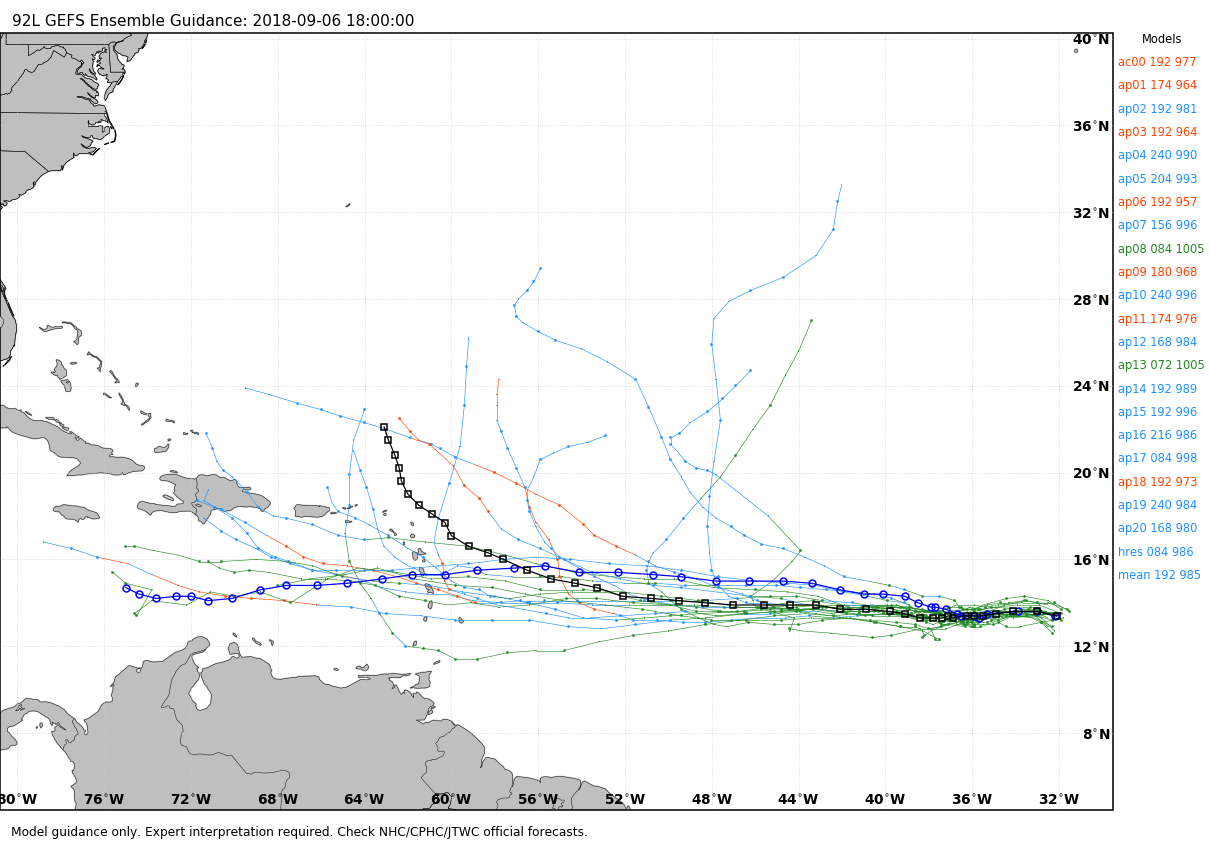 The ECMWF, GFS, and UKMET all developed 92L in their 12z runs. Given the favorable environment and strong model support, 92L is expected to become a tropical depression over the next day or two.
In their 8 PM EDT tropical weather outlook, the NHC gave 92L a 80% chance of development over the next 2 days and a 90% chance of developing over the next 5 days.
It is still too early to reliably speculate about potential track and strength. However, both the ECMWF and GFS and a majority of their ensembles track 92L into the Caribbean mid to late next week (see figure 3).
---
Invest 93L: A tropical wave still over far West Africa is in the process of emerging into the Atlantic; it has been designated Invest 93L by the NHC.
93L appears to be consolidating rather rapidly,and will impact to the Cabo Verde Islands tomorrow into Saturday. The NHC has placed the chance of development at 70%  over the next 2 days and 90% over the next 5 days. Environmental conditions are conducive for development, and all of the reliable global model guidance is in agreement on development of 93L.
If 93L develops, it is too early to determine track and intensity.
---
For future updates, follow us on twitter @GCSCWX.
You can also follow us on Facebook and Instagram, or join our official Facebook group. 
---
For an official, accurate weather forecast specific to your local area go to weather.gov and enter your zip code or consult your local National Weather Service.