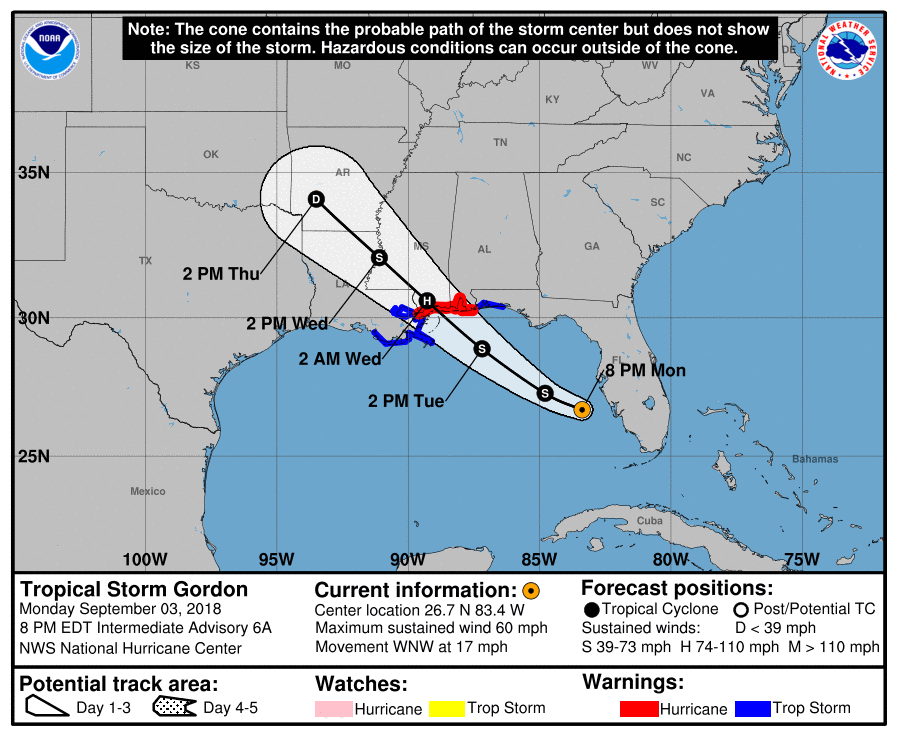 As of the 7 PM CDT intermediate advisory, Tropical Storm Gordon was located about 95 miles West of Ft. Myers, FL, moving west-northwest at about 17 mph. Max sustained winds were 60 mph, with a minimum central pressure of 1003 millibars.
A Hurricane Warning is in effect from the mouth of the Pearl River to the AL-FL Border.
A Tropical Storm Warning is in effect from Morgan City, LA to the mouth of the Pearl River, and from the AL-FL Border to the Okaloosa-Walton County (FL) Line.
---
Track: Gordon will continue to track generally west-northwest to northwest up until landfall along the periphery of a ridge of high pressure. Based on the latest forecast track and model guidance, Gordon should come ashore along the Mississippi Gulf Coast tomorrow night/early Wednesday (see figure 1).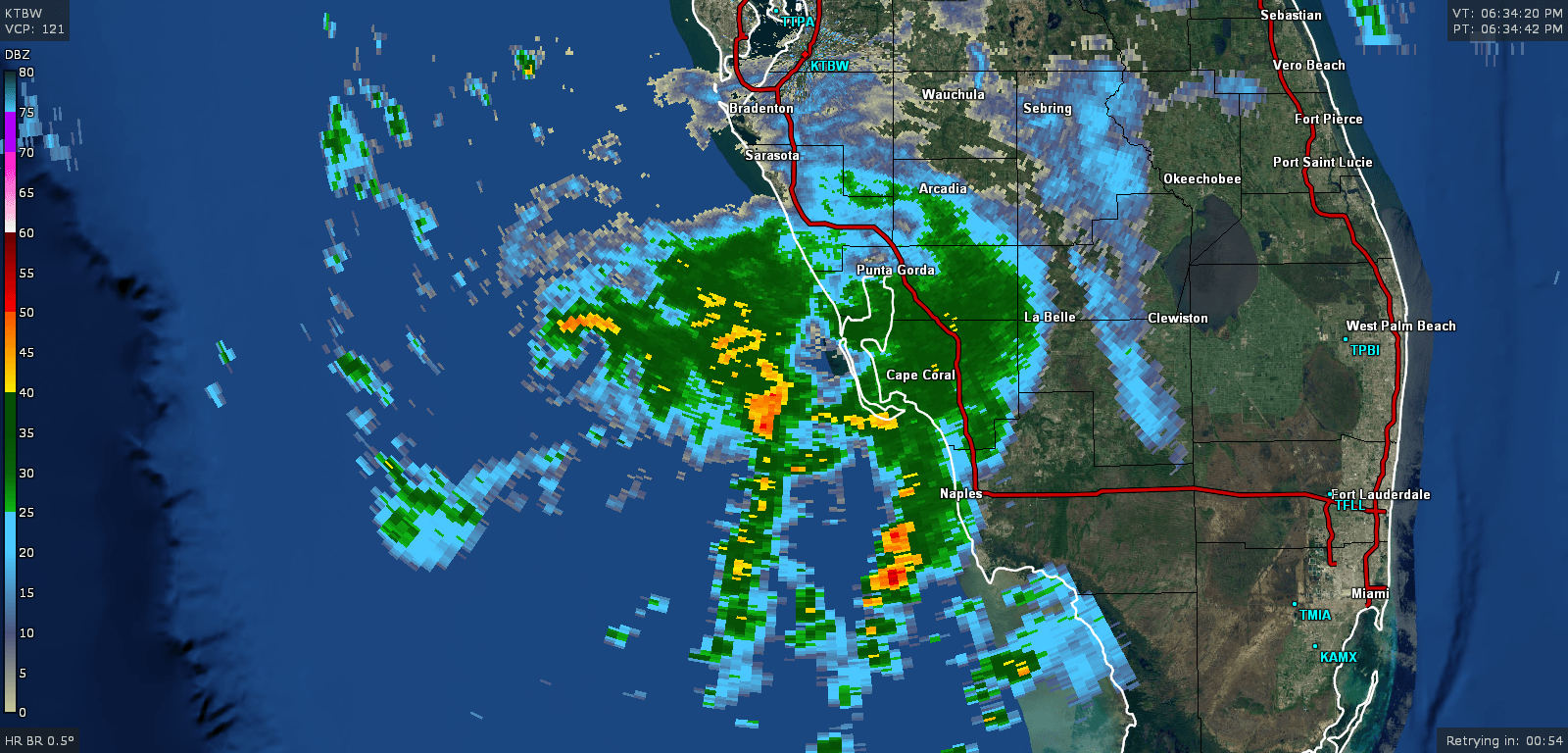 Intensity: After a brief decrease in organization, Gordon is once again becoming better organized this evening, with banding features developing near the center (see figure 2).
Gordon remaining under an upper-level anticyclone and warm sea surface temperatures should generally allow for intensification up to landfall. The official intensity forecast from the National Hurricane Center (NHC) has Gordon becoming a minimal category 1 hurricane with max sustained winds of 75 mph just prior to landfall.
Impacts: Gordon is going to bring a wide range of hazards to the North-Central Gulf Coast.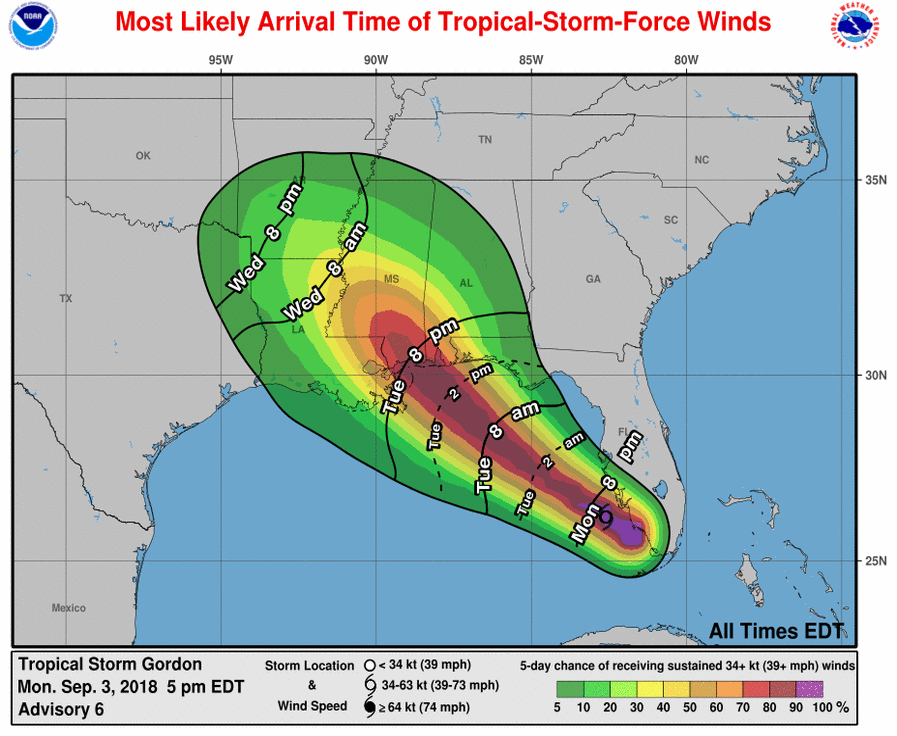 Torrential rain and high surf will impact Southeast Louisiana, the Western Florida Panhandle, and areas in between starting as early as early as tomorrow afternoon. Hurricane force winds will also be possible in the Hurricane Warning area tomorrow night at landfall. Likewise, tropical storm force winds will be likely in the Tropical Storm Warning area (see figure 3 for most likely onset times).
Storm surge will be a problem as well — especially from Shell Beach, LA to Dauphin Island, AL, where 3 – 5′ of inundation if forecast. Flash flooding will also be a threat. There will also be potential for tornadoes/waterspouts in outer-bands.
---
For future updates, follow us on twitter @GCSCWX.
You can also follow us on Facebook and Instagram, or join our official Facebook group. 
---
For an official, accurate weather forecast specific to your local area go to weather.gov and enter your zip code or consult your local National Weather Service.