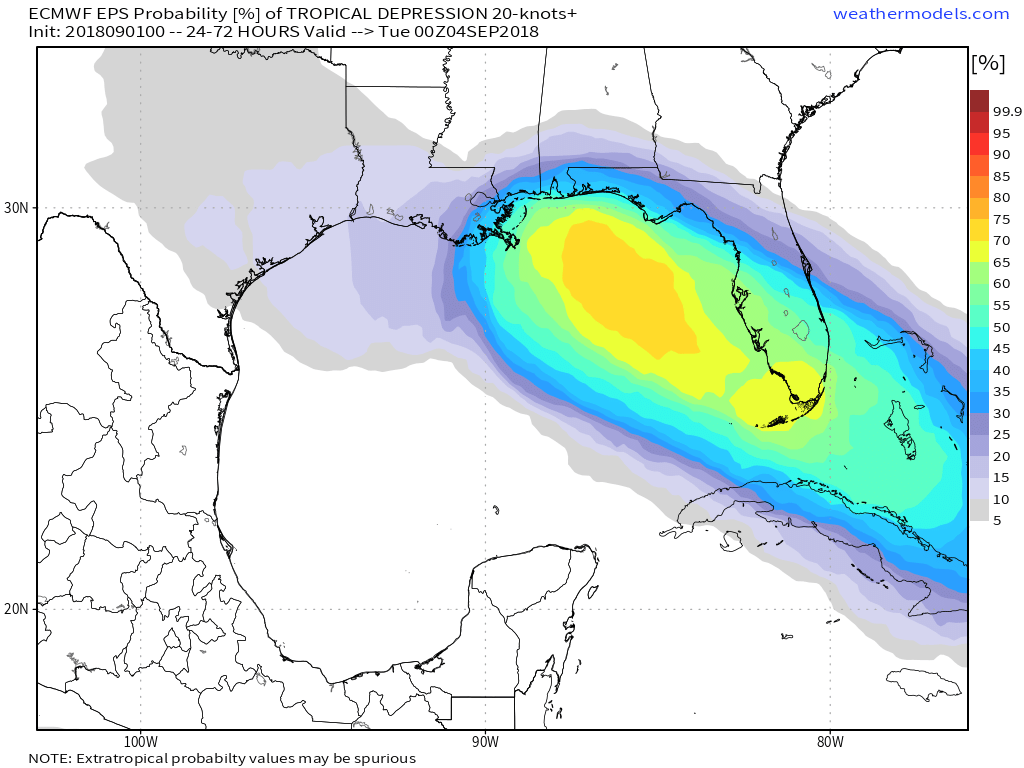 Tropical Storm Florence has formed off of Africa's West Coast, near the Cabo Verde Islands. Meanwhile, the potential for tropical development in the Gulf early this upcoming week is increasing.
---
Florence: As of the 11 AM AST advisory, Florence had max sustained winds of 45 mph, a minimum central pressure of 1003 millibars, and was moving west-northwest at 14 mph.
Track: Over the next 3 days, Florence will continue to track to the west-northwest to northwest. By Tuesday/Wednesday, a turn to the northwest will occur as Florence begins to feel a weakness in the Bermuda high. After that time, uncertainty increases. Up until now, model guidance had been locked onto a track out to sea through the weakness, but have trended toward stronger ridging.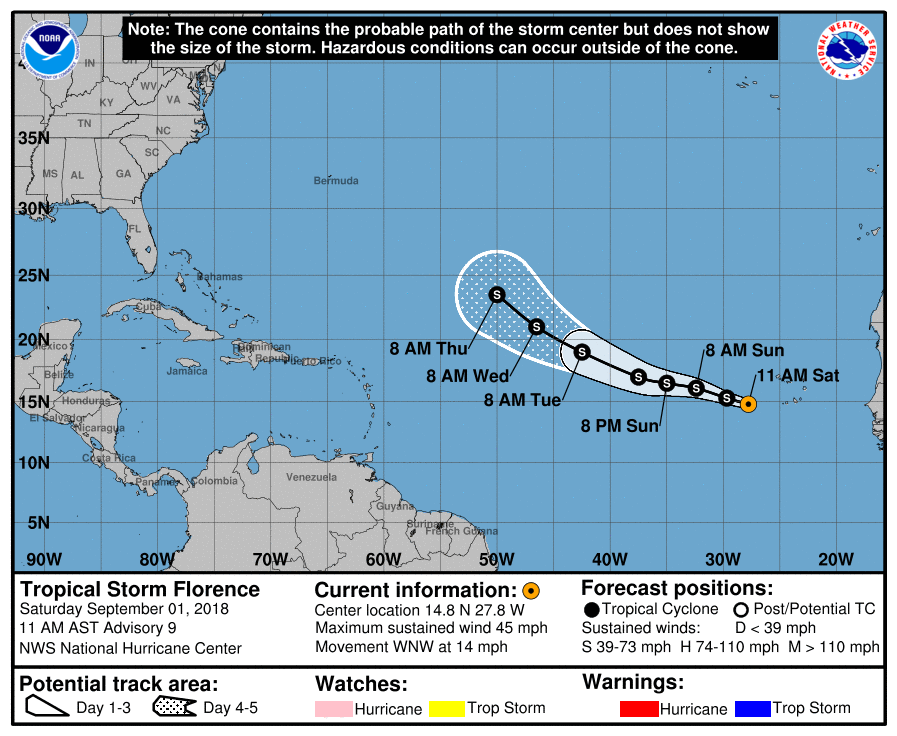 Stronger ridging would force Florence to track more to the west than originally thought — but how much more to the west is not known. The 00z operational ECMWF run had Florence tracking as far west as ~ 70° west longitude. This of course is just one model run and is subject to change. Simply put: Florence can't be written off as going out to sea and will need to monitored over the coming days.
Intensity: Florence should steadily strengthen through Wednesday, with the only inhibiting factor at present being marginal sea surface temperatures, and a possible uptick in shear by Monday/Tuesday.
---
Gulf: The tropical wave we have been tracking will move into the SE Bahamas late today, track across South Florida Monday, and into the Gulf of Mexico on Tuesday. Upper level winds (shear) are still not conducive for development. However, shear could lessen in the Gulf.
Overnight, model support increased substantially; all three major, reliable global models used for predicting tropical cyclone genesis — the ECMWF (euro), GFS, and UKMET — are now forecasting development of this wave in the Gulf  early to midweek. The ECMWF ensembles (EPS) have also become more bullish on development, with the 00z run up to a 70 % chance of a tropical depression forming over the Eastern Gulf in the 1 – 3 day time-frame (see figure 1).
In their 8 AM EST tropical weather outlook, the National Hurricane Center put the chance of this system developing at 40% over the next 5 days – that is up from 10% just yesterday.
It is too early for details (exact track, intensity) assuming we get TC genesis. However, current thinking is for an area of low pressure (possibly a tropical depression or storm) to develop over the Eastern Gulf Tuesday, and track northwest, being located near/along the North-Central Gulf Coast on Wednesday (see figure 3). After that time things become even less certain. Although, it looks like there will be a bend back to the west Thursday/Friday.
Regardless of development, this wave is going to bring heavy rain to the Northern Gulf Coast next week.
Note:  This is still nothing to be concerned about but is something to be aware of over the coming days.
---
For future updates, follow us on twitter @GCSCWX.
You can also follow us on Facebook and Instagram, or join our official Facebook group. 
---
For an official, accurate weather forecast specific to your local area go to weather.gov and enter your zip code or consult your local National Weather Service.