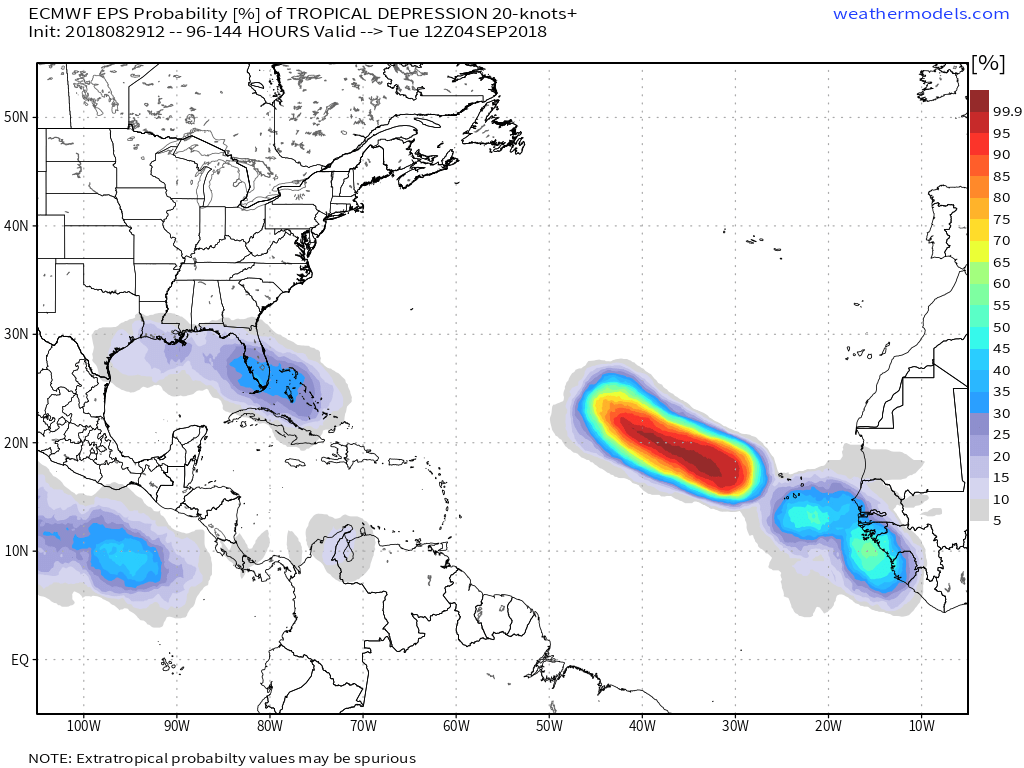 It is looking increasingly likely that there is going to be an uptick in activity across the Atlantic going into this upcoming month — just in time for the statistical peak of the Atlantic Hurricane Season, which is September 10th. We are currently watching two disturbances with the potential to become tropical cyclones: one near the Lesser Antilles and another still over Africa.
Disturbance #1: A tropical wave near the Lesser Antilles is going to track west to west-northwest into the Bahamas this weekend, and Gulf of Mexico early next week. Strong upper-level winds are currently impeding any organization. However, environmental conditions could become more conducive for development by late this weekend/early next week.
Looking at the latest model guidance, the ECMWF (euro) and the ECMWF ensembles (EPS) have been consistently forecasting development of this wave for the past 4 – 5 model cycles in the Bahamas and/or Eastern Gulf of Mexico (see figure 1). On the other hand, the GFS and GFS ensembles, UKMET, and CMC have been equally consistent in forecasting the wave to remain fairly weak with no development.
As of the time of this writing, the National Hurricane Center (NHC) has yet to mention this wave in their tropical weather outlook.
While development is possible, this is nothing to be concerned about as of now but rather something to be aware of.
---
Disturbance #2: A tropical wave and attendant low pressure system still over West Africa is going to emerge in the Atlantic tomorrow. Overall, environmental conditions are conducive for development. The ECMWF, GFS, and UKMET all develop this wave.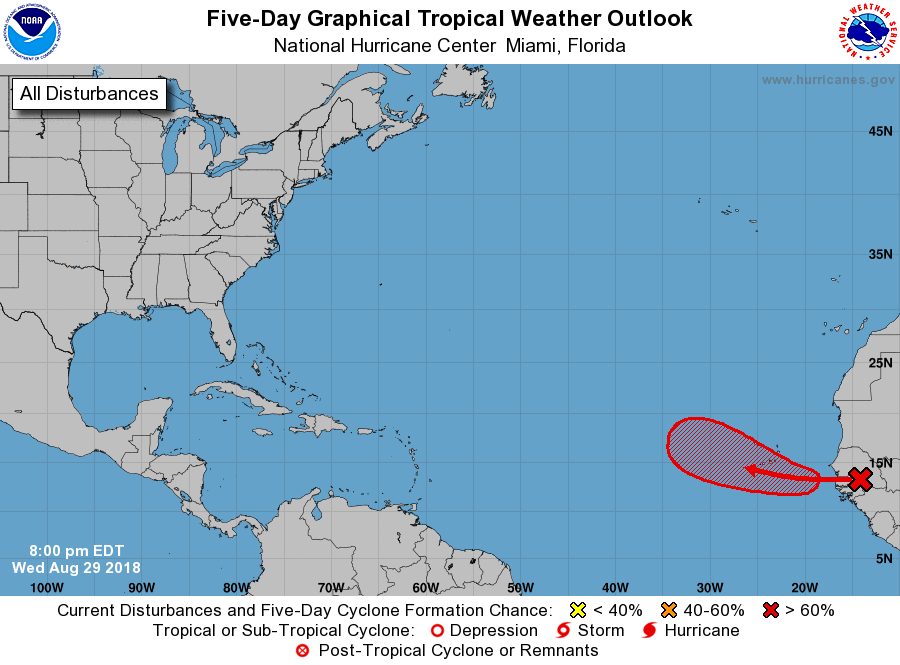 In their 8:00 PM EDT tropical weather outlook, the NHC gave it a 70% chance of developing over the next 5 days (see figure 2), stating a "tropical depression is likely to form by the weekend."
Fortunately, it looks this system will curve out to sea.
---
For future updates, follow us on twitter @GCSCWX.
You can also follow us on Facebook and Instagram, or join our official Facebook group. 
---
For an official, accurate weather forecast specific to your local area go to weather.gov and enter your zip code or consult your local National Weather Service.