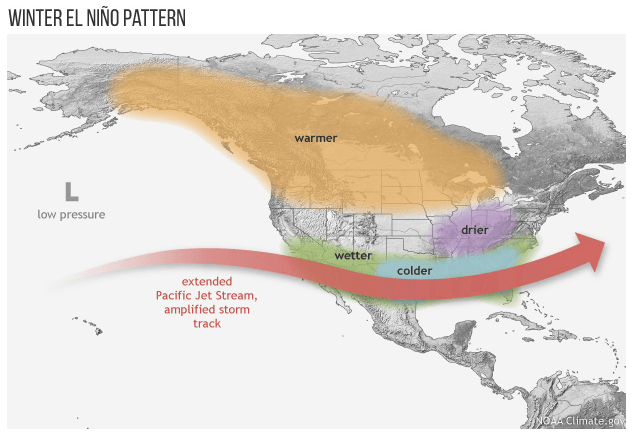 El Niño is likely to develop sometime this fall or winter, with the latest ENSO Diagnostic Discussion from the Climate Prediction Center (CPC) placeing the chance of El Niño developing by winter of 2018/19 at 70%. But what exactly does that mean for the Gulf Coast?
El Niño has multiple different impacts on weather along the Gulf Coast (see below and figure 1):
Below average hurricane season (usually): El Niño causes below average Atlantic tropical cyclone activity by increasing wind shear in the Caribbean and Main Development Region (MDR). This does not appear to be the cause this year, though. El Niño more than likely won't develop in time to really impact the 2018 Atlantic Hurricane Season.
Wetter/more severe weather: El Niño also causes the Pacific Jet Stream to be positioned across the South during the winter, allowing disturbances to track more to the south than usual (amplified storm track). The result is above average precipitation and increased severe weather chances.
Colder temperatures: During an El Nino, temperatures typically run below below normal across the South during winter.
All of this means that this winter we are potentially looking at above normal precipitation, more frequent severe weather events, and colder than average temperatures. The seasonal forecast for December-January-February reflects this, showing an increased likelihood of above average precipitation across the South along with neutral chances for above/below average temperatures.
However, every El Niño event is different, and the potential impacts this winter might not be as clear cut.
---
For future updates, follow us on twitter @GCSCWX.
You can also follow us on Facebook and Instagram, or join our official Facebook group. 
---
For an official, accurate weather forecast specific to your local area go to weather.gov and enter your zip code or consult your local National Weather Service.