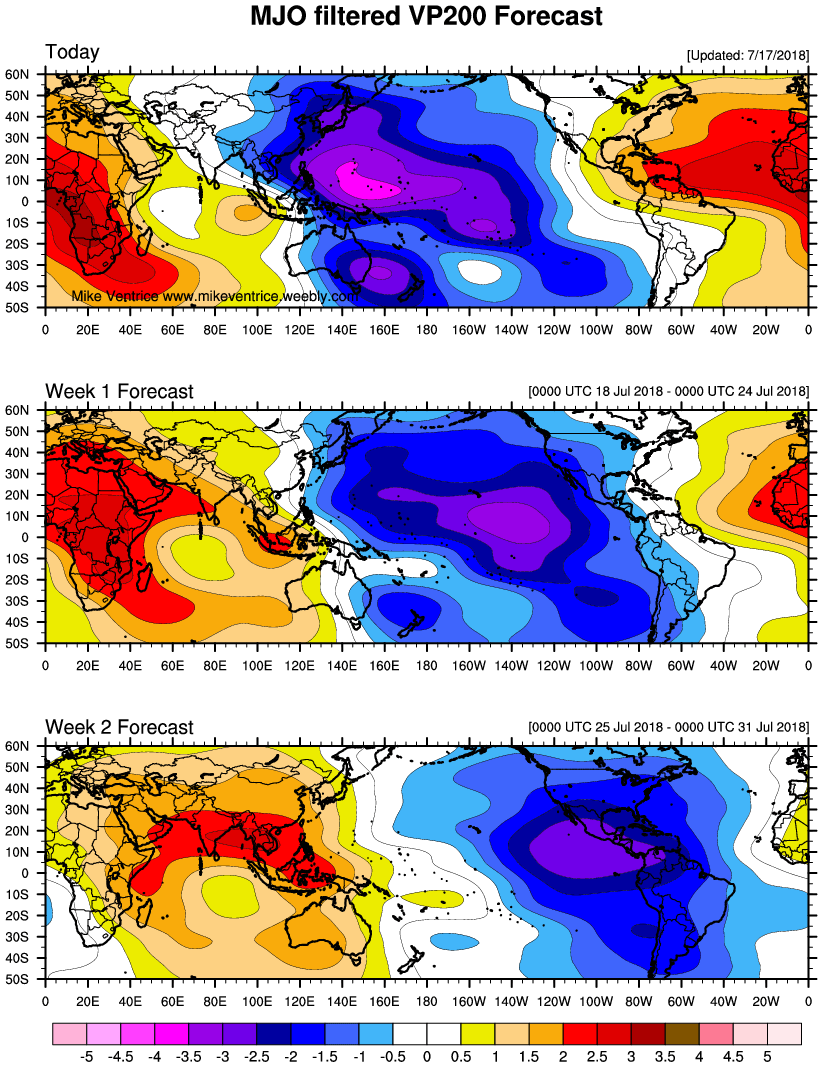 After Beryl — a rare Main Development Region (MDR) July hurricane — and Hurricane Chris, the Atlantic basin is once again quiet in regard to tropical activity.
This quiet period will likely persist for the next 7 – 10 days. Though, there are signs that we could see an uptick in activity towards the last few days of the month heading into August. A convective coupled Kelvin wave (CCKW) is forecast to push across the Atlantic around the 26th.
Models are calling for a strong convectively coupled Kelvin wave to pass the Atlantic and Africa regions during the final days of July into the first week of August. This wave could produce some things to monitor over the Atlantic during early August. pic.twitter.com/HG5frYtFTR

— Michael Ventrice (@MJVentrice) July 16, 2018
After the CCKW passage, the upward phase of the Madden Julian Oscillation (MJO) is set to move through the Atlantic, and remain in place for the start of the peak of the season (see figure 1).
The CCKW and MJO, in addition to climatology, could mean that the end of this month through at least the first half of August could be very active across the Atlantic.
However, this is not set in stone, and at this point is just something to keep an eye on over the next week or so.
Image credit: [ Michael Ventrice ]
---
For future updates, follow us on twitter @GCSCWX.
You can also follow us on Facebook and Instagram, or join our official Facebook group. 
---
For an official, accurate weather forecast specific to your local area go to weather.gov and enter your zip code or consult your local National Weather Service.