There continues to be a chance for tropical development in the Western Gulf of Mexico over the next few days.
A trough of low pressure currently located over the West-Central Gulf of Mexico is producing disorganized thunderstorm activity; it will track west today. By tomorrow, it will be located near the Texas Gulf Coast, where it will meander through mid to late week.
Overall, the chance of this feature developing into a tropical cyclone is low, as a nearby upper-level low is producing dry air and 20 – 30 knots of wind shear.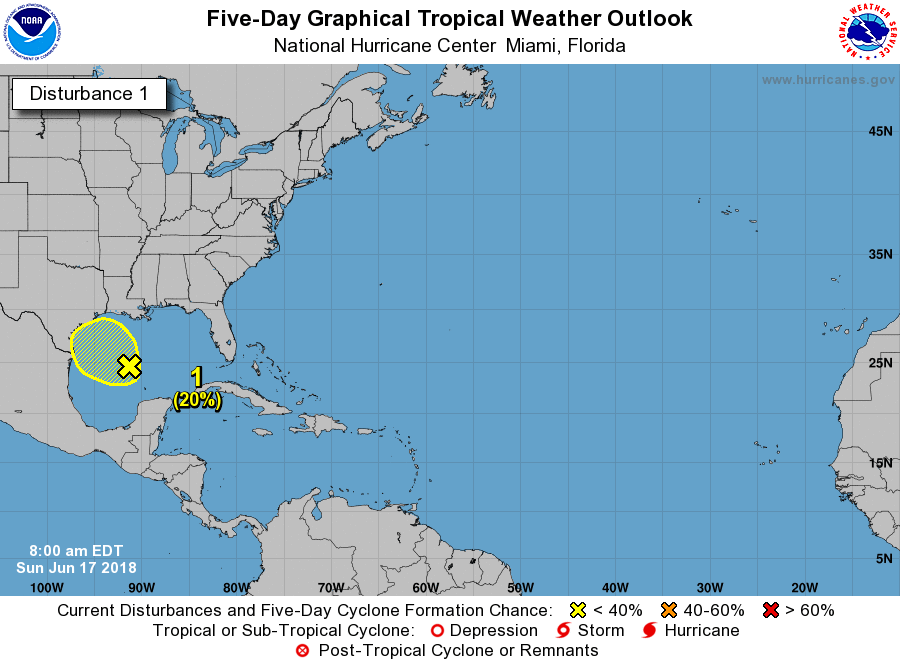 In their 8:00 AM EDT tropical weather outlook, the National Hurricane Center (NHC) gave the trough a 20% chance of development over the next two to five days, stating "environmental conditions do not support significant development."
Heavy rain is still going to impact the Texas Gulf Coast and portions of the Louisiana Gulf Coast (starting tonight) — mainly along and south of Interstate 10 — regardless of development, as the disturbance will bring a surge of tropical moisture north.
Some model guidance, mainly the ECMWF, UKMET, and NAM, are indicating rainfall accumulations well above a foot will be possible along the lower Texas Gulf Coast this week. Exactly where the heavier "bands" of rain is uncertain, though.
The latest 7-day quantitative precipitation forecast (QPF) from the Weather Prediction Center has Corpus Christi, Brownsville, and adjacent areas getting up to 10″ of rain (see figure 1).
Localized flash flooding is likely to be an issue, with the possibility of widespread flash flooding where the heaviest precipitation occurs.
---
For future updates, follow us on twitter @GCSCWX.
You can also follow us on Facebook and Instagram, or join our official Facebook group. 
---
For an official, accurate weather forecast specific to your local area go to weather.gov and enter your zip code or consult your local National Weather Service.