An area of low pressure is going to from over the West Caribbean later this week – and it could develop into a tropical cyclone.
Model Guidance: All three of the most most accurate, reliable models used for predicting tropical cyclone genesis — the UKMET, GFS, and ECMWF, along with many of their ensemble members — are projecting an area of low pressure to form in the Southwest Caribbean by mid-week.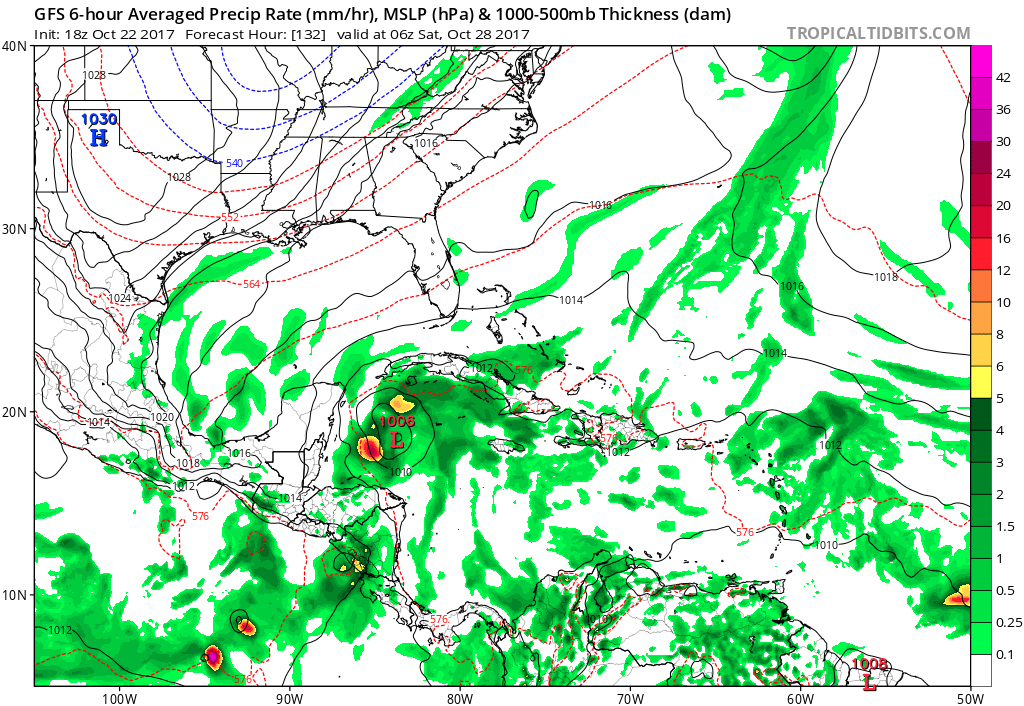 From there, they project the area of low pressure to lift northward, into the Northwest Caribbean, late this week/this weekend and develop into a tropical cyclone.
MJO and Kelvin Wave: The active, upward phase of the Madden Julian Oscillation (MJO) is going to be moving into the Atlantic this week, along with a convectively active Kelvin Wave; both can be supportive of tropical development during hurricane season.
Overall Development Potential: Taking the MJO, Kelvin Wave, model projections, and other factors into consideration, it can be concluded that there is a distinct chance for a tropical cyclone to develop in the Western Caribbean late this week.
In their 8 PM EDT Tropical Weather Outlook, the National Hurricane Center placed the odds of development at 30 percent over the next five days, respectively.
Potential Track and Intensity: If a tropical cyclone does develop, it is too early to determine (with any certainty) where it would track or how strong it would become.
Though, indications are that the upcoming pattern change, which is going to bring much colder air to parts of the Central and Eastern US next week (including the Gulf Coast), would steer any potential tropical system in the Caribbean away from the Northern Gulf Coast.
___
For future updates follow us on our social media: