Temperatures are still expected to moderate (warm) once again, as an upper ridge of high pressure is going to build over the Eastern and US (something that has been a persistent, dominant feature for the past several months).
However, all signs continue to point to a pattern change, and flip in the large-scale weather pattern will occur by the early to middle half of next week.
NAO and PNA
The North Atlantic Oscillation (NAO) is still forecast to go negative next week (or during the last few days of the month), and the Pacific North American Pattern (PNA) is still forecast to go positive next week as well.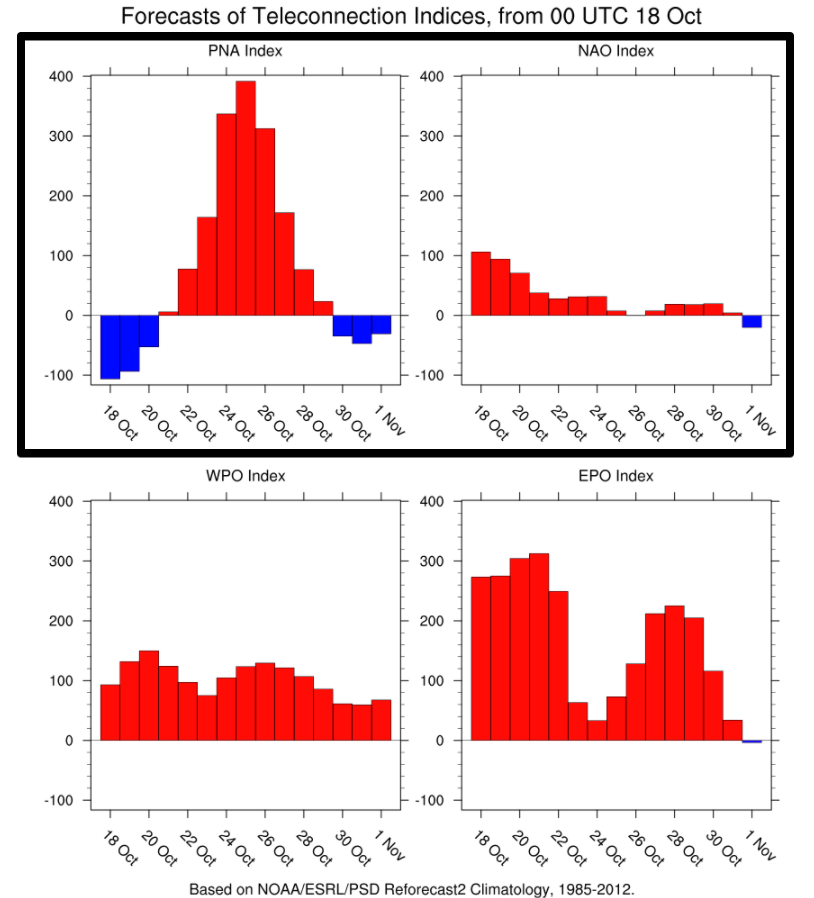 Both support troughing in the Central and Eastern US in the aforementioned phases.
Typhoon "Lan"
Additionally, a typhoon in the West Pacific ("Lan") is still on track to strengthen into a super typhoon this week and get absorbed into the polar jet stream, which also supports troughing in the East/Central US in about 7 – 10 days.
The last time this occurred during a similar set-up was with Typhoon "Nuri" in November of 2014.
What Does it Mean?
Troughing is going to become dominant over Central and Eastern portions of the country starting next week.
When troughs drop down into the Continental US during the fall and winter months, they bring cold fronts with them, which cause outbreaks of arctic air, and generally stormy weather (including severe weather) at times.
Therefore, a change to a much colder weather pattern will take place across the Central and Eastern US, including the Gulf Coast region, starting next week.
12z euro has one blast of cold air mid-week next week, with a second, much colder one next weekend. Fits the upcoming pattern change. pic.twitter.com/qek1Pj274z

— GulfCoastStormCenter (@GCSCWX) October 18, 2017

As of now, at least one or two outbreaks of cold, arctic air that will drop temperatures well below normal are expected, with the first being early to mid-week next week, and the second being late next week into next weekend.
How Long Will it Last?
It is not clear how long this pattern change will remain in place. Although, extended-range guidance suggests that it will last through the end of the month, and potentially into early November.
___
For future updates follow us on our social media: