The tropics remain quite active after Irma's passage, with three different systems being monitored: Hurricane Jose, Tropical Depression Fourteen, and Invest 96l.
Jose
Jose was a major category 4 hurricane just a couple of days ago, weakened to a tropical storm yesterday, and is a hurricane once again, currently located over the West Atlantic.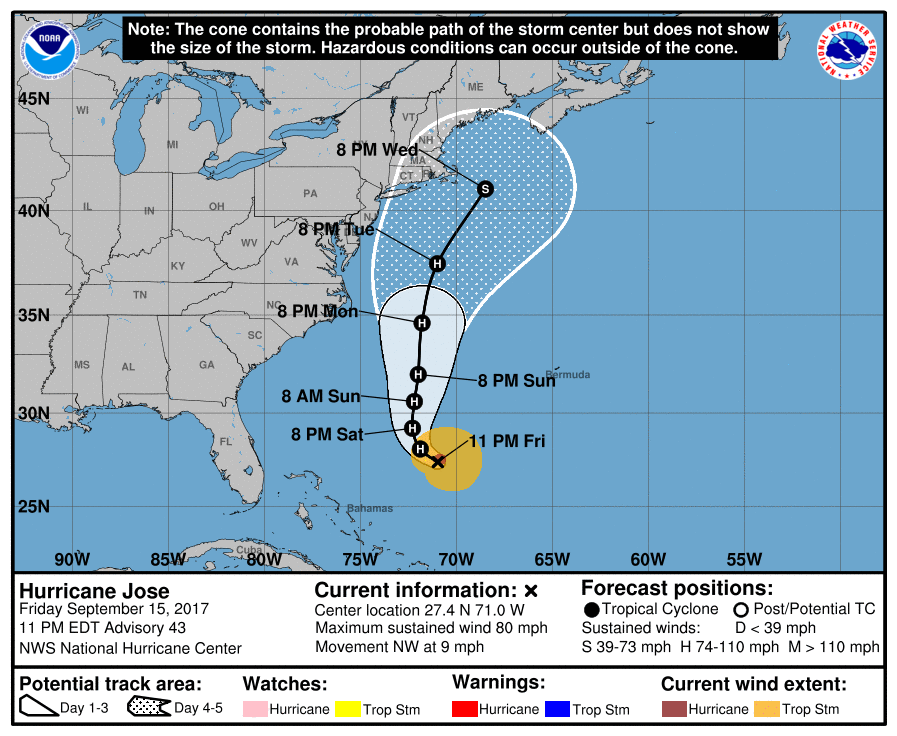 As of the 11 PM EDT advisory, Jose had maximum sustained winds of 80mph, and was moving northwest at 9mph.
Forecast Track: Jose will turn due north tomorrow and Sunday as it rounds the western periphery of the Bermuda High, and should continue on that trajectory until at least Tuesday.
After Tuesday, Jose's track becomes less certain. There are indications that a ridge of high pressure could build in to the Northeast of Jose, causing a track into or very close to Coastal New England.
Meanwhile, there are also indications that ridge could build in, but not as strong, which would cause Jose to remain offshore of New England.
At this time, it is too early to pinpoint which scenario will come to fruition.
Forecast Intensity: Jose will likely continue to intensify through at least Tuesday –possibly becoming a strong hurricane again — but will begin to track over cooler sea surface temperatures after Tuesday, which will likely induce weakening.
Tropical Depression Fourteen
We won't be getting into details in regard to Tropical Depression Fourteen (TD-14), as it poses no threat to land.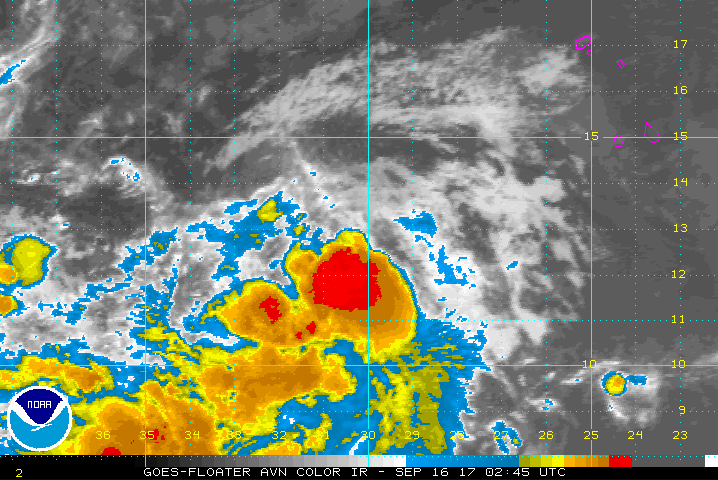 As of the 11 PM EDT advisory TD-14 was located over the far Eastern Atlantic, had maximum sustained winds of 35mph, and was moving west at 10mph.
Forecast Intensity: Overall, environmental conditions are conducive for intensification, and TD-14 will likely become Tropical Storm later tonight or sometime this weekend, and possibly a hurricane at some point before dissipating.
Forecast Track: TD-14 is likely to take a track to the west/west-northwest, and then northwestward out to sea, as a deepening trough will likely cause the ridge currently steering TD-14 to break down.
Invest 96l 
Invest 96l was designated yesterday morning, and has a high likely hood of developing into a tropical cyclone over the next 2 – 5 days.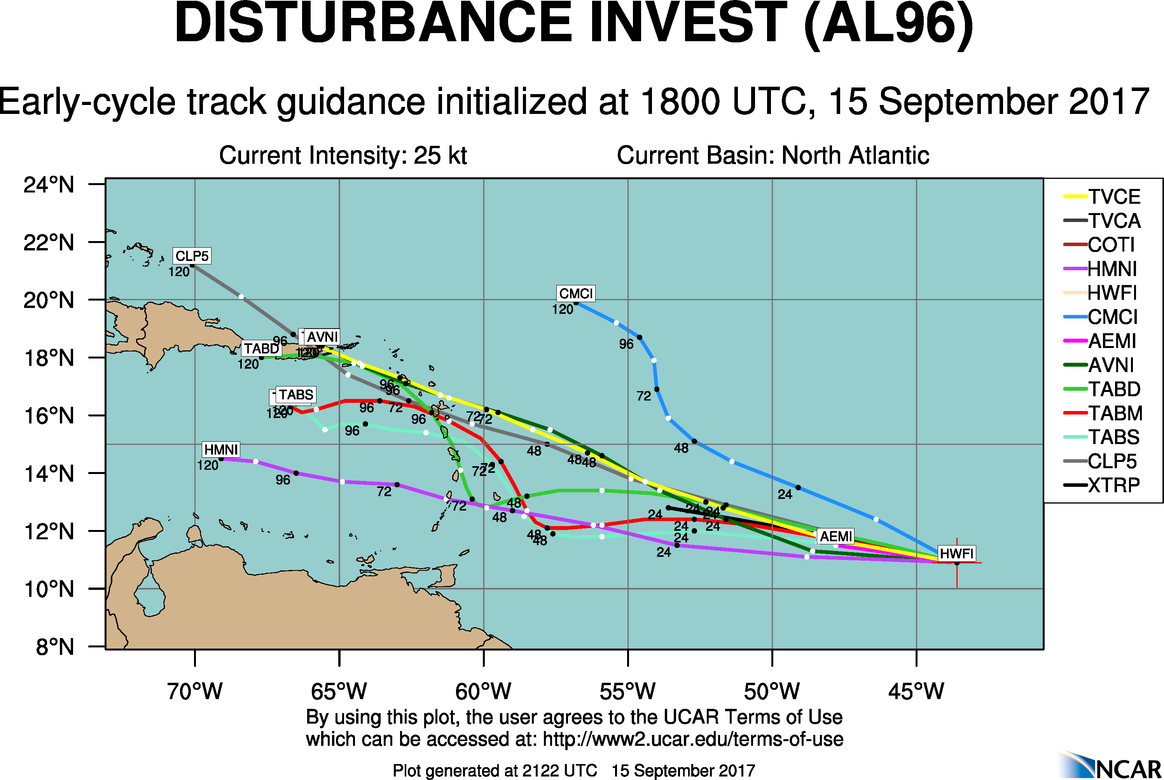 96l has maintained persistent convective activity throughout the day today near its "center," and satellite images this evening show that 96l continues to maintain convection. They also show that there 96l has a decent amount of "spin." However, data from CIMSS shows that the vorticity associated with 96l is still elongated at the surface.
Chance of Development: Overall, Invest 96l is in a moist, low shear environment with warm sea surface temperatures that supports further organization, and 96l will likely become a tropical depression or storm this weekend.
In its 8 PM EDT tropical weather outlook, the National Hurricane Center gave Invest 96l a high chance (80%) of developing over the next 2 days and a high chance (90%) chance of developing over the next 5 days.
Model Guidance: All three of the major global models used for predicting tropical cyclone genesis were showing development of 96l in their latest runs.
Forecast Track and Intensity: Invest 96l will track generally west to west-northwest over the next 5 days, and will likely track across parts of the Lesser Antilles early next week, and parts of the Greater Antilles late next week.
It is too early to determine where 96l will track beyond the next 5 days, or how strong it will become if it develops. Although, indications are that it could potentially become a hurricane.
Also, looking out into the extended range, it looks like there will be a pattern in place in about 7 – 10 days that will favor ridging (high pressure) over the Eastern U.S., which could possibly prevent 96l from hooking northeast out to sea.
However, it is too early to know if 96l will be a threat to the U.S. or not.
___
For future updates follow us on our social media:
You can also follow our hurricane Facebook page Hurricane Central, or our partner page Daimien's Gulf Coast Atlantic/Pacific Hurricane Tracking Center.