Harvey rapidly intensified into a category 1 hurricane today, and continues to intensify this evening.
As of the 10 pm CDT advisory from the National Hurricane Center, Harvey had maximum sustained winds of 85mph and a minimum central pressure of 970 millibars.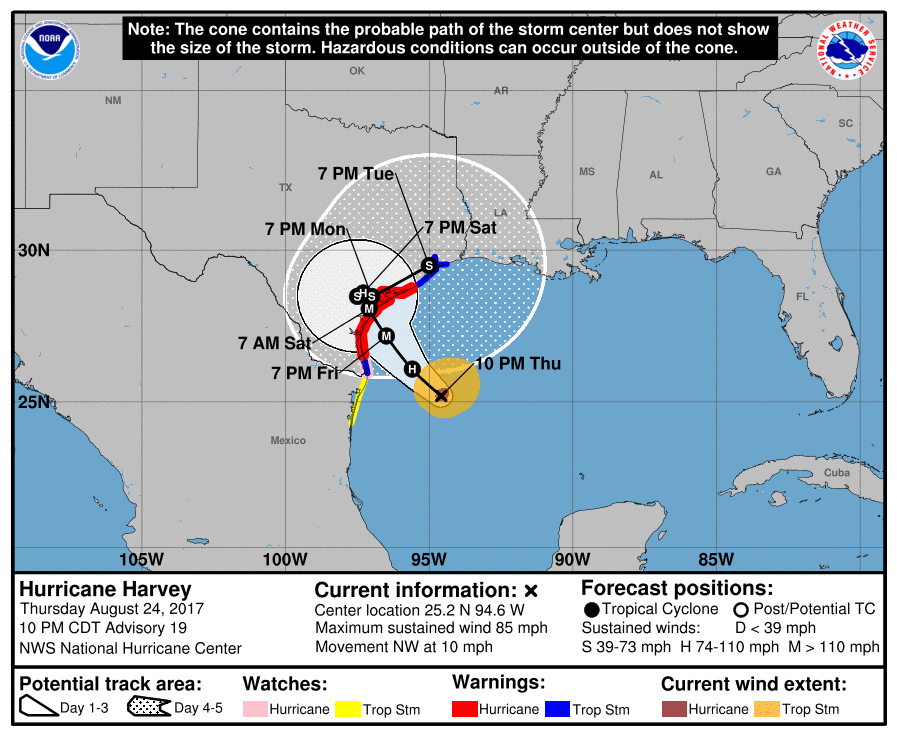 Forecast: Harvey will continue to strengthen up until landfall, and is forecast to make come ashore in somewhere between Corpus Christi, TX and Galveston, TX late tomorrow or early Saturday as a high-end category 3 hurricane with maximum sustained winds of 125mph.
After that, Harvey's fate becomes extremely uncertain, as steering currents will weaken significantly. Harvey is still expected to slow upon making landfall, and then stall just inland over Texas through at least Monday, with a track back east into the Gulf remaining possible by Tuesday. Harvey's intensity beyond this weekend is highly dependent on if a drift back into the Gulf comes to fruition.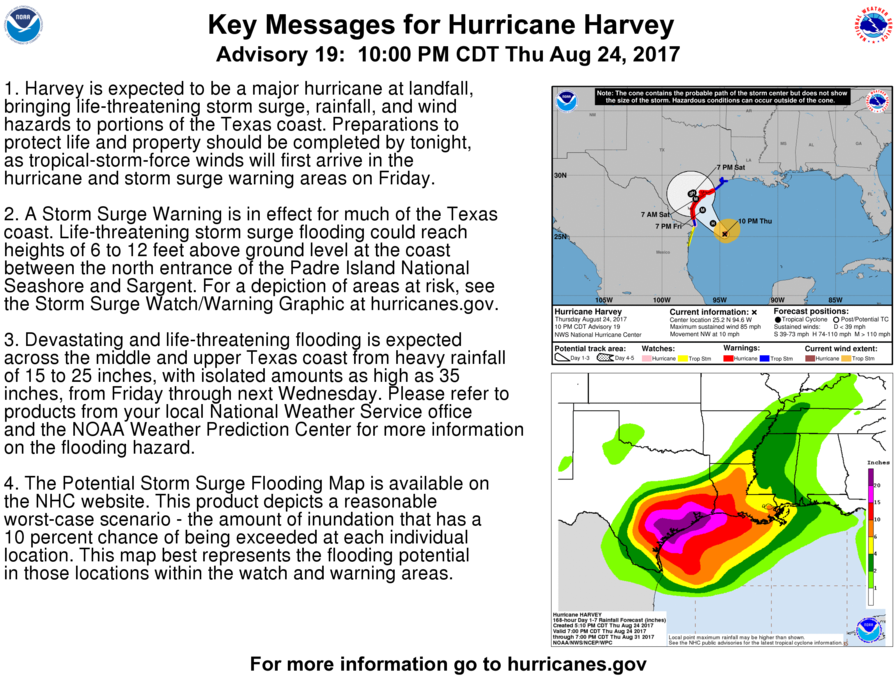 Impacts: Catastrophic impacts will occur across South Texas — and even parts of Southwest Louisiana — from Harvey.
Significant storm surge up to 12′ and hurricane force winds will occur in the hurricane and storm surge warned areas, along with extremely high rainfall totals of up to and in excess of 20 – 25″ across much of South Texas and into Southwest Louisiana that will accumulate through early next week – likely causing devastating flash flooding.
___
For future updates follow us on our social media:
You can also follow our hurricane Facebook page Hurricane Central, or our partner page Daimien's Gulf Coast Atlantic/Pacific Hurricane Tracking Center.