Gert has strengthened into the second hurricane of the 2017 Atlantic Hurricane Season. Meanwhile, Invest 91L still has the potential to develop over the next few days.
Hurricane Gert
Gert is now a hurricane — the second of the 2017 Atlantic Hurricane Season.
As of the 11pm EDT advisory, Gert was located over the Western Atlantic, about midway between the U.S. East Coast and Bermuda, moving north at about 8mph, with maximum sustained winds of 75mph and a minimum central pressure of 986 millibars.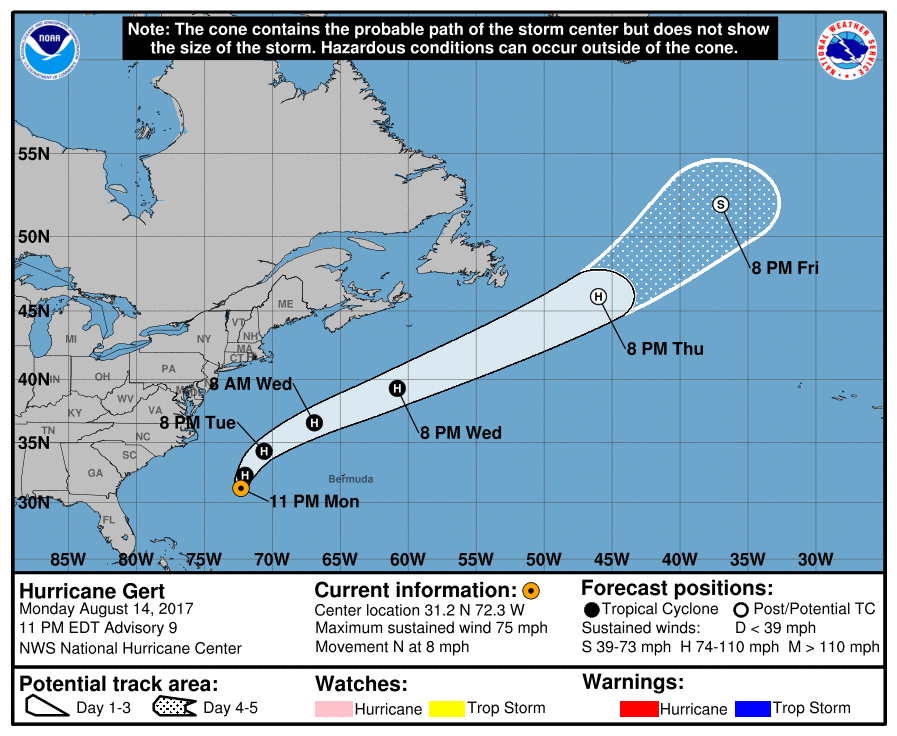 Some additional intensification is likely through tomorrow and into Wednesday, as environmental conditions are generally conducive for intensification. However, Gert poses no threat to the United States, and will take a path out into the open Atlantic.
Invest 91L
Nothing has changed much since our previous update regarding Invest 91L. Environmental conditions appear generally conducive for development through at least the end of this week.
Chance of Development: The National Hurricane Center have Invest 91L a 30% chance of developing over the next two days and a 60% chance of developing over the next five days in their latest tropical weather outlook.
Model Guidance: The three reliable models used for predicting tropical tropical cyclone genesis forecast at least some development of 91L.
Track: A track towards the Lesser Antilles and Eastern Caribbean expected over the next five to seven days.
It is to early to know if 91L will pose a threat to the U.S. if it develops.
___
For future updates follow us on our social media:
You can also follow our hurricane Facebook page Hurricane Central, or our partner page Daimien's Gulf Coast Atlantic/Pacific Hurricane Tracking Center.