Both the feature in the Gulf and the one in the Central Tropical Atlantic we mentioned in our update on Tuesday no longer have any potential for development (not that they had much to begin with).
However, we are now watching another tropical wave that emerged off of the coast of Africa last night that was designated Invest 99L this morning. We are also watching the potential for tropical development in the Northwest Caribbean and Southwest Gulf of Mexico early to mid-week next week.
Invest 99L
Invest 99L is a very robust tropical wave, likely the most robust of the season thus far.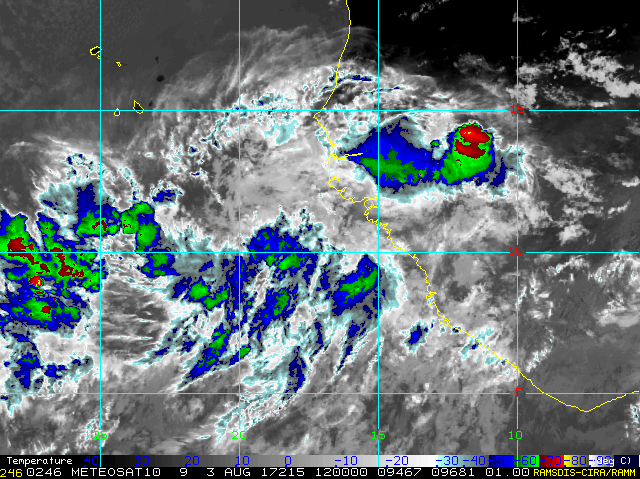 Satellite images this morning indicate that Invest 99L is moving west, has a large amount of convection, and is embedded in a decent  pocket of moisture. They also indicate that 99L already has a decent amount of "spin," which is confirmed by data from CIMSS.
Chance of Development: At this time, the odds of Invest 99L developing appear to be high.

Sea surface temperatures are supportive of development, upper-level winds are conducive for development, and there is little dry air in close proximity to or immediately ahead of 99L, with the southern extent of the Saharan Air Layer (SAL) well to the north 99L; these favorable environmental conditions are expected  to persist over at least the next five days.
In their 8am EDT tropical weather outlook the National Hurricane Center gave Invest 99L a 30% chance of developing over the next two days, and a 60% chance of developing over the next five days.
Model Guidance: All three of the reliable models used for predicting tropical cyclone genesis — the GFS, UKMET, and ECMWF — are forecasting 99L to develop at some point over the next five days. Additionally, many of the ECMWF and GFS ensemble members are forecasting development of 99L as well.
Potential Track and Intensity: 99L will track generally west to west-northwest towards the Lesser Antilles over the next five days, likely becoming a tropical depression or storm as it does so. However, it is too early to speculate on intensity. It is also to early to speculate on the track beyond the next five days.
Northwest Caribbean and Southwest Gulf
Model guidance – particularly the ECMWF and its ensembles – are beginning to pick up on potential development in the Northwest Caribbean and Southwest Gulf of Mexico early to mid-week next week.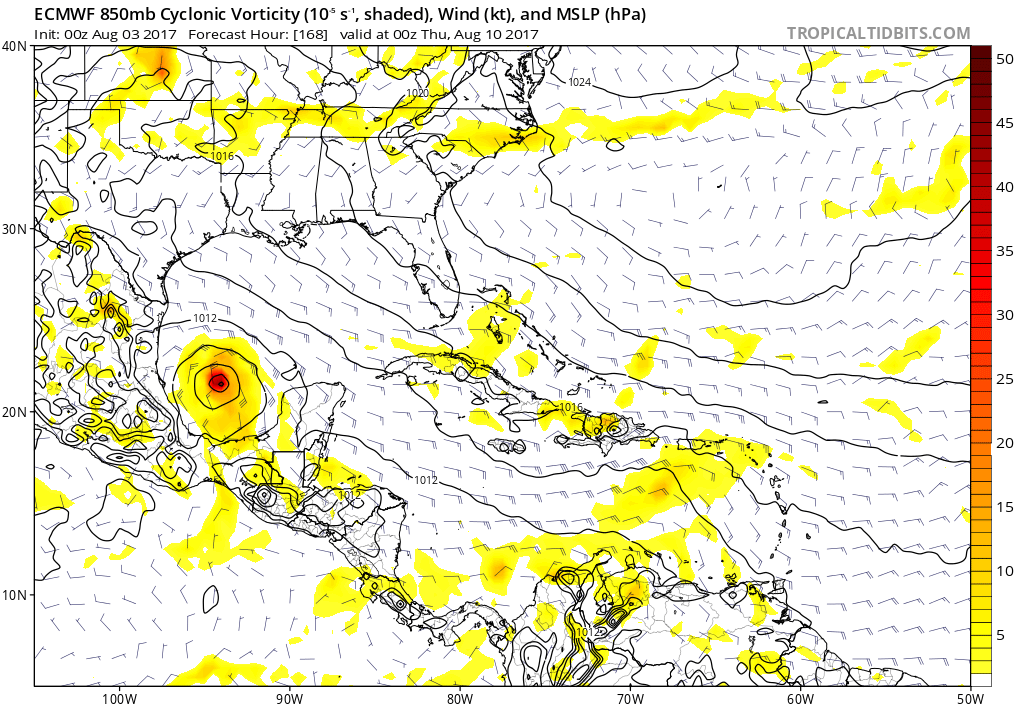 Its still to early too know if development will actually occur, and where whatever forms would track and how strong it would be. However, the potential for development definitely appears to be there.
___
For future updates follow us on our social media:
You can also follow our hurricane Facebook page Hurricane Central, or our partner page Daimien's Gulf Coast Atlantic/Pacific Hurricane Tracking Center.