Two rounds of strong to severe storms will impact parts of the region, with the first expected tomorrow, and the second round expected this weekend.
Setup
A storm system will move into the Southern Plains on tomorrow, sweep across the Mississippi River Valley late tomorrow into Friday, and exit the region to the Northeast late Friday. Then, Saturday through Sunday a second, potentially stronger storm system will sweep across the region.
Tomorrow
Widespread storms are expected across Southern/Eastern Louisiana, much of Mississippi and Alabama, and the Western Florida Panhandle tomorrow. A broken line/complex of storms could also develop across Louisiana, and push east, across the Central Gulf Coast Region.
Some of the parameters will be in place to support the potential for at least some severe storms. However, the threat is not all that great.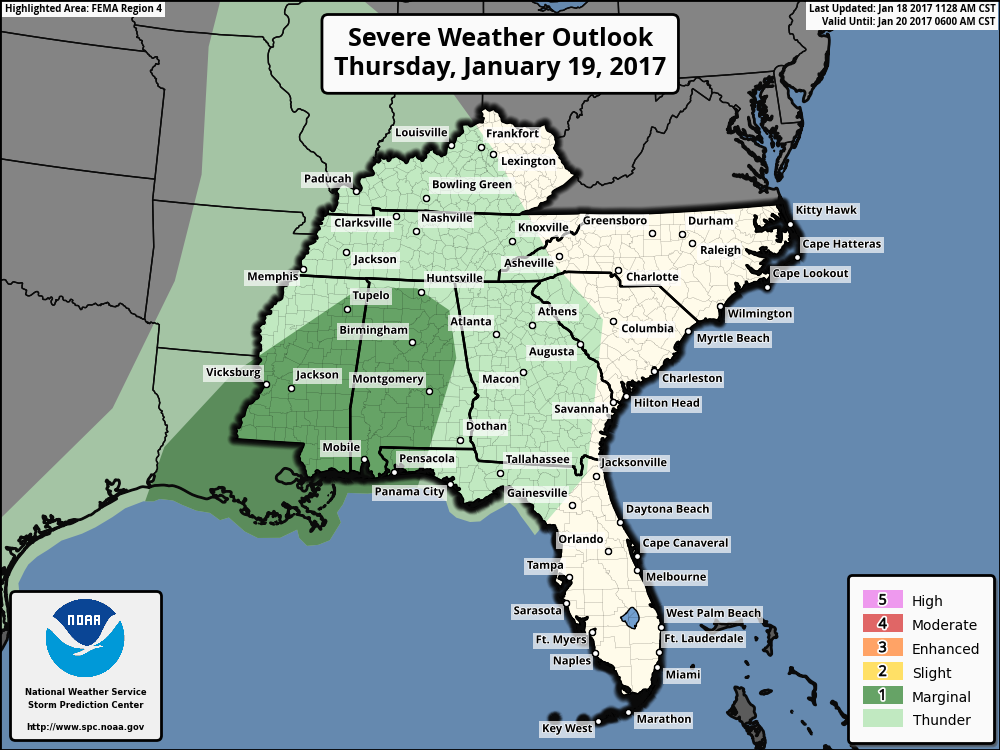 Timing and placement:  The time frame for severe weather will be tomorrow afternoon into tomorrow night/Early Friday, in the "marginal" risk area in the graphic above.
Threats:  The greatest severe threat will be damaging winds. However, isolated tornadoes and hail will also be possible.
This Weekend
At  this time, most of the necessary parameters for severe weather are anticipated to be in place across Southern/Eastern Louisiana, South/Central Mississippi and Alabama, the Florida Panhandle, and parts of North/Central Florida; and they could support a rather significant severe weather threat.
It remains too early for specifics on timing and threats regarding the severe weather potential this weekend.
Although, at this time, we can say that all modes of severe weather (tornadoes, damaging winds, and hail) appear possible.
Heavy Rainfall Through This Weekend
Heavy rainfall will also be an issue across parts of the region Thursday through this weekend, as 2 – 4″ of rain is forecast to fall between Thursday and Sunday in association with both rounds of storms. This could lead to some localized flooding issues in areas.
For future updates follow us on: