Advisories: Winter weather advisories in place across parts of the region.
A winter weather advisory is in place from Northern Alabama South to Southeast Southeast Louisiana from 6am tomorrow morning to midnight tomorrow. Meanwhile, a winter storm warning is in place for Eastern Alabama from 6am tomorrow through 9am Saturday.
Timing: Light snow and some sleet will start tomorrow morning across North Texas, Louisiana, Mississippi, and Alabama. However, the heaviest snow and sleet will come tomorrow night, as temperatures dive well below freezing. Additionally, a wintry mix is likely across South/Central Alabama too.
The winter precipitation will end Saturday morning as moisture moves out of the region.
Accumulations: Light accumulations are still expected, with up to 2 – 3″ of snow possible across East/Central Alabama in the winter storm warning area. Elsewhere, up to 1 – 2″ of snow is possible across parts of Northern Texas, Louisiana, Mississippi, and Alabama.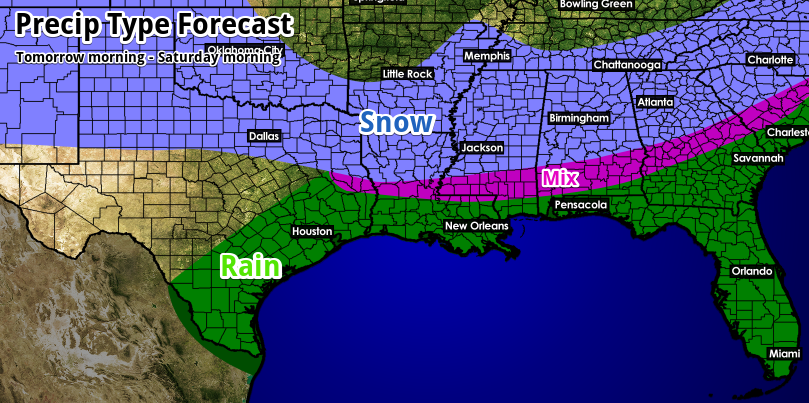 Additionally, a wintry mix (rain, snow, and sleet) is likely across parts of  South/Central Louisiana, Mississippi, and South/Central Alabama.
Impacts: This is not going to be a major winter storm, and major impacts such as power outages are not expected. However, icy conditions, including on roadways, will be possible in areas that receive precipitation (winter precipitation or otherwise) and have temperatures at or below freezing.
Note: For information specific to your local area you should consult the National Weather Service.
For future updates follow us on: