Beneficial rainfall  is still anticipated across the Western and Central Gulf Coast tomorrow through Wednesday, with severe weather likely tomorrow and Tuesday.
Setup
Not much has changed regarding the setup that will bring rain and severe weather to the Western and Central Gulf Coast early this week…
A strong trough will dig into the Southern Plains later tonight and tomorrow (see image above). From there it will gradually lift out to the northeast through the Mississippi River Valley and into the Great Lakes Region through Wednesday night; bringing an associated cold front through Texas and West Louisiana on tomorrow and Tuesday. The front will then stall out across Southern Louisiana and Mississippi Tuesday through Wednesday.
Rainfall
As we stated in our update yesterday, the trough, and the associated front, will draw deep Gulf moisture northward. This will result in two rounds of beneficial rain and storms across the Gulf Coast Region, with rainfall totals of 1 – 4″ likely between Monday and Wednesday night.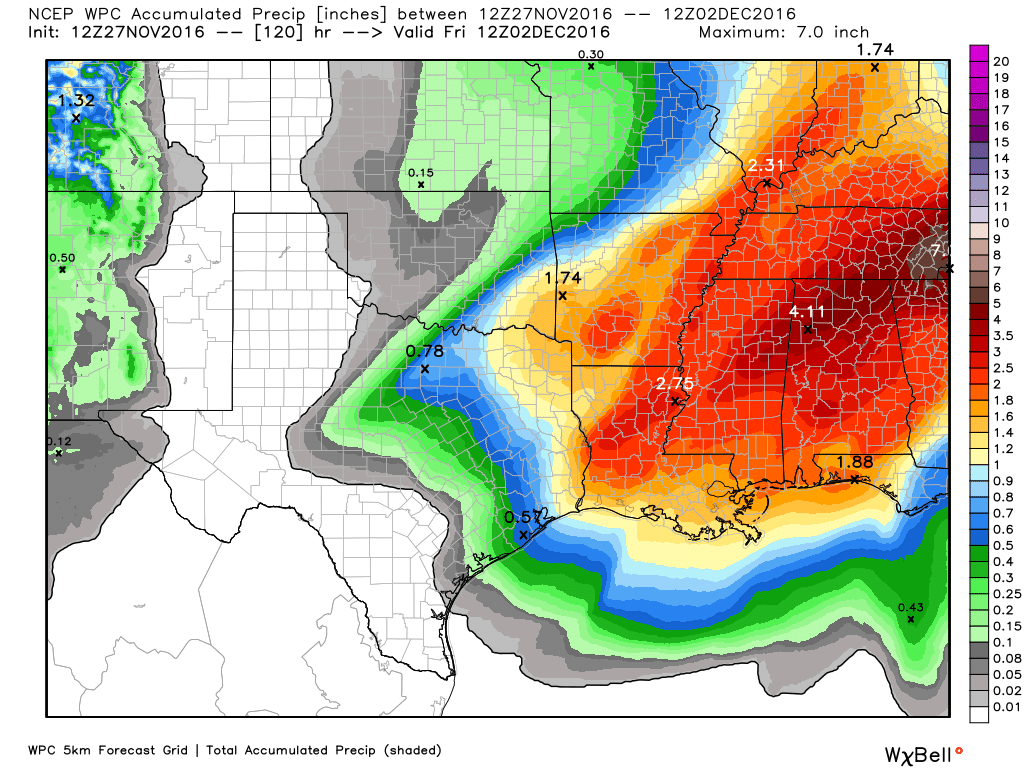 Round #1: The first round of storms will occur Monday morning through Tuesday morning, bringing rain to Texas, Louisiana, Mississippi, Alabama, and the Florida Panhandle.
Round #2: The second round of rain will occur Tuesday night through late Wednesday, also bringing rain to Louisiana, Mississippi, Alabama, and the Florida Panhandle.
Severe weather
Tomorrow
A squall line is expected to develop along and ahead of the front tomorrow afternoon, and move east, across East Texas, much of Louisiana and Mississippi, and West Alabama throughout tomorrow afternoon and into tomorrow night. In addition, discrete thunderstorms could also develop out ahead of the main squall line tomorrow, too.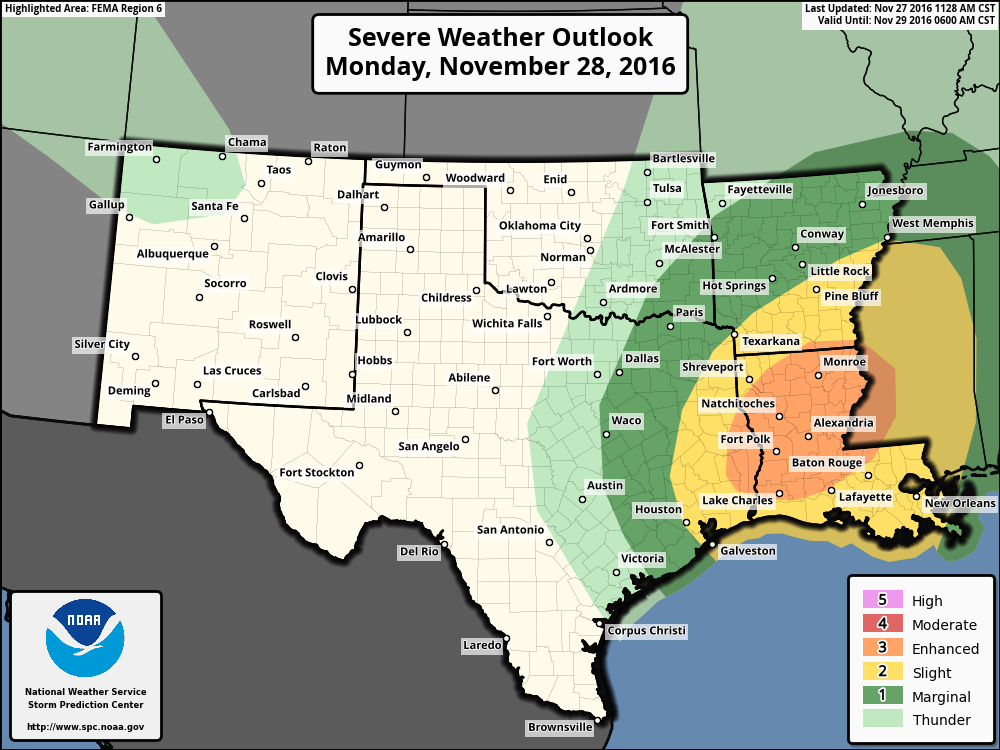 Instability values are still anticipated to remain low tomorrow. However lift, forcing, and shear will be sufficient for severe weather tomorrow into tomorrow night with both the squall line and any discrete cells that form ahead of it.
All modes of severe weather will be possible tomorrow, including tornadoes.
Tuesday
On Tuesday, another round of rain and storms will develop across Louisiana, Mississippi, Alabama, and the Florida Panhandle, along the stalled out front and move east/east-northeast.
And presently, it appears conditions (instability, shear etc…) will be favorable for severe weather again, with all modes of severe weather also being possible again as well.
For future updates follow us on: