Current position and intensity
As of 8:00PM EDT Matthew was located at 16.6 degrees north and 74.6 degrees west. Maximum sustained winds were 140mph, the minimum central pressure was 934 millibars, and movement was to the north-northeast at 8 miles per-hour.
Forecast track for Matthew through Friday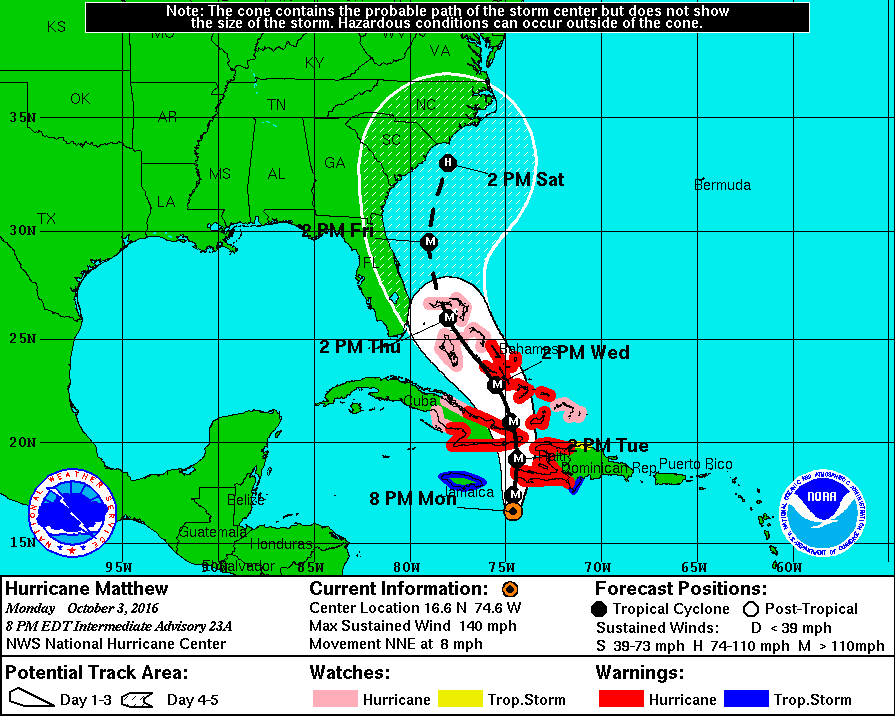 Matthew's current north-northeast movement is likely temporary, and Matthew should resume moving north soon, and will continue moving north through tomorrow, making landfall in West Haiti tonight, and in East Cuba tomorrow. Then, late tomorrow, Matthew will move into the Southern Bahamas.
As Matthew moves into the Bahamas tomorrow a ridge of high pressure will build in to the east and northeast of Matthew, causing Matthew to turn to the north-northwest , and to the northwest on Wednesday. Matthew is then expected to turn back to the northwest on Thursday, and to the north on Friday.
We still don't know if Matthew will make landfall along or directly impact Florida's East Coast or not.
*NOT A FORECAST* 18z GFS has #Matthew right of FL East Coast late Thursday, moving north, w/ hurricane force winds along immediate coast. pic.twitter.com/G65f587tbT

— GulfCoastStormCenter (@GCWXC) October 3, 2016
However,  the vast majority of the model guidance [ including the reliable GFS, ECMWF, and their ensembles] have trended west, closer to Florida today.
Intensity forecast for Matthew through Friday
Matthew will maintain it's current intensity until landfall in Haiti tonight and landfall in East Cuba tomorrow, and will likely weaken to a category 2 – 3 hurricane tomorrow night due to land interaction with Haiti and Cuba.
However, Matthew could then potentially  re-intensify between tomorrow night and Friday though.
The official National Hurricane Center does not call for re-intensification, but it is a possibility.
Timing of potential Florida impacts
As we stated above, we still don't know if Matthew will make landfall along or directly impact Florida's East Coast.
However, if Matthew were to make landfall in or directly impact Florida, it would likely be sometime between Thursday afternoon and Friday afternoon.
Summary
Details regarding Matthew's track and intensity beyond Wednesday are uncertain.
Model guidance has trended west today, increasing Matthew's chance of directly impacting Florida.
However, model guidance could still shift back back east, continue to shift west, or not shift at all.
We still don't know if Matthew will directly impact Florida or make landfall in Florida.
If Matthew were to impact Florida it would be Thursday and Friday.
If you are within the cone of uncertainty [figure 1.] you shouldn't panic over Matthew; but you should go ahead and review your hurricane plan.
We will have another update out on Matthew tomorrow.